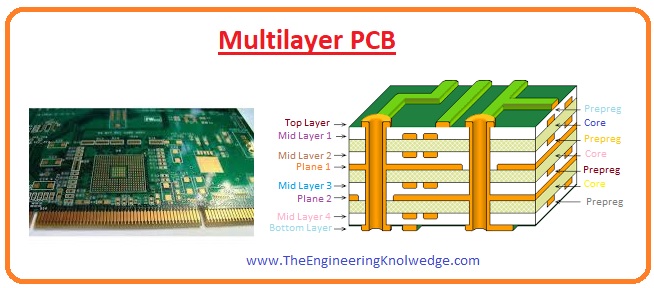 Hello, friends, I hope all of you are enjoying your life. In today's tutorial, I am going to explain Multilayer PCB. The word PCB stands for printed circuit board, it is a circuit board that used for the construction of different circuits on this board the substrate at which different paths are designed by the copper for the connections of different components used for the circuit. With the creation of this circuit board, our complicated wiring system for the production of circuits has been eliminated. This circuit board is now using in almost every electronic component like for calculator to different devices used in medical industries consists of PCB.
There are many types of PCB according to their use and construction such as single-sided PCB, double-sided PCB, Flexible PCB, Rigid PCB, Rigid-Flex PCB, etc. In today's post, we will have look at the multilayer type of printed circuit board. This board consist of more than 2 layers, in this article we will discuss its working, application, advantages, disadvantage, and comparison with other types of PCB. So let's get started with Multilayer PCB.
Multilayer PCB
Multilayer PCB consists of a minimum 3 and larger than three numbers of a layer that has conductive paths.
All these layers have some insulation material among them and connected with one another through some adhesive material.
This structure of large no of layers provides a large space for the construction of circuits.
The linking among the layers of the circuit board are done by the plating through-hole method.
At the central portion of an insulating substance, it has 3 conductive sheets that can also define a conductive track on board.
Due to the complicated structure of large no of layers its design is like the rigid printed circuit board, not possible to make it similar to flexible PCB.
Its main benefits are that if you are going to complicated circuits that need a large number of components than you can assemble one hundred layers on a single board.
But mostly used no of layers are four to eight as it provides a facility to handle complicated projects.
Some cell phones comprise of twelve layers printed circuit board as it is compatible with their complex circuit.
The even no of layers are assembled on a single circuitry board as odd no of layers creates complications for the construction of circuitry.
If odd no of layers are assembled that it not difficult to fold the board after making a connection of components.
Odd assembly of layer is also expensive.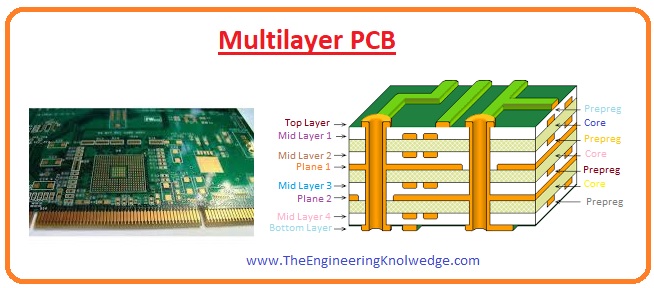 Manufacturing of Multilayer PCB
For the production multilayer printed circuit board, layers of prepreg (it is a term used for strengthening fabric materials which have been permeated with a resin scheme) and core ( such materials formed in a different type comprising end-grain balsa wood, PVC (polyvinyl chloride) substances.
During assembly of these two materials, higher temperature and pressure is applied for the removal of moisture and air among the layers.
For covering the conductive parts at endpoints resins is employed,
Whereas glue material is appropriately molten to provide stability to altered layers at a single point.
You can pick your material from a number of different combinations ranging from exotic ceramic, epoxy glass, or Teflon materials.
Advantages of Multilayer PCB
These are some advantages of multilayer PCB.
Small Size:
The important feature of this PCB is that it is available in a smaller size.
One of the most prominent and lauded benefits of using multilayer PCBs lies in their size.
Due to their layer structure, multilayer circuit board are characteristically lesser than other circuit board with analogous functions.
This features the most effective use of it for different engineering projects and electronic devices like phones, laptops, and computers.
Lightweight :
Due to smaller size, it also has less connections for large no of components that decrease its weight.
Due to less weight its the best option for current electronic devices.
High-Quality:
The planning and designing used for creation for this circuit board provide best quality than the single and dual-sided printed circuit board.
Durability:
The lifetime of this printed circuit board is longer than other PCBs. These boars do not twist its own until the certain external force is not applied.
This board also has the ability to high temperature and pressure.
Flexibility:
Some multilayer printed circuit board has flexible behavior so it known as a flexible multilayer.
It can be an extremely necessary feature for submissions where mild twisting and bending can exist on a semi-regular base.
More Powerful:
This type of PCB is tremendously higher-density structure, that has a large no of layers on a printed circuit board.
These features make permit circuit board further connective, and their inborn electrical belongings permit them to attain bigger capability and speed in spite of their lesser.
One connection point:
The structure of this circuit board is like a single unit in spite of a large no of layers. So there is only one input connecting point and not for separately every layer.
This feature is very helpful for usage in different projects that provides only a single point for input.
This is also best for such devices that already have a smaller size.
So it mostly useful for the construction of mobile phones.
Multilayer PCB Disadvantages
Now we describe some drawbacks of this PCB you must aware of these disadvantages with the benefit of this board.
High Cost:
Due to complicated design increases the price of this board than the single-sided and double-sided board.
Its construction is a very difficult and time-consuming process, it also needs special techniques for construction and highly paid labor.
It one draws back that makes it costly that during its construction any mistake can lead to aging manufacturing of it and increases the price for labor and material.
As this is the new invention for industries so some precautions are taken for its use in any project that makes it expensive.
Due to all these causes, some other less costly option is also available.
Complex Production:
Due to special manufacturing techniques, and special precautions its construction is complicated than other PCBs.
Due to that any minor fault on this board make it wasteful.
Limited Availability:
Its main drawback is that the machines required for its manufacturing are very expensive. Almost all PCB producers do not have some funds to buy these machines.
Due to this there are very less producers for this board production that make it expensive.
Skilled  Designer Needed:
As above we discuss that its design is very complicated so some highly skilled producers are required to construct this PCB board.
If un-skilled men design-construct this board any smaller mistake in this board can cause serious problems in the complete structure.
Creation Time:
As we discussed above its manufacturing is very complicated and needs special care so it takes a large time for its creation.
Benefits of Multilayer PCBs over Single Layer
Now we discuss the comparison among the single layer and multilayer printed circuit board.
Higher Density:
The density of a single-sided printed circuit board is less due to the lesser surface area, while the density of multiple layer PCB is higher due to a large no of layers.
Due to this high density, this board provides a large circuit assembly, large capability, and high speed instead of lesser size.
Small Size:
Instead of large no layers, the size of multiple layer board is smaller that make effective for small size electronics devices and due large size single layer PCB is used for large size devices.
Less Weight:
Due to the absence of a soldering connection on multiple layers printed circuit board its weight is less than the single-layer PCB.
Why Multilayer PCB Mostly Used
In different industries multilayer PCB is mostly used. Due to enhancement in the different options in the industry and use of components preferring this board.
Single and double layer board has limited in term of board size and operation that has been covered by the multilayer boards.
But with some advantages, there are some disadvantages use of multilayer boards over the single and double layers such as expensive boards and design complications.
But due to its good operation and working preferred instead of larger cost.
With the use of new technology and machines, the creation cost of the board also reduced with great benefits and advantages.
Related Posts
That is the detailed tutorial on the multilayer PCB I have mentioned every parameter with the detailed. If you have any questions about it ask in comments. Thanks for reading. See you in the next tutorial.