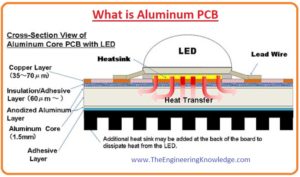 Hello, friends; I hope all of you are enjoying your life. In today's tutorial, we will have a look at Aluminum PCB. The word PCB is the abbreviation of the printed circuit board. This circuitry is now used in almost every electronic device and engineering project. From your calculator to GPS (Global Positioning System), all consist of a printed circuit board. Construction, there are numerous types of PCB, such as single sided PCB, double-sided, Multilayer PCB, Flex PCB, Rigid PCB, and Rigid Flex PCB. In today's post, we will look at another PCB category called Aluminum PCB.
The other name of this board is aluminum clad, metal clad printed circuit board, IMS, etc. This board consists of a thin sheet of conductive dielectric substance. The first time these printed circuit boards were invented in the year of 1970 and due to their different features and easy-to-handle capability, their use became very common in different projects. It was the first time used in amplifier Hybrid ICs. In today's post, we will have a look at its construction, working, applications, and some other related parameters. So, let's get started with what is Aluminum PCB.
Aluminum PCB
Aluminum PCB is constructed by aluminum and has a high heat dissipation factor so it mostly used in lighting products like light-emitting diodes.
This module has two sides the first side is white in color and has numerous light-emitting diodes, and the other side, aluminum is used.
There are generally single-sided aluminum printed circuit boards comprised 3 different layers: copper foil, the second one is an insulated sheet and the third one is metal.
But if there is are double-sided circuit board, then it has a circuitry layer, an insulating layer, an aluminum-based layer, and a circuitry layer.
But very rarely, a multilayer circuit board is used that is constructed by the regular multiple-layer board having insulated layers and aluminum-based material.
In the past, aluminum-based substrate was constructed with fiberglass but due to its low heat bearable capability, it was replaced with aluminum in some other applications, a substrate is still constructed with fiberglass.
If we compare FR-4 (flame retardant) with the aluminum base material, then aluminum decreases the thermal resistance value.
In heat transfer applications, to fulfill the needs of the manufacturing process, occasionally by decreasing the thermal resistance for the increment of heat transfer, and sometimes there is an increment in the value of thermal resistance to overturning heat transfer, the aluminum substrate has outstanding thermal conductivity, if we do its comparison with thick-film ceramic circuitry, its mechanical features are very outstanding. 
Types of Aluminum PCB
There are many types of this circuitry board according to construction and design. The main function of all types is alike and used to reduce the high temperature produced in different circuits.
These are some types of aluminum PCB.

Flexible Aluminum PCB
Hybrid Aluminum PCB
Multilayer Aluminum PCB
Flexible Aluminum PCB
This type of aluminum printed circuit board comprises 3 different layers first a conductive circuitry layer, flex dielectric insulation material and the third one is an aluminum substrate.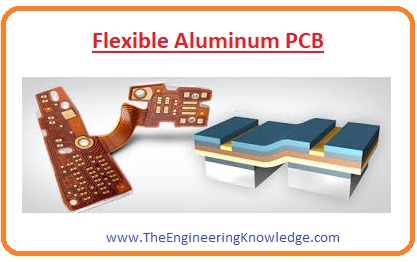 The insulation layer is constructed by the polyamide and ceramic plasters (fillers), has a higher value thermal conductivity, permitting it to transmit heat from the circuit to the aluminum substrate, where the heat energy scatters.
These are some advantages of this printed circuit board.
Heat Transfer:
Due to the insulation layer and aluminum, this board has high thermal competences. The conductive dielectric layer can transfer heat up to ten times more efficiently than fiberglass, avoiding destruction from overheating and permitting circuitry boards to tackle large values of currents.
Less weight:
As the weight of aluminum is very less so this PCB is also exiting in less weight modules.
Durable:
Due to their flexible behavior, this board's operating life is longer as compared to other printed circuit boards.
Less Price:
As there is no need for special machines for the reformation of aluminum, it is cost-effective to easily design this PCB board.
Hybrid Aluminum PCB
In this printed circuit board, the insulating or  thermal substance is processed separately before joining with the aluminum substrate.
For this board, FR-4 flame resistance is used to construct it, having two and four layers.
A non-thermal substance used for construction provides high stiffness and heat dissipation.
This nonthermal attachment is referred to above using all thermal constituents since its price is less and provides effectual heat conductance over FR4 yields.
There is no need for any heat sink to produce this PCB.
Multilayer Aluminum PCB
Multilayer aluminum printed circuit board is mostly used in power supplies modules and has a large no of heat-conductive dielectric materials.
Insulated metal substrate covered by a sheet of a dielectric material like epoxy and copper layer.
Construction of Aluminum PCB
Aluminum printed circuit boards are aluminum-based CCLs (Copper Clad Laminate) that are based on the material used for printed circuit boards. The structure of the aluminum printed circuit board is alike to the FR-4 Flame resistant printed circuit board.
The basic designing of the aluminum printed circuit board has 4 layers. That is a copper foil, dielectric material, layer of aluminum and aluminum-based membrane.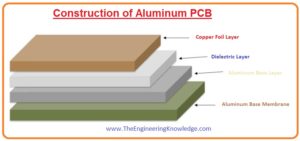 Copper Foil:
This copper foil has a larger thickness than normal CCLs (Copper Clad Laminate) such as one ounce to ten ounces.
The term thickness tells about the current-carrying capability.
Dielectric Layer:
This layer is a thermally conductive and its thickness is about fifty micrometers to two hundred micrometers. This layer provides less value of heat resistance.
Aluminum Base: The 3rd layer is the base that is constructed by the aluminum substrate and provides a higher value of heat conductivity.
Aluminum Membrane:
This layer is optional it provides protection to the aluminum from scratching and undesired corrosion.
Advantages of Aluminum PCB
These are some important advantages of an aluminum-based printed circuit board.
The use of aluminum for PCB construction is nonhazardous means environment-friendly and aluminum can be easily recycled. There is no need for special manufacturing tools for aluminum so its use is cost-effective.
In any electronic circuitry, heat production causes a lot of problems so we should use material that can easily bear heat aluminum is the best option for such circuitry.
The operating life of aluminum is longer than the fiberglass and ceramic materials used for PCB production.
The main feature of that makes it effective for the production of a printed circuit board is its lower weight.
Applications of Aluminum PCB
Now we describe some practical applications of the aluminum printed circuit board.
All types of amplifier circuits used in electronic industries consist of this board like input, output amplifiers, acoustic amplifiers, etc.
Different power supply modules like switching regulators, analog to digital converters, etc use aluminum PCB for circuit construction.
Your computer motherboard, floppy disk, also consists of this circuit board.
Different inverters, relays, and rectifiers also comprise this circuit board.
Different types of light-emitting diodes also comprise an aluminum circuit board.
Aluminum Pcb vs fr4
| Characteristic | Aluminum PCB | FR4 PCB |
| --- | --- | --- |
| Thermal conductivity | Excellent | Good |
| Mechanical strength | High | Medium |
| Dimensional stability | Good | Medium |
| Cost |  expensive |  expensive |
| Manufacturability |  difficult | Easier |
| EMI susceptibility | May be susceptible | Less susceptible |
| Applications | power electronics, LED lighting,  industrial automation, medical devices, automotive electronics | Consumer electronics,  telecommunications equipment,  computer hardware,  industrial control systems |
Related Posts
Faqs
What is Aluminium PCB?
An aluminum PCB is a board that comes with aluminum as substrate material. These boards are also called aluminum-based boards, metal core bores, or aluminum substrate PCBs. They can be single sided of double-sided structures and can be configured with multilayers of copper sheet
What is the use of aluminum PCB?
Power electronics: They are best for the dissipation of heat from high-power components such as MOSFET power transistors, and IGBTs.
LED lighting: They are used in LED lighting fixtures to dissipate heat from the LEDs lights and increase their working life and operation
Automotive electronics: These boards are also part of automobile electronics since they are durable and have the ability to handle harsh environmental conditions.
What is the difference between aluminum and FR4 PCB material?
FR4 is is very commonly used board material. It is created with fiberglass and epoxy resin. Fr4 is a general-purpose material but does not have the same conductivity as aluminum.
Aluminum boards are sued for applications where heat dissipation is need
How do Aluminium PCBs work?
Aluminum boards work like other boards. The copper foil on the aluminum substrate is employed to make electrical traces and pads of circuitry. The aluminum substrate works as a heat sink to dissipate heat from components on the board
What is aluminum PCB material?
Aluminum PCB material is a laminate created with aluminum and a dielectric layer. The dielectric layer is a thermally conductive material, like metal oxide or ceramic. The dielectric layer works as dielectric and insulates the copper foil from the aluminum substrate and avoids short circuits.
How is aluminum PCB made?
These boards are created with the use of processes used for manufacturing FR4 PCBs. The aluminum substrate is treated with a chemical process to make a surface on which the dielectric layer can applied. The dielectric layer is then applied to the aluminum substrate. The copper foil is then laminated on the dielectric layer. At last, the board is patterned and plated to make the electrical traces and pads of the circuit.
What is the maximum temperature for aluminum PCB?
The maximum temperature for an aluminum board is based on the aluminum alloy used and the thickness of the board. However, most aluminum boards can operate at temperatures of about 125°C.
What type of metal is PCB?
The metal used for  PCBs depends on the application. The most common PCB is copper. Copper is a good electrical conductor material and is easy to solder. Other metallic materials are are sometimes used in board are nickel, gold, and silver.
Why is it called FR4?
FR4 is a flame-retardant epoxy resin. The name FR4 originated from the UL 94 flammability rating system, where FR full form is "flame retardant" and 4 is the highest flammability rating.
Why FR4 is used in PCB?
FR4 is used in baord since it is a good all-purpose baord material. It is flame retardant, electrically insulating,  and mechanically strong. FR4 is less costly making it a cost-effective best for PCB manufacturing.
What is the standard PCB material?
FR4 is the standard material for most applications. It is a  PCB material with a good balance of electrical, mechanical, and thermal properties.
What is the cheapest PCB material?
Paper phenolic is the less costly PCB material. However, it is not as electrically insulating or flame retardant like FR4 provides. Paper phenolic boards are used in low-end applications where cost is a main concern.
Why is PCB green?
The solder mask used for protection of the copper traces on boards is green in color. Since the green solder mask is less  to reflect light, which makes it is easy to inspect the board for defects.
Does PCB rust?
Mostly PCB materials, like FR4, are not susceptible to rust. However, the copper traces on boards can oxidize with time, which can result in them turning greenish or brown. Oxidation can minimize the conductivity of the copper traces, so it is good to protect them from the elements.
This is the complete post on the aluminum PCB I have mentioned every parameter related to his PCB board. If you have any queries about this module, ask in comments. Thanks for reading. See you in the next tutorial.