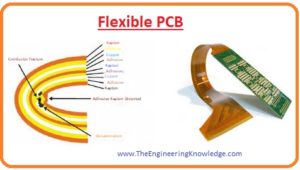 Hello, fellows, I hope all of you are having fun in your life. In today's tutorial, we will have a look at Flexible PCB. PCB stands for printed circuit board, this is now very common to us in different engineering projects and in our personal use devices like mobile phones, laptops, personal computer. With the invention of PCB, our circuit assembly has become very easy and cost-effective. There are numerous types of PCB like single sided pcb, double sided PCB, rigid PCB, etc. in today's posts, we will have a look at flexible PCB.
This PCB is also known as the Flex printed circuit board, its name is due to its flexible behavior. It can be easily folded and reshape. In this post we will discuss its construction, working, applications, and some other related parameters. So let's get started with Flexible PCB.
Flexible PCB
The flexible printed circuit board can be deformed and twisted easily into different shapes according to users and circuits requirements into which it used.
It is an appropriate invention for different engineering projects although it is expensive than the rigid printed circuit board, it also provides some advantages like cover less place and also not being heavyweight.
There is numerous name used for this printed circuit board in industries like flex circuitry, flex PCB, flexible circuitry board and flexible electronics.
If we compare both circuit boards rigid and flex board both of these two are different are similar in some features but these 2 have their own advantages and limits and used in different projects.
Due to flexible behavior, low place requirements and not heavyweight this circuit board can be a good choice for rigid or other types of printed circuitry boars because they can be broken during circuit use but flexible PCB will not, it save our time and cost too.
But in some certain cases both rigid and flexible circuit boards are used at the same time, the example this is a rigid-flex printed circuit board. That has the features of both PCBs.
If we compare prices of both the flexible and rigid circuit board then we come to know that the price of flex PCB is larger than the rigid. But the overall prices will be different according to the project used.
Due to its flexible and high performance, it is mostly used in mobile phones, Global Positioning System (GPS), tablets and personal computers.
Construction of Flexible PCB
Fabrication and Tolling:
The technique used for the manufacturing of these circuit boards is similar to the rigid board but there is some alteration during the handling of a substrate.
There is no need for special calculations during the production of a rigid printed circuit board that is required in a flex circuit board since it desires special fastening and physical handling schemes to grasp the whole material at one place during production.
Some multifaceted flexible board devices use reel techniques to grasp the different substances.
From this, we can observe that the manufacturing of flex PCB is expensive than the processing of rigid circuit board as it needs some special techniques for proper handling.
Flexible Circuitry Overlay
To provide protection to the flex board from the external environment and insulation is a need that covers this board called flex circuitry overlay, it also called overlay.
The coating used in this process is similar to the solder mask used in the rigid circuit board for protection, but the difference is that the coating used in the overlay is flexible in nature.
The protection sheet in the overlay is covered with thermostat adhesive to provide sold appearance and assembled all parts at the proper place.
The thickness of this coating used in the overlay is from 0.0005 inches to .005 inches, but 0.001 inches to 0.002 inches is mostly used in different projects.
Features of Flexible PCB
These are some features of a printed circuit board that are described here.
Features
Parameters
Quality Grade
It follows the IPC 2 standard, (normally most required for non-critical electronic structures where longer-term reliability is required)
No of Layers
The no of layers for this printed circuit board is form one to eight.
Order Quantity
One Pc to thousand plus pcs
Construction Time
The time for production is from two days to five twenty days.
Material required
DuPont PI
Board dimensions
Its minimum dimensions are 6×6 millimeters and the maximum is 406 x610 millimeters
Board Thickness
Its thickness is from 0.1milimeters to 0.8 millimeters
Weight  of copper
Weight of copper is from 0.5 ounces to 2.0 ounce
Minimum Spacing
three mil.
Solder Mask layers
According to the file.
Solder Mask Coloring
Its color can be yellow, green, white, black, red.
Solder-stop coating
It is green, white, blue, black, red, and Yellow.
Solder-stop coating—Coverlay
It is PI and PET (polyethylene terephthalate) film
Silkscreen layer
According to file
Silkscreen Color
Its color can be white, black or yellow.
Surface Finish
HASL (Hot air solder leveling)
Lead – free HASL – RoHS Restriction of Hazardous Substances Directive)
ENIG – RoHS
Immersion Tin – RoHS
OSP – RoHS
Minimum Annular Ring
Four-mil
Minimum Drilling Hole Diameter
Eight-mil
Minimum hole size—Punching (NPTH)
0.5-mil
Tolerance of dimension
±0.05 millimeter
Other Technology
Peelable solder mask
Gold fingers
Stiffener (only for PI/FR4 substrate)
Minimum hole size Drilling (PTH)
0.2-mil
Advantage of Flex PCB
These are some advantages of a printed circuit board.
Saving Space:
Flexible printed circuit board design needs only about 10% of the space and weight of a normal circuit board assembly, providing a higher fitting and packing liberty. The intrinsic stiffness also provides constricted twist abilities.
High Reliability:
A flexible PCB needs less intersects, that in turn needs less interaction folds, connectors, and soldering points. Simply put, a flexible PCB board does not comprise numerous potential sources for disaster, which improves their reliability.
Less price:
Less price of this circuit board provides some benefits like abridged material and wrapping demands, lesser parts replacement prices and assemblage faults that could consequence in the need for maintenances.
Related Posts
That is a complete post on the flex PCB I have written each and every parameter related to this PCB board if you have any questions about this module ask in comments. Thanks for reading. See you in the next tutorial.