Hello readers welcome to the new post. In this post, we will learn How To Identify the Components of a Circuit Board.  Circuit boards are the building blocks of electronic projects and devices, containing different types of components that work together to have their accurate functionality. Understanding these components is compulsory for repairing, troubleshooting,  and modifying electronic devices. In this post, we will discuss differnt PCB components and learn how to Identify Components of a Circuit Board. Let's get started with an Introduction to the components of a circuit board
Introduction Circuit Board Components
Circuit boards, also called printed circuit boards, are thin boards created with non-conductive materials like epoxy resin. or fiberglass. They work as platforms for connecting and mounting electronic components. A general circuit board has a combination of active and passive components, connectors, and power supply components. Every component is important functioning of the circuit.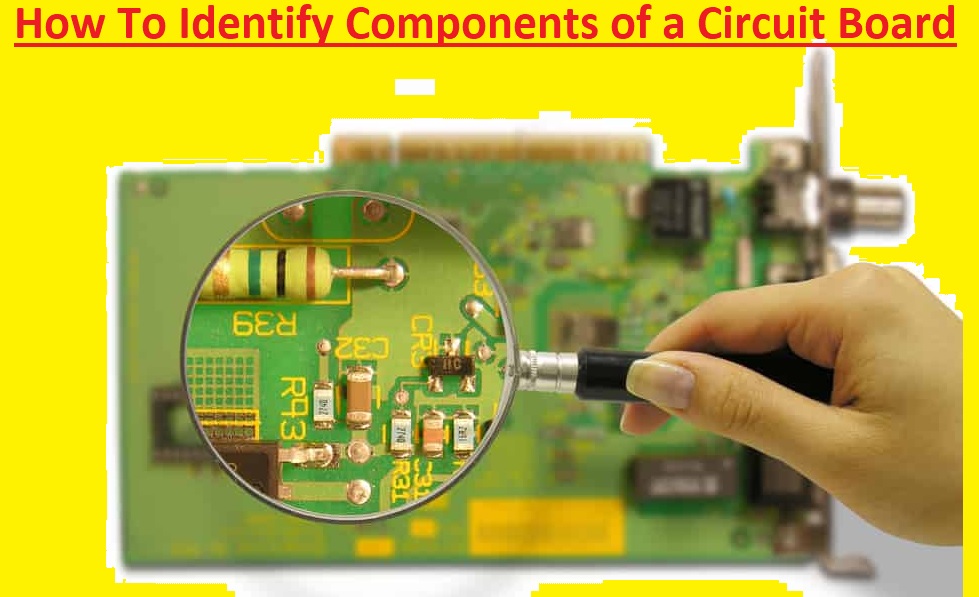 Importance of Understanding Circuit Board Components
Having a solid understanding of circuit board components is important for different causes. Firstly, it allows electronics students, hobbyists, and engineers to diagnose and repair faulty components effectively. 2nd, it ensures the modification and customization of existing circuits to suit certain needs. Lastly, knowing the components helps in designing and making new electronic circuits from scratch.
Overview of and Parts of  Circuit Board
Before discussing the specifics, and differnt parts of a circuit board, discuss the main components existing on a typical circuit board.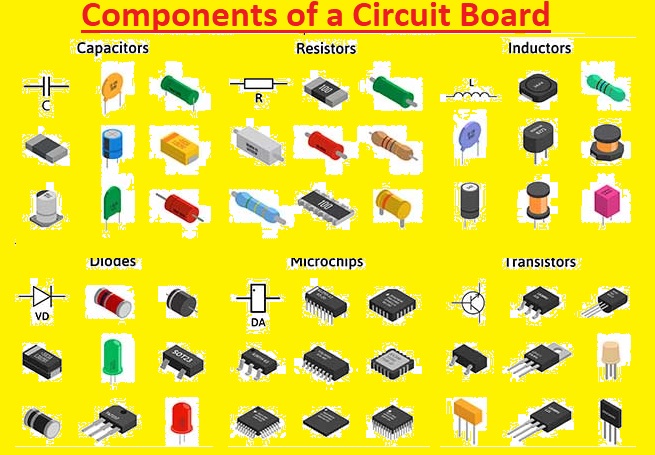 Active Components of a Circuit Board
Active components are devices that can control the flow of electrical signals. They need a power supply to function accurately. Here are some commonly used active components on circuit boards are listed
Transistors
Transistors are basic components used for amplifying and switching electronic circuit signals. The transistors have many types, like bipolar junction transistors and field-effect transistors.
Diodes
Diodes are components that are used to current flow in one direction while blocking it in the opposite direction. The process for ac to dc conversion is called rectification and it is also used for signal modulation and protection against reverse voltage.
Integrated Circuits
Integrated circuits are complicated electronic circuits assembled on a single chip. On a single chip, they may fit dozens or even millions of transistors and other electrical components.. ICs used for controlling various functions in electronic devices.
Operational Amplifiers
Operational amplifiers (op-amps) are high-gain voltage amplifiers' main part of analog circuits. They are used in filters, audio amplifiers, and signal-conditioning circuits.
Passive Components of a Circuit Board
Active components require a power source to function, whereas passive components don't. They control the flow and features of electrical signals. Here are some commonly used passive components explained
Resistors
Resistors are used to restrict the current flow in a circuit. They are good for current limiting, voltage division,  and signal conditioning.
Capacitors
A device that stores electrical energy and releases it when needed is a capacitor.. They are best for smoothing power supply voltages, noise filtering, and timing in electronic circuits.
Inductors
Inductors are coils of wire that store energy in the form of a magnetic field. They are applied in applications like energy storage, filtering,  and impedance matching.
Transformers
Transformers are devices that transfer electrical energy from one circuit to another through electromagnetic induction. They are used for voltage conversion, impedance matching, and isolation
Connectors and Interconnects
The connections between the various circuit components are made via connectors and interconnect.. They facilitate the exchange of electrical signals and power between other components. Some commonly used connectors are headers and ribbon cables, sockets,  and wire-to-board connectors.
Power Supply Components
Power supply components ensure the circuit board receives the needed voltage and current to function accurately They are voltage regulators, fuses power transistors, and circuit breakers.
Identifying circuit board components Techniques and Tools
Identifying circuit board components can be done through different methods and tools. Here are some common techniques explained:
Visual Inspection
A visual inspection carefully examines the circuit board to identify components by their physical structure, markings, and labels. Manufacturers provide component silkscreens or reference designators printed on the board to assist in identification.
Circuit Board Schematics
Circuit board schematics are detailed diagrams that define the connections between components. They offer valuable information about the types and positions of components on the PCB board.
Multimeters and Oscilloscopes
Multimeters and oscilloscopes are electronic test devices used for measuring voltage, resistance, current,  and other electrical parameters. They can help to identify faulty or malfunctioning components by calculating their characteristics.
Troubleshooting Circuit Board Components
Identifying faulty components on a board is necessary for effective troubleshooting. Here are some steps explained
Inspect the circuit board visually for physical damage or signs of overheating.
Calculate the voltages, resistances, and signal integrity at various locations on the circuit using a multimeter or oscilloscope.
Make a comparison between readings with the expected values from the circuit board schematics.
Test suspected components individually by separating them from the circuit and performing tests using accurate tools.
If a problematic component is found, it may be replaced with a new one or the problem can be resolved using repair methods.
PCB Component Layout you Need to Know the Electronic Circuit
The PCB component layout is the main factor in designing an electronic circuit. Here are some points you must know about the PCB component layout:
Component Placement: Proper component configuration is important for the effective functioning of the circuit. It involves arranging the components on the board in a logical and organized manner, considering factors like power distribution signal flow, and thermal management.
Signal Integrity: Placing components strategically minimize signal interference and maintains signal integrity. Critical components, like those sensitive to noise or high-frequency signals, must be positioned carefully to reduce signal degradation or crosstalk.
Power Distribution: The layout should consider effective power distribution to make sure a stable and reliable power supply to all components. Placing power-related components like voltage regulators, capacitors, and decoupling capacitors close to the power input points and sensitive components helps to decrease power noise and voltage fluctuations.
Thermal Management: Heat dissipation is an important parameter in PCB design. Components that produces significant heat, like power transistors or processors, must be positioned to allow proper airflow and/or heat sinking. Making sure an adequate distance between heat-sensitive components helps avoid thermal issues.
Component Orientation: Components must be oriented accurately according to their polarity, pin configurations, and mechanical needs. This makes sure of proper electrical connections and compatibility with other components during assembly.
Trace Routing: Efficient trace routing is necessary to reduce signal interference and impedance mismatches. The layout should consider short, direct traces for high-speed signals, and minimize crossing paths or running traces too close to noisy components or power traces.
Clearances and Spacing: Effective clearance must be maintained between components, especially those with high voltage or heat dissipation. Accurate spacing prevents electrical breakdown or overheating problems
Design for Manufacturability: The layout should have ease of manufacturing and assembly processes. Components must be placed to allow for effective inspection soldering, and testing procedures.
Design for Serviceability: If the circuit can need maintenance or component replacement, the layout must consider accessibility to critical components or connectors.
Design for Electromagnetic Compatibility (EMC): Proper component connection and trace routing help reduce electromagnetic interference and ensure compliance with EMC standards. Grounding and protection techniques should be considered for sensitive components.
How to Choose the Right PCB Components
Functionality: Clearly define the required function of your circuit and identify the certain components needed to do it. Consider the required inputs, outputs, signal processing, and any specialized features needed.
Specifications: Carefully study the datasheets of components to understand their features. Consider parameters like current ratings, voltage ratings,  frequency response, temperature range, and other relevant features that align with your circuit requirements.
Quality and Reliability: Opt for components from reputable manufacturers famous for their quality and reliability. Choosing reliable components ensures long-term performance and minimizes the risk of premature failures.
Size and Form Factor: Consider the available space on the PCB board and select components that fit within the allocated area. Give attention to the component's physical dimensions, pin spacing, and package type to make sure compatibility with your PCB board layout.
Power Requirements: Analyze the power demands circuit and use components that can handle the needed voltage and current levels. Study power dissipation, thermal management, and any necessary power conditioning or regulation.
Environmental Considerations: Evaluate the operating conditions in which your circuit will be used. Factors like temperature, vibration, humidity, and exposure to chemicals or other hazards can impact component selection. Use components that are rated for the intended environmental conditions.
Availability and Cost: Make sure that the components are readily available from suppliers and distributors. Evaluate the cost while balancing quality and functionality. Be mindful of any budget constraints or long-term cost implications.
Compatibility and Interoperability: Confirm that the selected components are compatible with the rest of the circuit and other interconnected devices. Also study factors like voltage levels, pin compatibility, communication protocols, and any necessary interface circuitry.
Support and Documentation: Check for adequate technical documentation, datasheets, application notes, and reference designs, to assist with component integration and troubleshooting.
Future Expansion and Upgradability: Anticipate any potential future requirements for your circuit. Use components that allow for expansion or upgradability if you foresee the requirements for additional features or functionality down the line.
How to Solder PCB Components
Prepare your work area. Ensure that your work area is clean and free of debris. You can use a soldering mat to protect your work surface.
Gather your materials. You need a soldering iron, flux solder,, and a pair of tweezers.
Tin the soldering iron. Tinning the soldering iron means coating the tip with a thin layer of solder. This will help the solder flow easily. To tin, the soldering iron simply touches the tip of a small piece of solder.
Heat the component lead and solder pad. Use the soldering iron to heat the component lead and the solder pad on the board. The lead and pad must be hot enough to melt the solder.
Apply solder to the joint. When the lead and pad are hot, apply a small amount of solder to the joint. The solder must flow freely around the lead and pad.
Remove the soldering iron. When the solder has flowed freely, remove the soldering iron. The joint must be shiny and smooth.
Inspect the joint. Do an Inspection of joint to ensure that it is free of any gaps or bubbles. If the joint is not good, you can resolder it.
Can the PCB Components Age?
Yes, PCB components can age. The type of component, the environment in which it is utilised, and the level of stress it experiences are some of the variables that affect how quickly something ages.
Some main reasons for PCB component aging include:
Oxidation: Oxidation is a chemical reaction that occurs when oxygen mix with another element. In the case of PCB board components, oxidation can result in the metal parts corroding, which can cause decreased conductivity and eventual failure.
Cracking: Cracking can causes due to different factors, like vibration excessive heat, and moisture. Cracks can weaken the components and make them more susceptible to damage
Degradation: The materials used to make components of PCB, can degrade over time, which can result to reduced performance and eventual failure.
Final Thought
Anyone working in electronics has to understand what makes up a circuit board. You may confidently diagnose, repair, and change electrical equipment if you're knowledgeable with active and passive components, connections, power supply components, and identification procedures. When dealing with live circuits, keep in mind to use the proper tools and to adhere to safety procedures.