Hello readers welcome to the new post. Here we will learn What are Integrated Circuits. Electronics has undergone a revolution because of integrated circuits (ICs), which have made it possible to create little yet mighty devices that we use every day. The way we live, talk, and engage with technology has been completely changed by these little electrical components. In this post, we will cover IC circuits, working, and their different types and uses, and applications. Let get started with What are Integrated Circuits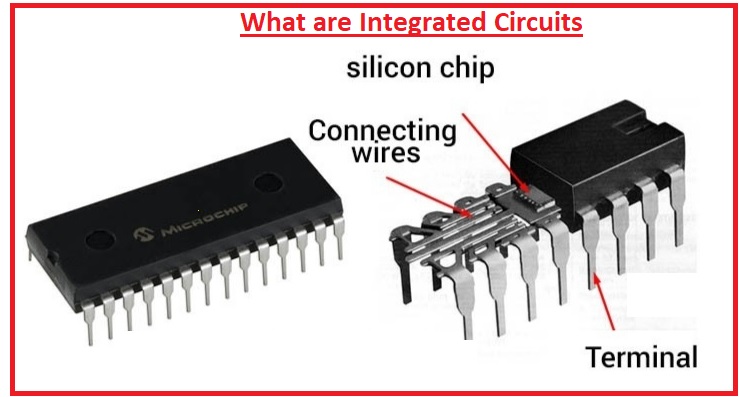 Introduction to Integrated Circuits
What are Integrated Circuits
Integrated circuits, also called microchips or ICs, are small-size electronic circuits manufactured onto a small piece of semiconductor material, generally silicon. Transistors, capacitors, resistors, and diodes are just are some electronic parts that make them up, all of which are coupled to do particular operations. Innovative manufacturing techniques are used to etch these components onto the semiconductor material.
Importance of Integrated Circuits
The fundamental components of contemporary electronics are integrated circuits. They are a main component of different modern products due to their small size, great performance, and less power consumption, which are anything from computers and cell phones to cars and medical devices. They have been essential in improving technology and fostering the creation of creative solutions across a range of sectors.
Types of Integrated Circuits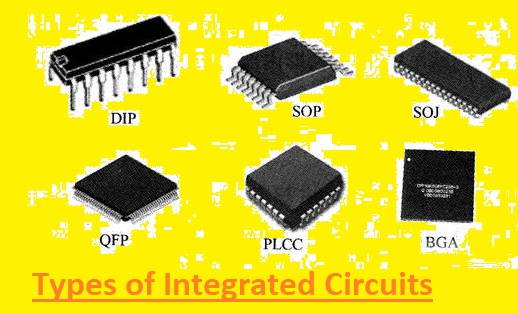 Analog Integrated Circuits
Continuous signals having a range of values, such as sound, temperature, and voltage, are processed by analogue integrated circuits. They are built to precisely amplify, filter, and alter these signals. Applications such as audio amplifiers, sensors, and power management systems frequently employ analogue integrated circuits.
Digital Integrated Circuits
Discrete signals are processed by digital integrated circuits using binary digits (bits), which can have one of two states: 0 or 1. These circuits carry out logic tasks including arithmetic computations, data storage, and control actions. Computers, calculators, and digital signal processors all depend on digital integrated circuits.
Mixed-Signal Integrated Circuits
Analogue and digital circuitry are both combined on a single chip by mixed-signal integrated circuits. They provide for the effective conversion and processing of signals by enabling the seamless integration of analogue and digital functionalities. Automotive electronics, communication systems, and data-gathering systems are just a few examples of the many uses for mixed-signal integrated circuits.
Uses of Integrated Circuits
Consumer Electronics
Consumer gadgets including cellphones, TVs, cameras, and game consoles frequently employ integrated circuits. They allow these gadgets to have cutting-edge features, small forms, and increased energy efficiency. Integrated circuits are in charge of processing data, video, and audio signals as well as managing a number of operations.
Telecommunications
In the telecommunications sector, integrated circuits are essential because they power communication devices like cellphones, routers, and base stations. They make signal processing, data compression, encryption, and wireless communication possible. In order to guarantee dependable and effective communication networks, integrated circuits are essential.
Automotive Industry
Integral to the automobile sector, integrated circuits allow for the creation of cutting-edge safety systems, engine control modules, entertainment systems, and autonomous driving technologies. They improve the connection, economy, and performance of the vehicle. Integrated circuits are crucial parts of contemporary automobiles that provide key functions.
Medical Devices
From pacemakers and insulin pumps to medical imaging equipment and lab analyzers, integrated circuits are widely employed in medical devices. They make it possible to precisely regulate, watch over, and process medical data. Integrated circuits have transformed healthcare by enhancing patient care, diagnosis, and therapy.
Functioning of Integrated Circuits
Fabrication Process
Several intricate procedures are involved in the production of integrated circuits, including design, lithography, etching, doping, and packaging. Circuit layouts are created by designers using computer-aided design (CAD) software, which is then used to photolithograph them into a silicon wafer. In order to produce good electrical components and interconnections, the wafer passes through chemical and physical processes.
Components of Integrated Circuits
Resistors, Transistors, capacitors,  and diodes are some of the essential parts of integrated circuits. Transistors serve as the basic building blocks and carry out tasks including switching and amplification. Capacitors store electrical charge, diodes enable current to flow solely in one direction, and resistors govern the flow of electricity.
Working Principles
The behaviour of semiconductor materials and the interaction of electronic components are two examples of integrated circuits working according to the principles of electronics. Within ICS, the features of the components and the connections between them regulate the flow of electric current and the manipulation of signals. This makes it possible for ICs to precisely carry out complicated operations
ICs Advantages and Disadvantages
Advantages
Compact size: Integrated circuits may fit a huge number of components onto a single chip, conserving space and allowing for the miniaturization of electrical equipment.
High degrees of integration and low power consumption are made possible by integrated circuits, which have outstanding performance.
Integral circuits are extremely dependable since they are solid-state devices without any moving elements that may break down or wear out.
Cost-effectiveness: The mass fabrication of integrated circuits has reduced their cost, enabling a wide adoption of electronics across a variety of sectors.
Disadvantages
Complexity: Integrated circuits are difficult to design and produce, requiring sophisticated manufacturing techniques and expensive research and development.
Sensitivity to heat: Integrated circuits may be sensitive to heat, and therefore need the right cooling systems to prevent overheating, which can reduce their performance and longevity.
Future Trends in Integrated Circuits
Miniaturization and Nanotechnology
Nanotechnology use and continued miniaturisation of integrated circuits are key to their future. Researchers are investigating cutting-edge methods to create more compact and effective parts, enabling even greater integration and better performance.
Internet of Things (IoT)
A key factor in the development of the Internet of Things will be integrated circuits. They will make it possible for numerous devices to link and communicate with one another, opening the door for connected systems that boost productivity and convenience such as smart homes and industrial automation.
Artificial Intelligence (AI)
Integrated circuits will be crucial in processing the enormous volumes of data needed for AI algorithms as the technology develops. To speed up AI computations and allow intelligent systems across multiple industries, specialised AI chips are being created.
Microcontrollers
A CPU, memory, and input/output peripherals are all combined on microcontrollers, which are incredibly flexible integrated circuits. The embedded systems that run smart appliances, industrial control systems, and automobile electronics rely on them as their brains. In these applications, microcontrollers provide for precise control, data processing, and communication capabilities.
Operational Amplifiers (Op-Amps)
Analogue integrated circuits known as operational amplifiers are frequently utilised in signal conditioning and amplification. They are crucial parts of audio equipment, medical devices, and sensor interfaces because they give high gain and precision when amplifying analogue signals. In a variety of applications, op-amps assist analogue signals become more reliable and high-quality.
Field-Programmable Gate Arrays (FPGAs)
Programmable integrated circuits called FPGAs provide adaptable and programmable digital logic capability. They are made up of a number of reconfigurable routing channels connecting programmable logic block arrays. Digital circuits are frequently prototyped, quickly developed and produced in small quantities using FPGAs. They are used in industries including high-performance computing, aircraft, and telecommunications.
Digital Signal Processors (DSPs)
Specialised integrated circuits known as digital signal processors are created to effectively process digital signals in real-time. Filtering, modulation, and compression of digital data are among the activities they excel at. DSPs are widely utilised in consumer electronics, telecommunications networks, and audio and video processing systems. They increase overall system efficiency and enable high-performance signal processing.
Memory Chips
Memory chips, which store and retrieve data, are essential parts of modern gadgets. cellphones, Computers,  and other digital devices frequently employ different types of memory chips, like  Static Random Access Memory (SRAM),  Dynamic Random Access Memory (DRAM), and Flash memory. Memory chips provide quick and dependable data storage, facilitating easy information access.
Power Management ICs
power control In managing and regulating the power distribution in electronic systems, integrated circuits are essential. They perform tasks including power conversion, voltage management, and battery charging. Smartphones, laptops, electric cars, and renewable energy systems all depend on power management ICs. They increase battery life, improve power efficiency, and shield devices from power-related problems.
Digital-to-Analog Converters  and Analog-to-Digital Converters
Integral circuits that convert analogue and digital signals, respectively, include ADCs and DACs. ADCs convert analogue signals from the actual world, including sound or temperature, into digital data for processing, whereas DACs reverse the process. In order to provide correct signal conversion and fidelity, these circuits are essential in communication devices, measuring tools, and audio systems.
Application-Specific Integrated Circuits (ASICs)
ASICs are integrated circuits that have been specifically built for a given purpose or application. They are designed to maximize efficiency, cost, and performance for a certain activity. ASICs are frequently employed in specialized industries including aircraft, automotive electronics, and telecommunications. High efficiency, dependability, and integration are all features they provide, meeting special demands in intricate systems.
These are just a few instances of integrated circuits that are often utilized across several sectors. The development of increasingly more advanced and effective gadgets is made possible by the ongoing developments in IC technology, which continue to spur innovation and influence the direction of the electronics industry.
Integrated Circuit Function
common functions of integrated circuits are explained here
Amplifiers:  An electrical signal's intensity is increased using amplifiers. A wide range of electrical equipment, such as radios, amplifiers, and televisions, employ them.
Oscillators:  Oscillators provide a signal that repeats continuously. Clocks, radios, and other electrical equipment that require a consistent signal utilise them.
Timers: Timers are used to measure the passage of time. A wide range of electrical devices, like ovens,  microwaves, and alarm clocks, employ them.
Counters: Counters are used to count the number of times an event has occurred. They are used in different types of electronic devices, and electronic scales. and digital clocks
Logic gates: Logic gates are used to perform basic logical operations, such as AND, OR, and NOT. They are used in a wide variety of electronic devices, including computers, and digital circuits.
Computer memory: Computer memory is used to store data and instructions. It is used in computers,  laptops, personal computers, and smartphones.
Microcontrollers: Microcontrollers are small, self-contained computers that are used in different electronic devices, like toys, appliances, and industrial equipment.
Microprocessors:  The central processing units (CPUs) of computers are microprocessors. They are found in computers, desktops, laptops, and mobile devices.
Conclusion
Electronic devices that are small, strong, and efficient are now possible thanks to the advancement of integrated circuits. They are available in different types, like analog, digital, and mixed-signal circuits, each having certain uses. Consumer electronics, telecommunications, the automobile sector, and medical devices all make substantial use of integrated circuits. As fabrication technology continues to progress and new trends emerge
FAQS
What is ICs in the circuit?
ICs, or Integrated Circuits, refer to small electronic devices that contain complete circuits within a single chip. They are commonly used in electronic circuits to perform specific functions. These circuits have differnt components like capacitors, transistors, resistors,  and diodes, which are interconnected on the chip. ICs play a crucial role in providing functionality, processing information, and controlling operations within electronic systems. Their compact size and integration of multiple components make them essential building blocks in modern electronic circuits


What are ICs used for?

Computers and Laptops: ICs are employed in memory chips, microprocessors,  and other components that can do computing and data storage.
Smartphones and Tablets: ICs are integral to the functioning of mobile devices, including processors, memory chips, and communication modules.
Televisions and Home Appliances: These components are part of  DVD players, television sets,  home theater systems, and other appliances for control, signal processing,  and communication.
Automotive Systems: ICs are employed in automotive electronics for engine control, anti-lock braking systems (ABS), airbag systems, entertainment systems, and more.
Medical Equipment: They are used in medical devices like ultrasound machines, pacemakers,  blood glucose monitors, and diagnostic equipment.
Communication Systems: it is also used in mobile networks, modem routers, and other communication devices, amplification, and data transmission.
Industrial Control Systems: ICs are utilized in automation, robotics, and control systems to regulate processes, monitor sensors, and control actuators.
What is IC types of ICs?
Logic gates: Logic gates are the basic building blocks of digital circuits. They perform simple logical operations such as AND, OR, and NOT.

Memory chips: Memory chips are used to store data. So it employed in computers
Microprocessors: Microprocessors are the brains of many electronic devices. They control the operation of the device and perform complex calculations.
Amplifiers: Amplifiers increase the strength of electronic signals. They are part of different devices like radio receivers, audio systems,  and amplifiers.
Filters: Filters remove unwanted components from electronic signals. They are used to improve the quality of audio and video signals and to protect electronic circuits from noise.
Oscillators: Oscillators generate periodic electronic signals. They are used in clocks, radios, and other devices that require a regular signal.
RF circuits: RF circuits operate at radio frequencies.
What are the three types of ICs?
Digital ICs: These ICs operate using discrete voltage levels and perform digital functions. They are logic gates, microprocessors, flip-flops,  and memory chips. Digital ICs process binary information, representing data as sequences of ones and zeros.
Analog ICs: These ICs process continuous signals and perform functions such as amplification, filtering, and signal conditioning. Analog ICs are used in applications where the input and output signals are continuous, such as audio amplifiers, voltage regulators, and sensor interfaces.
Mixed-Signal ICs: These ICs combine both digital and analog components on a single chip. They enable the processing of both digital and analog signals, they are best for data conversion, communication systems, and interface circuits. Mixed-signal ICs are commonly used in consumer electronics, telecommunications, and automotive applications.
What are the 2 basic types of IC?
Analog ICs: These ICs operate on continuous, analog signals. Thye used in , filters, amplifiers and oscillators.
Digital ICs: These ICs operate on binary (1 or 0) signals. They are used for applications such as logic gates, memory, and processors.
Here is a table that summarizes the key differences between analog and digital ICs:
| Feature | Analog IC | Digital IC |
| --- | --- | --- |
| Signal type | Continuous | Binary (1 or 0) |
| Applications | Amplifiers, filters, oscillators | Logic gates, memory, processors |
| Examples | Operational amplifier, voltage regulator | Logic gate, memory chip, microprocessor |
What is the symbol for IC?
The symbol for an IC (Integrated Circuit) varies depending on the specific type and function of the integrated circuit. It typically consists of various shapes and lines representing the internal components and connections within the IC. The symbol is designed to provide a simplified graphical representation of the IC's functionality.
For example, the symbol for a simple digital IC such as a logic gate may consist of specific shapes and lines representing the input and output terminals, as well as the logic function being performed. Similarly, the symbol for an op-amp (operational amplifier) would include specific shapes representing the input and output terminals, as well as the power supply connections
Which IC is most commonly used?
The most commonly used IC is the logic gate. Logic gates are the basic building blocks of digital circuits. They perform simple logical operations such as AND, OR, and NOT. Logic gates are part of electronic devices,  computers, mobiles and appliances.
Here are some examples of logic gates:
AND gate: An AND gate produces a logic 1 output only if both of its inputs are logic 1.
OR gate: An OR gate produces a logic 1 output if either of its inputs is logic 1.
NOT gate: A NOT gate produces a logic 1 output if its input is logic 0, and vice versa
Which is a popular type of IC?
The most popular type of IC is the memory chip. Memory chips are employed to store data in computers, and other electronic devices. They exist in differnt sizes and types, like static random-access memory (SRAM) dynamic random-access memory (DRAM), , and read-only memory (ROM).
DRAM is the most common type of memory chip. It is used in computers and other devices where high memory is needed on smartphones and tablets. DRAM is volatile, which means that it loses its data when power is removed.
SRAM is less common than DRAM, but it is faster and does not lose its data when power is removed. SRAM is used in devices that require fast access to data, such as cache memory and registers.
ROM is a type of memory chip that cannot be changed. It is used to store firmware, which is the software that controls the device. ROM is non-volatile, it not lose its data when power is removed.
Memory chips are a critical component of modern electronic devices. They allow us to store data and software, which makes our devices more powerful and versatile.
Is IC digital or analog?
ICs can be either digital or analog.
Digital ICs: These ICs operate on binary (1 or 0) signals. They are used for applications such as logic gates, memory, and processors.
Analog ICs: These ICs operate on continuous, analog signals. They are used for applications such as amplifiers, filters, and oscillators.
What are the advantages of IC?
Small size: ICs can be made very small, which allows them to be used in devices that are also small. For example, ICs are used in cell phones, which are much smaller than computers that were made before ICs were invented.
Low cost: ICs can be made very cheaply, which makes them affordable for many people. For example, it used in consumer electronics devices
High reliability: ICs are very reliable, which means that they don't often fail.
High performance: ICs can do complicated operations very fastly, sp best for use in high-performance devices, computers and digital cameras.