Hello readers welcome to the new post. In this tutorial, we will have a look at PCB FR-4. Are you new to the PCB industry? Are the numerous options for materials overwhelming you? Fear not, for we will cover all there is to know about FR-4, one of the most popular materials used in PCBs, in this article.
Table of Contents
Introduction
What is FR-4?
Why is FR-4 so popular?
Properties of FR-4

Thermal Properties
Electrical Properties
Mechanical Properties

FR-4 Manufacturing Process

Lamination
Drilling
Etching
Finishing

Types of FR-4

Standard FR-4
High Tg FR-4
Halogen-free FR-4
Flexible FR-4

Applications of FR4
Advantages and Disadvantages of FR-4
Choosing the Right FR-4 for Your Project
Maintenance and Handling of FR-4 PCBs
Conclusion
FAQs
 Introduction
PCBs, or printed circuit boards, are a crucial component of contemporary electronics. They can be found in anything from smartphones to cars. FR-4 is mostly used PCB board material. This article will give a thorough explanation of FR-4 and explain why it is a preferred material for PCBs.
 What is FR-4?
FR-4 is a type of epoxy laminate with glass reinforcement that is frequently used as a PCB substrate. It is made of fiberglass cloth that has been weaved and then thermosetting resin has been added to it.
When resin has been cured solid  and long-lasting materials is used in different application creation
 Why is FR-4 So Popular?
FR-4 is a preferred material for PCBs for a number of factors. First off, it is a cheap and widely accessible material. 2nd one is that it is a versatile material that can be used in different applications due to its electrical, good thermal, and mechanical parameters. Third, it may be utilized in both single- and double-sided PCBs and is simple to deal with.
FR4 Dielectric Constant
Printed circuit boards (PCBs) are frequently made using the dielectric material known as FR-4. An essential characteristic of FR-4 is its relative permittivity, also known as the dielectric constant, which governs the material's capacitance. The frequency of the electric field that is applied to FR-4 affects the material's dielectric constant. The dielectric constant at low frequencies typically ranges from 4.3 to 4.7. The dielectric constant, however, can rise dramatically at higher frequencies, occasionally reaching values as high as 5.4.
The fact that FR-4 is a composite material is the cause of the dielectric constant's fluctuation with frequency. A woven glass cloth impregnated with epoxy resin makes up FR-4. The dielectric constant of composite material is the weighted average of dielectric constants of two components with glass fabric that have high dielectric constant than expoy resin.
Temperature and humidity have an impact on the dielectric constant of FR-4 in addition to frequency. In general, the dielectric constant increases like the humidity and decreases with temperature increases. When designing and producing PCBs using FR-4, these effects must be taken into consideration.
It's significant to remember that FR-4's other characteristics, in addition to its dielectric constant, have an impact on how well PCBs function. The thermal conductivity, dissipation factor, and coefficient of thermal expansion are a few more characteristics that are crucial in defining the PCB's overall performance.
FR4 Circuit Board
A typical material used in the production of printed circuit boards is FR-4. Its main features are quality mechanical and electrical qualities with low cost
The woven glass fabric that makes up the composite material known as FR-4 has been treated with epoxy resin. The glass fabric offers the board strength and stiffness, while the epoxy resin provides electrical insulation and protects the board from moisture and other environmental elements.
Single, double, and multi-layered FR-4 circuit boards are available. Circuit components are present on both sides of double-sided boards, and one sides boards, circuits are only on one side. Multi-layered boards have many layers of circuitry and are used in more complicated applications.
Circuit boards made on FR-4 are recognized for having excellent thermal properties.
As it has low thermal expansion material is able to face temperature variations without cracking or warping In applications where the board is exposed to high temperatures or swift temperature changes, this is crucial.
The low cost of FR-4 circuit boards is one of their benefits. FR-4 is a common option for manufacturers and designers looking to reduce costs because of how affordable it is. FR-4 is a high-quality material that is widely utilized in many different industries, despite being inexpensive.
 Properties of FR-4
There are different features of FR-4 materials listed here
Thermal Properties
it provides good thermal stability which means that it can handle high temperatures without any degradation. It makes it the best option for a board that is used in high-temperature applications
Electrical Properties
It is a good electrical insulator. It comes with high dielectric strength which means it can handle high voltage without any breakage. it also provides the low dielectric constant which means that it can sustain the integrity of the signal for high frequencies values
Mechanical Properties
The strong and resilient material FR-4 is capable of withstanding mechanical stress without cracking. It has high flexural strength which means can be bent without any breakage also has a high tensile strength which means it can handle pulling or stretching without breaking
FR-4 Manufacturing Process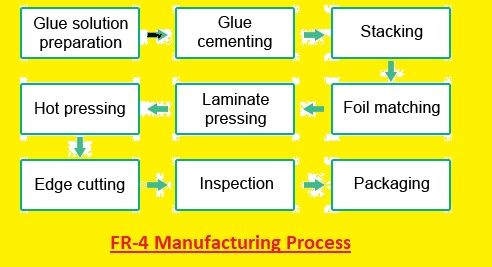 There are different steps used for manufacturing Fr-4 PCBs that are explained here
Lamination
The first step is lamination in manufacturing. It uses stacking players of Fr-4 materials and bonding them through the use of heat and pressure
Drilling
The second step is drilling. Holes are drilled in the FR-4 material with the use of a CNC machine. These holes used to attach components to boards
Etching
When holes are drilled board is coated with a layer of photosensitive material. The design of the board is then transferred to photosensitive materials with the use of UV light. The areas which are to be covered through design are then etched with the use of a chemical solution.
Finishing
The last step is PCB finished through the application of a layer of solder mask and a layer of silkscreen. The solder mask provides the protection to board from solder splatters, and silkscreen is used to label components on the board
Types of FR-4
There are different types of  FR-4 available that come with different features explained here
Standard FR-4
Standard FR-4  commonly used type of FR4 material. Its Tg value is 130-140 °C and is used in different projects
High Tg FR-4
This type of FR4 has a transition temperature of 170-180°C so used in high-temperature projects
Halogen-free FR-4
It is a type of FR-4 which not have any halogens. It is environment-friendly FR4.
Flexible FR-4
It is a type of FR4 that is used in flexible boards.  it has low glass transition temperature than standard FR4 which means it can bend without any breaking
 Applications of FR-4
There are different applications of FR4 explained here
It is part of Consumer Electronics
It used in Industrial control systems
It is used in different Telecommunications equipment
it is part of the Aerospace and defense systems
Automotive electronics
 Advantages and Disadvantages of FR-4
FR-4 has its advantages and disadvantages explained here.
Advantages
Inexpensive material
Widely available in market and industries
it comes with Excellent thermal, electrical, and mechanical properties
It can easily handle
Disadvantages
it is not used for high-frequency applications
It can be brittle and prone to cracking
It may release toxic fumes when heated
Choosing the Right FR-4 for Your Project
Here are some factors explain that you must follow for choosing the right FR4 for your projects
Operating temperature
Environmental factors
Signal frequency
Mechanical stress
 Maintenance and Handling of FR-4 PCBs
It's critical to treat and maintain your FR-4 PCB appropriately to ensure its longevity and dependability.
Avoiding exposure to moisture and humidity
Regularly inspecting and cleaning the PCB
Protecting the PCB from physical damage
Properly storing and transporting the PCB
 Conclusion
In the field of PCBs, FR-4 is a versatile and often used material. It is a great option for many applications thanks to its excellent thermal, electrical, and mechanical qualities. Understanding FR-4's characteristics and manufacturing procedure can help you select the ideal material for your particular project and assure its dependability and longevity.