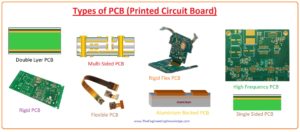 Hello, fellows, I hope all of you are having fun in your life. In today's tutorial, we will have a look at Types of PCB Board. Nowadays PCB playing a very important role in the electronic and electrical industries. Almost each and every circuitry of the device consists of PCB. It stands for Printed Circuit Board. This circuit board is manufactured by the glass-fiber, epoxy of some other related materials. At this circuitry board, there is numerous path through which different components and circuits are constructed. There are 2 different techniques that are used for the connection of components on this circuitry board first one is surface mounted and the second is hole technology.
PCB is not only part of our electronic industry like computers, mobiles, laptops, and other devices use PCB for their construction, but it also used in the medical industry such as X-Ray machine and CT-Scene machines also consist of this board. It also plying very important rule industries used in different machines like thicker copper Printed Circuit Board is in different motor controlling circuitry, battery charging device. In today's post, we will have a look at its different types, working and their practical use. So let's get started with types of PCB Board.
Types of PCB Board
According to the construction techniques and uses, there are numerous types of printed circuit boards that are listed here.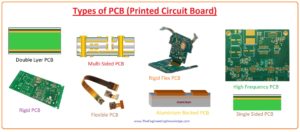 Single Layer PCB
This category of the printed circuit board has only one layer of subsequent material.
The side of this substance covering of metallic is occurring mostly copper is used due to its high conductive behavior.
For safety solder mask is employed on the metallic coating.
After that to marking of solder mask for marking of different components, silk-screen is exiting.
This category of a printed circuit board is very easy to use due to simple construction for beginners who want to make new projects.
Its price is very less and can easily available in the market.
Due to easily access and less price it mostly used in different electronic modules like calculator, printers, etc.

Double Layer PCB
The physical construction of this category of PCB is similar to single-sided PCB but different is that in this PCB metallic (coating) is exits at both side of the base substance.
On both sides of this PCB, circuits can be constructed.
On the surface of this PCB, there are holes at different locations for the connection of one-sided components to other side elements.
There are 3 methods for assembly of different components on this circuit board but one is used at a time, The first one is through-hole technology and the second one is surface mount technology.
The through-hole technique uses a different wiring system for the connection of components but in a surface mounted wire is not used wire.
Surface mount technique has the ability to construct large no of circuitry less space, it means this technology provides less weight and large no of a circuit on a single board than through-hole method.
This type of PCB is used in different light-emitting diodes, amplification circuits, HVAC (heating, ventilation, and air conditioning) systems, etc.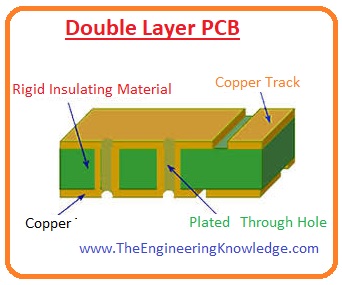 Multi-layer PCB
This category of circuit board comprises of 3 or more double-sided printed circuit board.
The circuit board is linked with one another by special material and there are some types of insulators among them to avoid heat transfer among them.
This PCB exits in different layers number smaller PCB has 4 sided and large can have 10 or 12 sides (layers).
A large no of layers is very useful for complicated circuitry that makes it effective for different industrial applications where a single side PCB use can increase cost and require large space for circuit construction while in multilayer it can be done on a single board.
There is another benefit of this structure is that it reduces the electromagnetic interference among different circuits.
GPS (Global Positioning System), satellite, data storage devise and weather analyzing system are common applications of this board.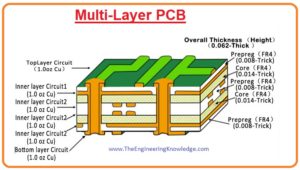 Rigid PCB
This category of a circuit board is manufactured from such a substance that not change its physical state when some stress is applied to it.
The simplest example of the PCB is the motherboard of your personal computer.
It (motherboard) is such a circuit board that provides at the same time current for input to all components and circuits assembled on it like random access memory (RAM), central process unit (CPU).
This type of PCB board has numbers of layers according to circuitry requirements it is available from one layer to ten layer structure.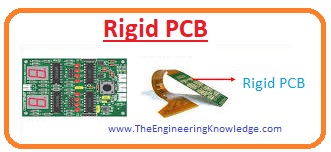 Flexible PCB
This category of a circuit board is manufactured by such substances that can easily transform into other shapes according to circuitry requirement, mostly plastic used for this PCB.
This circuit board is also available in more than one layer according to the user's requirements.
Due special construction of flexible substance, it has a high cost for its assembly.
Irrespective of the high cost it provides some benefits over rigid boards. The main advantage of it that makes effective is its flexible feature.
Its flexible behavior can decrees expenses and provide less weight circuits over a rigid PCB board.
For the protection from environmental conditions, like high temperature, water, corrosion it coated with such materials thatprovide protection from damage.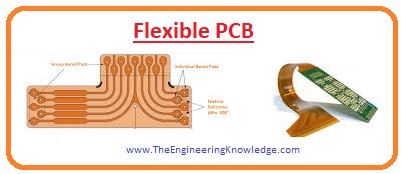 Flex-Rigid PCB
These PCBs are assembled when flexible and rigid PCBs are combined with each other. This board provides both features of flexible and rigid.
Due to its dual behavior in some special cases, it is preferred over other single or double-sided circuit boards.
There is a need for less space for circuit assembly on this board due to this feature it used in cell phones, cameras, and automobiles.
There is a need of less space for circuit assembly on this board due to this feature it used in cell phones, cameras, and automobiles.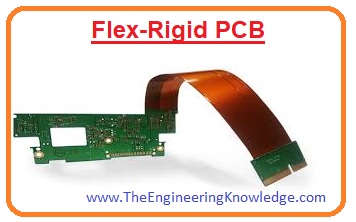 High Frequency PCB
This type of PCB is different from other types in construction, it also has the ability to send a signal of frequency larger than one gigahertz.
This circuit board is manufactured by the PPO (polyphenylene oxide) and Teflon.
The price of Teflon is high that increases its price too, Teflon is expensive due to dielectric constant.
Before the selection of this category of a circuit board, you must note some factors like dielectric constant, its power dissipation and thickness of the dielectric.
The most significant fact to be noted is dialectic constant if it varies it causes the variation in the impudence this variation to affect the digital signal very seriously that also disturbs the performance of the complete signal.
If this PCB is employed in humidity condition then it's dialectic constant also decreases.
For the construction of this PCB always uses such substance that is resistant to environmental conditions.
Aluminum-Backed PCBs
This type of circuit board is manufactured in a similar fashion to copper PCB assembled.
But the difference is that like other PCB it does not uses glass-fiber for its construction but uses aluminum or copper.
This module is attached with an insulator that provide less heat transfer from its backing.
This type of PCB is very common than other PCBs and provides lots of benefits of fiberglass material.
As we are familiar with that aluminum is in excess on the earth, almost 8.23 percent of the earth is aluminum. So it's cost is very less than make a production of PCB cost effective also.
The most usage of aluminum for the PCB construction is due to its environment-friendly behavior as it can be very easily recycled not hazard for the environment.
The operating life of aluminum is larger than other ceramic and glass fiber materials so it most preferred.
So, friends, these are common types of PCB I have mentioned each type with the detailed if you have any query ask in comments. Thanks for reading. See you in the next tutorial. Have a good day.