Hello guys welcome to the new post. In this post we'll have a look at Is a Car Battery AC or DC Power Source. Modern cars need batteries since they supply the electrical power needed to operate many systems and start the engine. But you may have the interest to know that are a car battery is a source of direct current (DC) or alternating current (AC) power. The uncertainty around AC and DC power will be clarified when we will cover the details about automotive batteries and illuminate their power source. So let's get started with Is a Car Battery AC or DC Power Source?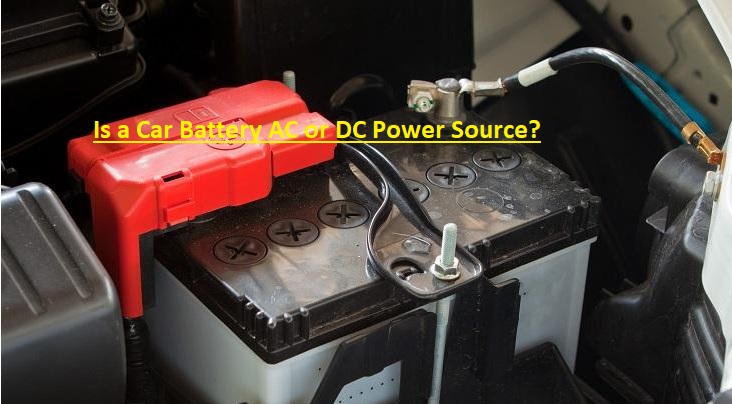 Introduction to Car Battery AC or DC
The power source of a vehicle battery is significant to understand since we rely significantly on cars for mobility. Car batteries are the type of energy storage that provide different electrical systems the power they need and ensure a dependable engine start. We must have knowledge of fundamentals in order to understand the power source of car batteries.
Understanding the Basics of Car Batteries
What is a Car Battery?
A car battery is a rechargeable module that stores energy chemically.  A standard battery comes with six cells, and every clee provides 2.1 volts, so the total voltage will be 12.6 volts in a completely charged battery. Due to their dependability and affordability, lead-acid batteries are a commonly used type of battery in cars
Purpose of a Car Battery
A car battery's main function is to start the engine by providing the starting motor with a surge of power. It also provides power to the car's electrical systems when the engine is off or when load demands are too larger for the alternator to handle. A car's engine would not start without a functioning battery, making the vehicle inoperable.
Types of Car Batteries
Lead-acid, lithium-ion, and absorbed glass mats or (AGM) batteries are some of the types of car batteries. The mostly used battery type is lead-acid, and it used in cars for many years. though, lithium-ion batteries are becoming common due to their greater energy density and longer lifespan.
DC Power in Car Batteries
Definition of DC Power
An electrical current that moves in one direction is known as direct current or DC power. It sustains a steady voltage, which makes it best for powering machines and automobiles.
How car Batteries Produce DC Power
In fact, a source of DC power is the battery in a car. A chemical process takes place in each battery cell, creating electrons that move in one direction. So, the car battery generates DC power, which is required for the electrical systems of the automobile to function.
Importance of DC Power for Vehicles
The majority of electrical devices and parts in automobiles run on DC power. All of these components, like fuel injectors and sensors to the lighting and infotainment systems, need DC electricity to operate properly. So, the DC power need to fulfill these electrical needs is provided by automobile batteries.
AC Power in Car Batteries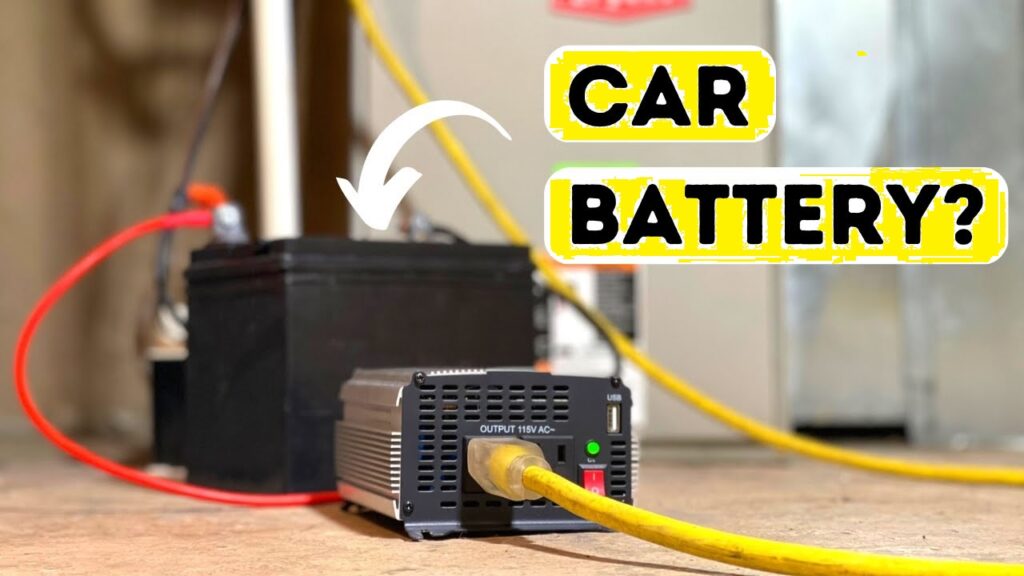 Difference between AC and DC power
A type of electrical current that occasionally reverses direction is called AC power, or alternating current power. It is frequently used in home power outlets and oscillates between positive and negative cycles. DC power, while moving constantly and without interruption in one direction.
Can car batteries produce AC power?
DC electricity is generated by car batteries by default. It's important to remember that certain automobiles include equipment that requires AC power. In these conditions, the employment of alternators allows car batteries to indirectly contribute to the creation of AC power.
Role of alternators in converting AC to DC power
Vehicles' alternators are the main parts that transform engine mechanical energy into electrical energy. They first generate AC power, which is subsequently transformed into DC current by a rectifier. In addition to powering the car's electrical systems, this transformed DC electricity also charges the battery.
AC Batteries
Alternating current batteries, or AC batteries, are not the same as conventional batteries. Direct current electricity travels in one direction and is stored and supplied by batteries. AC power, on the other hand, periodically reverses direction, often at a frequency of 50 or 60 Hz.
The majority of electrical devices and devices use AC power, which is the common type of electrical power given by utility grids. Before being provided to homes, companies, and other users, it is generated by power plants and sent across large distances. Nevertheless, batteries are often made to store and provide DC power, which is frequently utilized in automobiles, electronics,  and a variety of other applications.
The function of Car Batteries
Starting the engine
Giving the engine the energy it needs to start is one of a car battery's main functions. A surge of electrical energy from the battery is sent to the starting motor when the ignition is switched on, permitting it to spin the engine and start the combustion process.
Powering electrical systems
The car battery takes over as the power source for many electrical systems when the engine is off or when the electrical demands are larger than the alternator can handle. These systems are lighting, music, navigation, power windows, and other components. Even while the engine is not working, the battery keeps these parts functioning.
Storing electrical energy
Energy storage mechanisms like car batteries enable additional electrical energy generated by the alternator to be kept for later use. while the alternator is not generating enough power or during times of high electrical demand, such as when the engine is idle or during short trips this stored energy is used.
How Car Batteries Charge
Understanding how car batteries charge is compulsory for maintaining their longevity and ensuring optimal performance. Let's explain the charging process and methods:
The charging process of car batteries
The alternator and voltage regulator that makes the charging system of the car are largely responsible for charging the batteries. The alternator generates electrical energy while the engine is working, recharging the battery. To avoid overcharging, the voltage regulator controls the charging process.
Charging methods: Alternator and external chargers
When a car is working normally, the alternator is the main source of battery charge. External chargers can be utilized, nevertheless, when the battery is depleted or urgently needs to be recharged. These chargers plug into a power source and offer the electrical energy need to top off the battery's charge.
DC Battery vs AC Battery
| | DC Battery | AC Battery |
| --- | --- | --- |
| Power Type | Direct Current (DC) | Alternating Current (AC) |
| Power Storage | Stores DC power | Does not exist in traditional sense |
| Power Output | Provides DC power | Requires an inverter to convert DC to AC |
| Common Applications | Portable electronic devices, vehicles, off-grid systems | Not commonly used or available |
| Power Generation | Not involved in power generation | Not involved in power generation |
| Grid Compatibility | Can be used with DC devices and some AC devices with the help of inverters | Not applicable without conversion |
| Energy Conversion | No conversion needed, power is readily available as DC | Requires conversion from DC to AC using an inverter |
| Common Battery Types | Lithium-ion, lead-acid, nickel-cadmium | Not applicable |
Are car Batteries AC or DC
Car batteries are DC batteries.. Direct current is what they store and provide when it comes to electricity. Car batteries are primarily created to power the many electrical systems and components within a car, like the ignition, radio, lighting,  and other parts. Car batteries are made specially to supply DC power since the electrical systems in automobiles run on this type of current.
Conclusion
In conclusion, car batteries are a dc power source. They are essential for starting the engine, powering the electrical systems, and storing energy for later use. Car batteries generate DC power, but some vehicles also include alternators that use DC power to produce AC power for certain equipment. We may better comprehend how car batteries work and the crucial part they play in the running of automobiles if we have knowledge of their power source.
FAQs
1. Can a car battery produce both AC and DC power?
No, car batteries mostly generate DC electricity. However, some automobiles employ alternators to provide AC power, which is then converted into DC power for the battery to be charged and the automobile's electrical systems to be powered.
2. How long does a car battery typically last?
A car battery's lifespan changes based on differnt variables, like usage, environment, and maintenance. A vehicle battery can last three to five years.
3. Can we use a car battery to power AC appliances directly?
No, car batteries are made to supply DC power. You would need an inverter to transform the DC power from the battery into AC power if we want to power AC equipment.
4. How can we extend the lifespan of my car battery?
Performing routine maintenance, like monitoring the electrolyte levels, keeping the battery clean and free of corrosion, and minimizing deep discharges, will help to extend the life of your automobile battery. Also, running the car frequently retains the battery charged.
5. What should I do with an old car battery?
Recycling used automotive batteries responsibly will protect the environment. Used car batteries can be recycled at many auto parts stores and recycling facilities. To learn how to properly dispose of your used automobile battery, get in touch with a nearby recycling centre or authorized battery dealers.