Hello readers welcome to the new post. In this post, we will discuss AGM vs STD Battery: Which Is Better For Your Car? if you drive a car must have know the importance of battery reliability. it provides the power to car's electrical system, helping to start and provide energy to differnt elements. In the case of car batteries there are differnt types of it and the two commonly used are AGM  and STD batteries. In this post, we will cover their detailed parameters. So let's get started with AGM vs STD Battery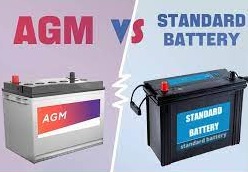 Introduction std vs AGM battery
Car batteries are major devices to provide power to start the vehicle and operate its electrical system. AGm and STD are basic types of battery used each comes with its own features and drawback. The difference between these batteries helps us to make final decisions for their uses and replacement
 AGM Batteries
What is an AGM Battery?
AGM batteries, also called Absorbent Glass Mat batteries, are valve-regulated lead-acid (VRLA) batteries. They come with a fiberglass mat for holding electrolyte solution, the car absorbed it, which makes them spill-proof. AGM batteries are made with closed packaging plates, ensure that high surface area and good operation
Advantages of AGM Batteries
Deep Cycle Capabilities: AGM batteries are used in cycling applications, which makes them best for vehicles with high power demands like luxury cars or those that come with aftermarket accessories.
Maintenance-Free: These batteries are sealed, reducing regular maintenance, like checking electrolyte levels, or adding water.
Vibration Resistance: The inner structure of AGM batteries is such that they can easily handle vibrations, so they are best for off-road vehicles or cars that face rough conditions
Faster Charging: It can be charged faster than STD batteries which decrease their charging time
Disadvantages of AGM Batteries
Higher Cost: AGM batteries are more expensive than STD batteries since come with the latest design and technology
Sensitive to Overcharging: These batteries are sensitive to overcharging, which decreases battery operating life or damage if not accurately regulated
 STD Batteries
What is an STD Battery?
STD batteries, also called Standard batteries or flooded batteries, are the common type of lead-acid batteries. They come with lead plates immersed in a liquid electrolyte solution. STD batteries are mostly used vehicles and used for differnt years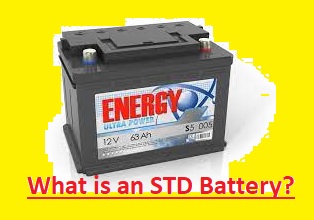 Advantages of STD Batteries
Lower Cost: STD batteries are easy to get than AGM since they are budget-friendly battery options for car
Widespread Availability: They are commonly used and compatible with different vehicle types, so they can easily be replaced and buy
Tolerance to Overcharging: They can handle overcharging more easily than AGM batteries which saves them from improper charging damage
Disadvantages of STD Batteries
Regular Maintenance: They need regular maintenance like monitoring the electrolyte levels and adding distilled water for compensation of evaporation.
Susceptible to Vibrations: The inner construction of STD batteries helps to avoid vibrations that casues in bumpy conditions
 Comparison Between AGM and STD Batteries
Battery Performance
AGM batteries come with good features than STD batteries. They provide high-cranking amps and longer operating life. AGM battery also comes with good deep cycling features making them best for vehicles in high demands applications
Maintenance
AGM batteries do not need maintenance, no need for electrolyte checks or water refills. On the other hand, STD batteries need regular maintenance, like checking electrolyte levels and addition of distilled water when needed
Cost
STD batteries are more easily accessible than AGM batteries. If your budget is less or have a standard vehicle without high power needs, an STD battery can be the best option.
Application
AGM batteries are preferred for vehicles that need a reliable power supply with good deep cycling features. RVs, high-end automobiles, watercraft, and off-road vehicles are among them.. STD batteries are best for standard vehicles that don't have high power requirements.
Longevity
AGM batteries work for a longer duration than  STD batteries. They can for about two to three times longer, especially in deep cycling projects.
 Which Battery is Better for Your Car?
The selection between an AGM battery and an STD battery is based on your certain vehicle and its power needs. If you have a luxury car, or RV, or mostly drive off-road, an AGM battery will be a good option due to its good performance and longevity. Though, if you have a standard vehicle and have limited resources an STD battery would best
standard vs AGM battery
| Feature | Standard Battery | AGM Battery |
| --- | --- | --- |
| Maintenance | Requires regular maintenance | Maintenance-free |
| Cost | Affordable | More expensive |
| Performance | Lower cranking amps | High cranking amps |
| Deep Cycling | Not recommended | Excellent deep cycling capabilities |
| Longevity | Shorter lifespan | Longer lifespan |
| Application | Standard vehicles | Luxury cars, RVs, off-road vehicles |
| Vibration Resistance | Less resistant | Highly resistant |
| Charging Time | Normal | Faster charging |
agm vs standard battery charging
Charging voltage: AGM batteries need less charging voltage than standard batteries. AGM batteries typically require a charging voltage between 14.2 and 14.4 volts, but conventional batteries require between 14.4 and 14.8 volts.
Charging time: AGM batteries can be charged fastly than standard batteries. The charging time for such a battery is about 4 and 8 hours, and for a standard battery time for charging is  6 and 12 hours.
Charging method: AGM batteries must be charged with the use of a constant voltage (CV) charger. A CV charger will maintain a constant voltage when the battery charges, which helps to avoid overcharging. Standard batteries can be charged using a CV charger or a trickle charger.
Advanced Battery Chargers Features and Specifications
Multi-stage charging: Advanced battery chargers use a multi-stage charging method that with time increases the voltage and current when the battery charges. it helps to avoid overcharging and damage to the battery.
Automatic shutoff: Advanced battery chargers automatically get off when the battery is completely charged. It avoids the battery from being overcharged, which can shorten the operating life
Temperature compensation: Advanced battery chargers can compensate for the temperature of the battery, which make sure that the battery is charged safely and effectively
Overload protection:  These batteries' chargers contain overload protection, which reduces the risk of damage from power surges to the charger or the battery.
Multiple battery types:  Different battery types, such as NiMH, lead-acid, and Li-ion batteries, were often supported by these chargers.
Some main features and specifications of advanced battery chargers:
Input voltage: The input voltage of these batteries is the voltage that the charger needs to operate. The majority of cutting-edge battery chargers include a range of input voltage levels, allowing for usage with various power sources.
Charging current: The amount of current that an advanced battery charger can provide to the battery is known as the charging current.The charging current is measured in amps.
Output voltage: The voltage that an advanced battery charger gives to the battery is known as the output voltage.The output voltage measuring unit is volts.
Operating temperature: The operating temperature of an advanced battery charger is the temperature value at which the charger can work safely. Mostly advanced battery chargers can work for temperature values from -20°C to 60°C.
Display: Differnt advanced battery chargers shows the status of the charging process on display. The display also shows the battery voltage, the charging current, and the estimated time for complete charging
Safety features: They have differnt safety parameters like short circuit protection, overload protection,  and reverse polarity protection. These features help to avoid damage to the charger or the battery.
std battery vs agm- Which one is Better
STD and AGM batteries are both lead-acid batteries, but they come with different construction and performance features. STD batteries, also called flooded batteries, have liquid electrolytes that can easily move in the battery AGM batteries, while, comes with a glass mat separator that absorbs the electrolyte, which make the battery compact and spillproof
comparing the two types of batteries:
| Feature | STD Battery | AGM Battery |
| --- | --- | --- |
| Construction | Liquid electrolyte | Glass mat separator |
| Spill-proof | No | Yes |
| Maintenance-free | No | Yes |
| Vibration resistance | Good | Excellent |
| Shock resistance | Good | Excellent |
| Cold cranking amps (CCA) | Lower | Higher |
| Deep cycle capacity | Lower | Higher |
| Lifespan | 3-5 years | 5-7 years |
How to Charge Car Battery?
Here are the some steps on how to charge a car battery:
Prepare the battery. Make sure the engine is off and all accessories are disconnected. Remove the negative cable first, then the positive cable.
Clean the battery terminals. The use of a wire brush for cleaning corrosion on battery terminals. will help to make sure the charger makes good connections
Connect the battery charger. Attach the positive cable from the charger to the positive terminal on the battery. Attach the negative cable with the charger with a negative pin of the battery
Turn on the battery charger. Adjust the charger for correct ampers values. In some cars, the setting value is ten ampers is not effective
Charge the battery. The time taken by charging the battery will be charged based on the size of the battery and ampers adjustment of the charger. A small battery can only be set for some hours and a larger battery can work for a longer duration
Disconnect the battery charger. When the battery is complete charge off the battery charger and disconnect the cables
Should You Pick an SLA Or an AGM Battery?
SLA and AGM batteries are sealed lead-acid batteries, but come with some differences. SLA batteries use a liquid electrolyte,  and  AGM batteries come with an absorbed glass mat electrolyte. This difference in design gives AGM batteries some benefits than SLA batteries, like
Better performance in cold weather. AGM batteries have a high cold cranking amp (CCA) rating than SLA batteries, which shows that they can start an engine easily in cold weather conditions
More resistant to vibration. The glass mat separators in AGM batteries provide more resistance to vibration than SLA batteries. it is best for conditions where high vibrations involved like in boats or RVs.
Longer lifespan. AGM batteries come with longer operating life than SLA batteries. it is that glass mat sepertes avoid the creation of sulfation the process that can decrease the operating life of the lead acid battery
AGM batteries also have some disadvantages, which are
Higher cost. AGM batteries are more costly than SLA batteries.
Not as tolerant of deep discharge. AGM batteries can be damaged if they are highly discharged. Since the battery will be cycled regularly in certain applications, they are not a good choice.
Main differences between SLA and AGM batteries:
| Feature | SLA Battery | AGM Battery |
| --- | --- | --- |
| Electrolyte | Liquid | Absorbed glass mat |
| Cold weather performance | Good | Excellent |
| Vibration resistance | Fair | Good |
| Lifespan | Average | Long |
| Cost | Low | High |
| Deep discharge tolerance | Fair | Poor |
Can I Replace an SLA Battery With an AGM?
Yes, the SLA battery can be replaced with an AGM battery. Both SLA and AGM batteries are sealed lead-acid batteries, that need zero maintenance and do not need the addition of water. Though, there are main differences between the 2 types of batteries.
Compared to SLA batteries, AGM batteries offer a higher energy density, allowing them to store more energy in a smaller space. This makes them ideal for vehicles with limited capacity, such as automobiles and motorbikes.
AGM batteries are also more resistant to vibration and shock than SLA batteries, which makes them a good option for applications where these conditions exist, like marine and RV applications.
AGM batteries come with longer lifespans than SLA batteries.
FAQS
What is the difference between STD and AGM batteries?
STD: Standard lead-acid batteries are commonly used batteries. They come with liquid electrolyte that is free to move in the battery.
AGM: AGM's full form is Absorbent Glass Mat. These batteries have a glass mat that absorbs the electrolyte, so no need for maintenance
Do I have an STD or AGM battery?
You can generally tell whether you have an STD or AGM battery by looking at the top part of the battery. STD batteries will have a removable upper part, while AGM batteries come with a sealed top. We can also check the battery label for the type of battery.
Can I charge an STD battery with AGM?
Yes, you can charge an STD battery with an AGM charger. Though, it is not suggested to charge an AGM battery with the use of an STD charger, as this can damage the battery.
Are AGM batteries better?
AGM batteries have many advantages over STD batteries, like:
They are spill-proof and maintenance-free.
They can be installed in any direction
They have a longer lifespan.
They can handle more vibration and shock.
What is the life of AGM battery?
The life of an AGM battery can changes based on make, model, and how it is used. Though, most AGM batteries have an operating life of 5 to 10 years.
Do AGM batteries last long?
Yes, AGM batteries work for a longer duration than STD batteries. In fact, they can last up to double as long as an STD battery.
Why do AGM batteries fail?
AGM batteries can fail for differnt reasons, like
Overcharging
Undercharging
Deep discharge
Physical damage
Corrosion
Do AGM batteries overheat?
If AGM batteries are not charged properly or are used in high-temperature environments, they may overheat. Though, they are less likely to overheat than STD batteries.
What is the advantage of an AGM battery?
The main benefit of AGM batteries is that they are spill-proof and maintenance-free. This makes them good for applications where spills or leaks could cause problems, like in boats or RVs. AGM batteries are also a good for applications where vibration or shock is a concern, like in off-road vehicles