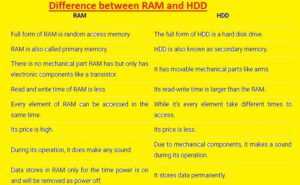 Hello, readers welcome to the new post. Here we will discuss the Difference between RAM and HDD. HDD and RAM both are types of computer memory units. RAM stores the computer's programs and data which the CPU needed in real-time. RAM is a volatile memory unit that has data for a short time and data is removed when power is off. HDD is a permanent storage device that stores data permanently and it also stores operating systems files permanently
Here we will discuss different parameters to find the differences between RAM and HDD.So let's get started Difference between RAM and HDD
What is RAM
The word RAM stands for random access memory, which is used to store information and data provided by the computer and can read in any order or sequence.
Different location of RAM data allows us to read/write stored data at the same time.
But in other data storage devices such as compact disc (CD), hard disk, DVD, it is not possible to read and write data at the same time. This difference is due to the speed of data rotation and the limitation of arm movement.
It has multiplexed and demultiplexed circuits for reading and writing random access memory and connecting data lines with addressed storage.
Normally, more than one bit can be accessed using a similar address, and random access normally involves numerous data lines, so it is called eight-bit or sixteen-bit RAM.
Currently, ram is available in ICS form with memory cells made of metal oxide semiconductors.
Random access memory is also known as volatile memory because it retains data until the computer is turned on, as the data will be lost when the computer is turned off.
However, another volatile memory called ROM (Read Only Memory) was also introduced.
Types of RAM
There are 2 main types of random access memory.
DRAM (Dynamic Random Access Memory)
DRAM stands for dynamic random access memory, the word dynamic in the ram name says that data will be lost when it is refreshed.
Dynamic random access memory is used in computers, laptops, and mobile devices. When we watch various advertisements on TVs in which we see that this mobile or computer has four GB of RAM or sixteen GB of RAM, it means that it is dynamic random access memory.
Synchronous DRAM or SDRAM is used in modern computers. In computer RAM, you have ever seen the terms DDR, DDR2, DDR3, etc. all these explanations about transferring data in a single clock cycle.
SDRAM
Dynamic random access memory acts as the system's main memory, while static random access memory is used for the computer's cache.
Due to its static behavior, it does not need to be refreshed, as dynamic memory needs the refresh process several times in one second.
Thus, the operating speed of static direct access memory is greater than that of dynamic RAM.
But RAM is either SRAM or DRAM is volatile and loses data when turned off.
What is HDD
The full form of HDD is a hard disc drive and a common part of computers' secondary storage. It comprises disks of nonmagnetic material that has a coating of magnetic material.
The data is stored in HDD in form of a magnetic field. To store data in HDD moveable magnetic readers arm is used which slides over plater or disks, That reason called HDD is known as magnetic memory.
HDD is commonly used in desktop computers and laptops. As it is a secondary storage device CPU not has direct access to data stored in this device. The data of the HDD is first moved to RAM and then given to the CPU for processing. In some latest computers HDDs replaced with SDDs or solid-state drives
Difference between RAM and HDD
Here some differences between RAM and HDD are explained here
The full form of RAM is random access memory and HDD stands for hard disk drive
Ram is the main or primary memory and HDD is a hard disk drive
RAM has mechanical components that come with transistors  and HDD has moveable parts like an arm, pin
The read and write time of RAM is less than HDD
Each memory unit of RAM is accessed at the same speed and HDD is accessed at different time
Direct data can be accessed from RAM and data not directly accessed from HDD
The storage range of RAM is one GB to eight GB and HDD has 500 GB to 4TB
The Noise produced in HDD and RAM does not have noise
RAM is expensive and HDD is less cost
RAM has an impact on computer speed if is the low speed of the computer decreases and HDD does not have any effect on computer speed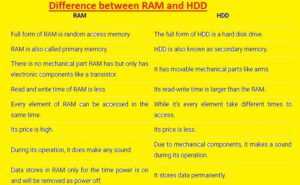 HDD Advantages
HDD has a high capacity of data storage
The operating speed is high than other storage like optical disks and ram
It is easily accessible and can get at affordable rates
Its prices are low
HDD Disadvantage
Its form factors is high than SSD
It uses high power than RAM
It losses power so energy inefficient
It produces noise
Its reading and writing speed is low than RAM
That is all about the difference between RAM and HDD all details has explained if you have any questions ask here. These two memory unit are physical elements of the computer used for holding the data instructions or data storage. RAM is a volatile memory unit that stores data for a short time and data is lost after power is off. HDD saves data for permanently