Hello, friends, I hope you all are doing great. In today's tutorial, we will have a look at the Full form of RAM its practical implementation, applications, and uses. The full form of RAM is a random access memory in 1947 first time in the world ram was created by  Freddie Williams and its name was Williams tubes due to its inventer. The data storage was done by this ram in the form of charged particles on the surface of the cathode ray tube. This memory was called random access as the electron beam produced by the cathode ray tube can read the electrically charged data in any order. The data storage capacity of this first ram was about some hundred to thousand bits, but its operating speed and less power-consuming capacity were better than the older Vaccum tube latches.
Ultrasonic delay lines, Relay, mechanical counters were used in computer as a memory before the invention of random access memory. Delay lines can only generate data in a sequence as it was stored. In 1947 Frederick Viehe invented the magnetic core memory type of ram and its 2nd most used memory. For data storage in this magnetic core memory, metallic rings and wire were used. Only a single bit stored in a single ring and can get at any time. The random access memory we are now using created by Robert Dennard in 1968 and known as solid-state memory and also called dynamic random access memory (DRAM). In today's post, we will have a look at its working, comparison with other memory storage and applications. So let's get started with the Full Form of RAM.
Full Form of RAM
The word RAM stands for random access memory used to store information and data provided to a computer and can read in any sequence or order.
Either different data location RAM allows us to read/write stored data at the same time.
But in other data storage devices such as compact disk (CD), hard disk, DVD it not possible to read and write data simultaneously. This difference is due to data rotation speed and arm movement limitations.
To read and write random access memory and linking of data lines with the addressed storage it has multiplex and demultiplexes circuits.
Normally more than one bit can be accessed by a similar address and random access normally contain numerous data lines so it called an eight-bit or sixteen-bit ram.
Nowadays ram is available in the shape of ICS having memory cells created with the metal oxides semiconductors.
Random-access memory is also known as volatile memory as it holds data until the computer is on as powered off data will be lost.
But other volatile memory also has been introduced called ROM (read-only memory).
Types of RAM
There are 2 main types of random access memory.
DRAM (Dynamic Random Access Memory)
DRAM stands for dynamic random access memory the word dynamic in the name of ram tells that data will be lost as it refreshed.
Dynamic random access memory used in computers, laptops, and mobile. As we watch different ads on televisions and in which we see that this mobile or computer has four GB RAM or sixteen GB RAM it means this is the dynamic random access memory.
In modern computer DRAM used is synchronous DRAM or SDRAM. At the RAM of a computer, you have ever seen the terms DDR, DDR2, DDR3, etc all these explanations about the transfer of data in a single clock cycle.
If any computing device has large numbers of random access memory its operating speed will be large.
SDRAM
As dynamic random access memory work as the main memory of the system while for a cache of computer static random access memory is used.
Due to its static behavior, it does not need to be refresh as dynamic ram need refresh process numerous time in one second.
So the operation speed of static random access memory is larger than the dynamic ram.
But the RAM is either SRAM or DRAM is volatile and losses data as power off.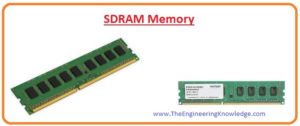 Difference between SDRAM and DRAM
Now compare both SRAM and DRAM and find their differences.
| | |
| --- | --- |
| SRAM | DRAM |
| Its operation speed is high than the DRAM. | Its speed is less |
| Its physical structure is small than the DRAM | Its size is large |
| Its price is high | Its price is less. |
| It used in a cache memory | It used as main memory |
| Its density is less | Its density is large |
| Its construction is complicated and numerous transistors and latches. | Its construction is simple and used some transistors and capacitors |
| In its single block has 6 transistor | It has only one transistor |
| Its power consumption is less | It uses a large power |
Difference between ROM and RAM
Let's discuss the difference between RAM and ROM and compare them.
| | |
| --- | --- |
| RAM | ROM |
| Random-access memory is to read and write memory. | It is only read memory. |
| It stores data temporarily. | It stores data permanently |
| It is a volatile memory | It is non-volatile |
| It stands for random access memory | Its full form is a read-only memory |
| RAM provides features to change the data. | In ROM data can not be varied |
| Its data storage capacity is from sixty-four MB to four GB | Rom storage memory is less than the ram |
| Its price is high | It is less expensive |
| SRAM and DRAM are types of RAM | EPROM, EEPROM are types of ROM |
Difference between RAM and Hard Disk
Now we compare the random access memory and hard disk and find their differences.
| | |
| --- | --- |
| RAM | HDD |
| Full form of RAM is random access memory | The full form of HDD is a hard disk drive. |
| RAM is also called primary memory. | HDD is also known as secondary memory. |
| There is no mechanical part RAM has but only has electronic components like a transistor. | It has movable mechanical parts like arms. |
| Read and write time of RAM is less | Its read-write time is larger than the RAM. |
| Every element of RAM can be accessed in the same time. | While it's every element take different times to access. |
| Its price is high. | Its price is less. |
| During its operation, it does make any sound | Due to mechanical components, it makes a sound during its operation. |
| Data stores in RAM only for the time power is on and will be removed as power off. | It stores data permanently. |
Applications of RAM
These are some applications of random access memory.
Virtual Memory
The nowadays different method used to increase the capacity of random access memory is called virtual memory.
RAM Disk
Different software are used to divide RAM of a computer into sub-parts for an increment of RAM speed this is called RAM disk.
The RAM disk also loses the data as power turns off.
So friends that is the detailed post on the Full Form RAM I have written each and every parameter related to RAM. If you have any queries about the Full Form of ram and its other parameters ask in comments. See you in the next tutorial. Thanks for reading. Have a good day.