Hello readers welcome to new post. Today we will discuss Difference between GSM and UMTS. These two mobile communication technologies and commonly used in a communication system. GSM stands for Global system for mobile communication and is called group special mobile. It is a mobile phone system that makes standards for mobile communication operations.
UMTS is the third generation of mobile communication system. It is used in cell phones, PDAs, and smartphones system. With the development of email and web systems video calling and text messaging are possible through this system. In this post, we will discuss the different parameters that will explain the differences between GSM and UMTS. So let's get started Difference between GSM and UMTS
Difference between GSM and UMTS
What is GSM System
GSM is a standard set by the European Telecommunication standard institute that denotes technologies for second-generation digital mobile system
GSM has become after the development of third generation UMTS standard developed by 3GPP
The phone operating on the GSM can be identified through the existence of SIM. It is a small size module that can be removed and placed on a phone and save the user subscription data and contact numbers.
Through use of SIM users can switch from one GSM phone to another. In some countries like Asia, GSM phones are configured to a certain carrier. Though if the user opens the phone can place any sim from the carrier in the same phone
The drawback of GSM is that numerous users share equivalent bandwidth. It can produce interference and results in bandwidth limitation.
Its other drawback is that GSM can produce electronic interference. So in sensitive areas like hospitals and airplanes, mobile phones must be off, if not can cause interference with devices used in these areas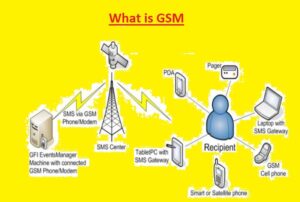 What is UMTS system
UMTS full form is a universal mobile telecommunication system. UMTS is 3rd generation mobile technology that depends on GSM standards.
It is created by 3GPP. UMTS is an element of the international telecommunication union IMT-2000 standard set and analyze through the CDMA2000 standard set for systems based on CDMA technology.
UMTS operates wideband code division multiple access radio access technology to incorporate larger spectral efficiency and bandwidth to cell system operation
UMTS defines the net network system as including radio access system, mobile applications, or MAP, and authentication of clients through SIM cards
The technology used for UMTS also defines freedom of mobile multimedia access or 3GSM
Its main operation is to offer multi-component calls and many calls at the same time.
We can call both video and audio which uses both speech and video components.
UMTS merges the three different terrestrial air interfaces, GSM, MAP, and GSM group of speech code.
The air interference is called UMTS terrestrial radio access.
UMTS is compatible with the highest theoretical data transfer rate of 42 Mbits when used
Users through the deployed system can the transfer of data up to 384 kbits/s
As of 2006 UMTS systems in numerous countries are in process of being upgraded through high-speed downlink packet access called  3.5G
Difference between GSM and UMTS
| Feature | GSM | UMTS |
| --- | --- | --- |
| Technology | TDMA | CDMA |
| Network Architecture | Circuit-switched | Packet-switched |
| Data Speeds | Slower | Faster |
| Bandwidth | Narrow | Wider |
| Voice Quality | Good | Better |
| Handset Compatibility | Limited | More universal |
| International Roaming | Limited | More widely available |
| Security | Less secure | More secure |
| Battery Life | Longer | Shorter |
| Availability and Carrier Support | Widespread | Limited in some areas |
| Primary Use | Voice Communications | Mobile Internet Access |
UMT is three generation technology and GSM is 2G and 2.5G
GSM is TDMA and UMTS is CDMA-based technology
GMS has a traffic channel and control channel and UMTS has logical, transport, and physical channels
It has frame duration of about ten milliseconds GMS has 4.615 ms
UMTS is new technology and GSM is older
The main bands of GSM are 850MHz, 900MHz, 1800MHz, and 1900MHz. and UMTS are Band-I to Band-VI, Each band defines frequency and UARFCN.
UMTS compatible to ETSI and 3GPP, 3GPP™TS 45-series and GSM has many types R99(WCDMA), R5 (HSDPA), R6(HSUPA) etc.
UMTS has efficiency about 1.0 b/s /HZ and GSM has 1.35 b/s/HZ
UMTS is based on the CDMA system and mix with the TDMA. Though UMTS is new since supported some technologies.
Some countries that supported the CDMA have a different spectrum
There are some issues related to the compatibility of UMTS and GSM that results to connection loss.
UMTS high speed than the GSM
That is all about the Difference between GSM and UMTS all details has explained if you have any questions ask here