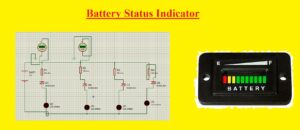 Hello, readers welcome to a new post. Today we will discuss Battery Status Indicator Circuit. The battery level indicator indicates the battery status by emitting the light through LEDs. Through the glow of we can define the battery capacity let's suppose six LEDs are blinking on the battery indicating us 60 percent battery is remaining in the case of ten LEDs connected in the circuit.  If the battery is completely charged then all LEDs will blink. It's very simple to find the charging capacity of the battery.
If you are going to make this project and have to design this PCB must have experts like PCBWAY. I am also using the services of this PCB supplier company that offered project creation and designing services with great features and prices. They have professional engineers and technical staff like FPGA senior engineers, antenna experts ect. Its not an issue for them to have complex project their engineer can design a schematic circuit of any project according to users demands. They are using different types of PCB design software for PCB design such as Altium, Cadence Orcad or Allegro Eagle, KiCad to make the high-level PCB design files and full three-dimensional design features
PCBWAY also have embedded engineer to provide development services and uses embedded design knowledge to customize your project. They have extensive experience with common embedded platforms and operating systems. Whether it's software or an application, their team of software engineers can customize the features to suit your needs. And it can help you continue to optimize at a later stage.
If you encounter a problem with the algorithm, they can help you solve it. Their algorithm engineer has rich experience in image processing, data processing, and so on. With that you can get 3D printing, rapid prototyping tooling and low-volume production. their powerful 3D printing and housing technology produce highly accurate and durable parts that can be used directly in the end use.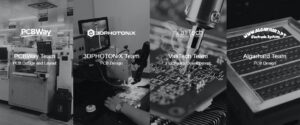 What is Battery Status Indicator
The battery indicator also called the battery gauge that configured on the battery circuit to explain the battery charging status. It can be a visual indication of battery that defines the battery charge configuration.
It is significant for devices that operate on batteries like electric vehicles or electric cars
Some vehicles consist of meters that define battery condition meters for monitoring the battery starter.
This meter is also called a voltmeter and can be colored to define the accurate operation.
In the latest vehicles cars there is no use of a voltmeter and ammeter but these cars have light having an outline of the vehicle battery.
The battery indicator is a feature of numerous electronic modules such as mobile phones battery indicator normally has a bar graph that indicates the battery status more bars more the charging of the battery
There is a signal is given to users that an internal standby battery required changing. A portable recharging battery normally provides the user with some indication of remaining battery time.
In smart battery modules, there is a controller integrated to interchangeable battery structures to offer more fine indication of the battery state
Battery Status Indicator Circuit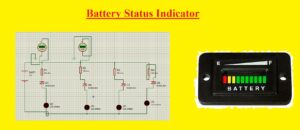 Component of Project
The component used in the circuit are listed below
Resistances
Zener Diode: This is a type of diode that function in the reverse-biased state as compared to a normal diode that operates in a forward-biased state. It can be operated like a general diode if positive volts is provided to the anode and negative at the cathode.If the voltage at the anode is negative and the cathode is positive then the value of the reverse voltage at which breakdown occurs and reverse current starts to flow is called Zener voltage. This process was discovered by Clarence Zener, an American physicist, and is known as the Zener effect.
There are different values ​​for different Zener voltages for Zener diodes, some diodes have the property to regulate the Zener voltage value.
The doping level of the PN junction of a Zener diode is greater than that of a normal diode. The Zener-like reverse breakdown also occurs in a normal diode, but the reverse breakdown curve is not smooth for a normal diode as it is for a Zener diode.
A Zener diode can work in the breakdown region, but a general diode cannot be damaged in that region.
But the design of the Zener diode is such that it can very easily operate in the breakdown region without any interference.
Zener diode is used in almost every electronic device and is the main element of all device circuits.
These diodes are also used to protect any circuit from overvoltage, especially electrostatic discharge (a sudden flow of current between 2 charged objects).
Working of Project
There is 12 Volt battery indicator circuit is created can see in the below figure. There is four resistances of different values labeled in the figure are used in this project. 4 LEDs are connected to Zener diode and resistances in series combination and their common point is linked to a battery of 12 Volts. Every LED has a different value of volts that is labeled on the voltmeter connected to the LED. The operation of the circuit is that if the battery is completed and charge to twelve volts then all LEDs will blink. If volts of the battery are 11.5 number 4 LED will be off and with another decrement in the battery volts, the remaining LEDs will also off. That indicates that the battery is now completely uncharged and it needs to be charged. When the battery again gets charged LEDs start on and for a full charged battery all LEDs will be on
Applications of Battery Charge Indicator Circuit
This circuit is part of different vehicles like cars.
It is also used to find the status of the inverter
Battery Charge Indicator Limitation
It does not operate for high volts systems mostly preferred for small volts indicators circuits
There is some modification needed during the practical implementation of this circuit
That is all about the Battery Status Indicator all details has explained. If you have any queries ask in the comments. Thanks for reading have nice day