Hello, readers welcome to the new post. Today we will discuss PCBWay Plug-In for KiCad. There are different types of PCB suppliers working in the universe that offer different services to users and different packages and features. PCBWAY is also one of the best PCB suppliers that offers PCB-based services to their customers.
PCBWAY is china China-based PCB manufacturer that is an expert in PCB prototyping and PCB assembly and is considered the single platform for all PCB-based services. The build time for standard PCB is at PCBWAY is twenty-four. They are offering upgraded materials having TG-140-160 at reasonable prices about five dollars for ten pieces. This PCB supplier offers different services and promotions for their users now they have made collaborated with KICAD to help their users with the easy and best PCB design and manufacturing services. With that their 5th PCB design contest is open must take part in this contest to avail the good awards and prices.
What is KiCad
There are different terminologies used for KiCads that are standard to EDA software and some are close to KiCad.
KiCad is open-source software used for drawing of electronic schematic circuits and PCB layouts.
KiCad is a fine for a tool to use for the creation and maintenance of complicated circuit boards.
Through the use of this software, any dimensions of boards and copper layers of thirty-two numbers can be designed with fourteen technical layers and four auxiliary layers
Through the use of KiCad, you can create numerous important files used for PCB like PCB creation, Gerber files for photo plotters, drilling position of the component, and any other required files.
Since it is open-source software it is considered as the ideal option for the creation of electronic hardware through open open-source structure
Here some terms used for KiCad workflow are listed here
The group of pages of circuit schematic drawings is called schematic. A single KiCad schematic file denotes one sheet
The schematic has numerous nested pages with others called hierarchical schematic
The symbol of any element is placed on the schematic.
The method through which info is shared with other programs is called a netlist
The Printed circuit board denoted the design of the document that defines the physical implementation of the schematic
The circuit component that can be positioned on the PCB is called a footprint.
The worksheet is a drawing template consisting of a title block and frame.
The creation of outputs through a design called plotting
PCBWay Plug-In for KiCad
First, it was not easy to place an order after the creation of the design on KiCad software and you thought about what to do. Now PCBWAY has introduced new features through which after making the design on the KiCAD you can place an order at PCBWAY with just one click.
It is a very easy process to send your design to PCBWAY. If you press the PCBWAY Plugin -n button existing on the KICAD software your files for projects will be delivered to PCBWAY.
Gerber file in the accurate format used for manufacturing will be uploaded
IPC Netlist FIle also received to PCBWAY
The file having all details of components called the BOM file will also get
With all files also PICk and PLace files created for assembly were also uploaded
When you press on the "Save to Cart" button to place an order all files will start uploading and PCBWAY engineers will again review all files uploaded to start final production
Details for this process can be seen here where you can see how to send project design to PCBWAY from KiCAD
How to Install PCBWAY Plugin in KiCAD
For this open, the "Plugin and Content Manager" existing in the menu of KICAD and install the PCBWAY plug-in for KiCAD existing in the selection list.
Detail process for installation can be seen here.
Manual Installation of Plugin
For manual installation, you can download the ZIP file from https://github.com/pcbway/PCBWay-Plug-in-for-Kicad, after opening the "Plugin and Content Manager" and install the zip file from the install from file option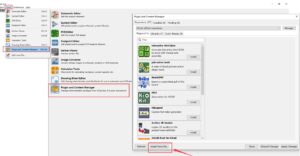 Review of BOM
PCBWAY can get the all info of elements used in your design and for the speedy process, you have to provide some further information listed here
Designator (necessary)
 Quantity (necessary)
 MPN/Part Number (necessary)
Description/value (optional)
Package/Footprint (necessary)
 Manufacturer (optional)
You have to add the features as mentioned in the below figure
That is all about the PCBWay Plug-In for KiCad. I think this feature of PCBWAY has made our work very easy and simple and we not have found any designer and production services from different services. Now you have to make a design on your KICAD software and through just one click will place an order of your design to PCBWAY. This type of feature makes PCB the best in all services. They are making progress day by day due to these services for their clients. PCBWAY is the best in all services and features so you must have the services of PCBWAY for all your electronics-based projects and circuits design PCB assembly components sourcing any other related subject must visit. They offered the all services with reasonable prices and high quality