A Rogers ceramic PCB is a type of PCB board that is created with the use of a ceramic substrate. Beryllium, Alumina, and silicon carbide are used for creating the ceramic substrate. The ceramic material used will depend on the needs of the certain application. Such as silicon carbide and beryllia are best for high-performance applications while alumina is the best option for general-purpose applications.
Advantages and disadvantages of Rogers ceramic PCBs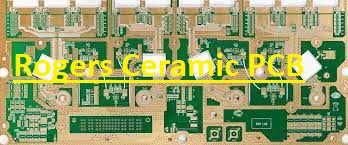 Advantages
High strength and stiffness
Good dimensional stability
Low dielectric constant
High thermal conductivity
Low moisture absorption
Resistant to chemicals and moisture
Long service life
Disadvantages
Costly than FR4 PCBs
The soldering process is difficult
 Applications of Rogers Ceramic PCB
Radar
Antennas and other components that broadcast and get radio waves are created with the use of  Rogers ceramic PCBs.
Satellite communications
These boards are used to make circuits that transmit and receive signals from satellite
Medical imaging
This PCB is used for the creation of boards that control and operate medical imaging instruments like MRI machines and X-ray machines.
High-speed data transmission
The circuit made with these boards is used for transmitting and receiving data at high speeds.
Military and aerospace applications
It is used in aerospace and military tools that can operate in harsh conditions like high temperatures and high altitudes.
Industrial automation
These boards are part of industrial machinery and control systems.
Consumer electronics
It is part of different consumers electronics like mobile phones, laptops, and tablets
 Design Considerations for Rogers Ceramic PCB
A PCB board's capacity to store electrical energy is called its dielectric constant. For high-frequency applications, a less dielectric constant is preferred as it causes less signal attenuation. Due to its low dielectric constant, Rogers ceramic boards are ideal for high-frequency applications.
A material's capacity to conduct heat is called thermal conductivity. For PCB boards that are used in high temperature conditions, high thermal conductivity is needed since it helps in heat dissipation and protects the board from damage. The excellent heat conductivity of these boards makes them perfect for high-temperature circuits
A material's capacity to absorb water is measured by its moisture absorption. For PCB boards that will be used in humid conditions, low moisture absorption is preferable as it lowers the chances of corrosion and damage. Because of their minimal moisture absorption, Rogers ceramic boards are used for damp settings.
The capacity of a substance to endure mechanical force is measured by its strength. For boards that will be put under physical strain, high strength is needed as it lowers the possibility of damage. Because of their high robustness, Rogers ceramic boards are the best option for conditions where mechanical stress is a problem.
The capacity of a substance to resist deformation is called stiffness. For boards that will be subjected to vibration, high stiffness is preferred as it decreases the possibility of damage. Due to their high rigidity, these boards are preferred where vibration is an issue.
PCBs created with Rogers ceramic are more expensive than other boards. However, Rogers ceramic boards are frequently the preferable option for high-frequency projects due to their benefits, which are high thermal conductivity, low dielectric constant, minimal moisture absorption, high strength, and high stiffness.
Best Rogers PCB Manufacturer – PCBONLINE
For Rogers PCB and other higher-performance boards, you can engage with the best PCB manufacturer like PCBONLINE for your best interests. They can have somewhat higher prices than other merchants because of these two factors.
1. The base material is the most costly component of a hf PCB. In order to guarantee the greatest performance and stability of the board, their warehouse is fully loaded with directly imported U.S. Rogers boards as well as other types. (They will provide the traders a low price for the boards that have been stored for over 45 days.)
2. Because FR-4 and metal are different from other materials, so are the expansion and contraction coefficients used in manufacturing. The essential technique (protected by a patent), which is to reduce the expansion and contraction control of the board, is the expansion and contraction control of Rogers board by their factory.
High-quality materials that may be utilized to make high-frequency boards are available in their warehouse. The video below demonstrates how they produce PCBs.
Along with offering advanced boards and assembly of the highest caliber at competitive prices, PCBONLINE also offers free PCBA samples and functional testing, one-on-one technical help, and design for excellence. Get a free quotation online today to win $100 in discount vouchers!
Manufacturing Process of Rogers Ceramic PCB
Preparation of the ceramic substrate
The preparation of the ceramic substrate is the first phase of the production process. Different materials, like silicon carbide, alumina, , and beryllium, are used to create the substrate. Certain ceramic materials are used based on the needs of the application. For example, beryllia, and silicon carbide are suited for high-performance applications whereas alumina is excellent for general-purpose applications.
First, the substrate is shaped and sized to the necessary specifications. To get the appropriate surface finish, it is then ground and polished. After that, the substrate is cleansed to remove any impurities.
Lamination
The copper foil is then laminated to the ceramic substrate. A thin covering of copper used to carry current is called a copper foil. Heat, pressure, and other techniques are employed to connect the copper foil to the ceramic substrate.
Drilling
Drilling holes into the board is the next step. Signals are routed via the holes and components are mounted. Many techniques, like CNC drilling and laser drilling, are used for holes drilling
Plating
The PCB board is plated in the next phase. A conductive substance is deposited on the board with the use of a plating technique. Signals are routed through the conductive substance, that connects the components. Electroplating and chemical plating are the most used techniques used in the plating process.
Soldering
Soldering the components to the board in this step. The components are connected to the board using the soldering method. Many other techniques, like wave soldering, and reflow soldering, are used in the soldering process.
Testing
The boards are tested in the last stage. The testing process is used to confirm that the board complies with the necessary requirements. Functional testing and electrical testing are commonly used methodologies during the testing process.
Rogers ceramic PCB manufacturing process is challenging and precision-focused. The accuracy and precision of each step in the process find the quality of the PCB board.
Technical Features
| Technical Features | Rogers Ceramic PCB |
| --- | --- |
| Thermal Conductivity | High |
| Dielectric Constant | Low |
| Dielectric Loss Tangent | Low |
| Coefficient of Thermal Expansion | Matched to Semiconductor Materials |
| Operating Temperature Range | Wide |
| Mechanical Strength | High |
| Frequency Stability | Excellent |
| Signal Integrity | Excellent |
| Reliability | High |
| Size and Weight Reduction | Possible |
Dimensional stability:  Because of the remarkably good stability of these PCBs, they do not shrink or warp as a result of variations in humidity or temperature. They are therefore perfect for industries like aviation and medical imaging where accuracy is required
Chemical resistance:  Acids and solvents are substances that Rogers ceramic boards can withstand. They are therefore best for industries like the oil and gas industry where the PCB board may be subjected to severe chemicals.
Radiation resistance: As these boards are radiation-resistant, they are perfect for industries like nuclear power where the boards are exposed to radiation.

 Comparison with Other PCB Materials
| Feature | Rogers Ceramic PCB | Other Boards |
| --- | --- | --- |
| Dielectric constant | Low (<4) | High (4.5-6.5) |
| Thermal conductivity | High (>100 W/mK) | Low (<10 W/mK) |
| Moisture absorption | Low (<0.1%) | High (0.5-1%) |
| Strength | High | Low |
| Stiffness | High | Low |
| Cost | High | Low |
| Applications | High-frequency applications, like radar, satellite communications, and medical imaging | General-purpose applications, like consumer electronics and industrial automation |
 Rogers Ceramic PCBs vs FR4 PCBs,
Thermal Conductivity: High thermal conductivity provided by these PCBs enables effective heat dissipation. Moderate heat conductivity is seen in FR4 PCBs.
Dimensional Stability: Under a range of temperature settings, Rogers Ceramic boards keep their form and integrity with exceptional dimensional stability. Good dimensional stability feature of FR4 PCBs.
Dielectric Loss: Low dielectric loss in Rogers Ceramic boards reduces signal loss and distortion. A moderate dielectric loss is included in FR4 boards
Operating Temperature Range: Due to its wide working temperature range, Rogers Ceramic boards are a fine option for applications requiring exceptional temperature resistance. A smaller range of working temperatures is available for FR4 circuit boards
Cost: In general, Rogers Ceramic boards are more costly than FR4 boards because of the specific production procedures and usage of ceramic materials.
Manufacturing Process Complexity: Compared to how FR4 boards are made, Rogers Ceramic boards are made using specific procedures.