Gone are the days of manual control and inefficiency, as automation and smart technologies are being integrated into HVAC systems at a rapid pace. The marriage of automation and mechanical engineering is producing HVAC systems that are not only more energy-efficient and cost-effective but also responsive to changing conditions in real-time. Let's take a closer look at how automation and engineering principles can be integrated to develop smart HVAC systems. 
Making HVAC Smarter with Sensors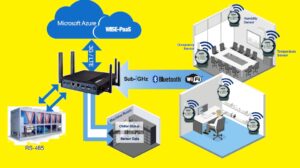 Sensors play an important supporting role in smart HVAC systems. You can think of them as the eyes and ears that allow the system to closely monitor conditions and make adjustments for comfort. 
Occupancy sensors are a good example. By detecting how many people are in a room, they help the HVAC know when it can scale back ventilation to save energy. It's almost like having a butler who pays attention to whether areas are occupied or not. 
CO2 sensors also help ensure good air quality. If CO2 levels start to rise, they'll prompt the system to ventilate more, similar to having an air freshener kick in just when you need fresh air. 
Advanced systems use demand-controlled ventilation, which personalizes airflow based on needs. Sensors monitor how many people are around as well as airborne compounds, then adjust ventilation appropriately. It's like having an assistant who pays attention to indoor air quality. 
While they stay behind the scenes, sensors play a key supporting role. Their constant monitoring allows smart HVAC to finely tailor temperature, humidity, and ventilation—for a comfortable, healthy environment in any setting. They may not grab the spotlight, but sensors deserve credit as unsung heroes of the system. 
Automating HVAC Controls 
Upgrading to automated controls can hugely improve HVAC efficiency and working order. With sensors feeding real-time data, automated systems gain the ability to self-monitor and maintain ideal conditions for temperature, humidity, and airflow. This ensures interior spaces stay consistently comfortable while maximizing efficient energy use. 
One chief perk is integrating control of various components like dampers, fans, and valves to respond fluidly to changes. On hotter days, it activates cooling before interior temps rise and, conversely, warming indoor spaces in advance of colder spells outside. This balancing act keeps conditions stable while lessening power consumption. 
Drawing on outdoor sensor info also lets the HVAC anticipate conditions to prepare accordingly. Rather than lagging and having to catch up to changes, it can smoothly adjust operations proactively. 
Additionally, built-in diagnostic tools watch performance constantly for signs of trouble before they disrupt comfort or waste energy. Automation empowers ongoing fine-tuning that sustains smooth running order, heading off bigger problems down the line. 
Optimizing HVAC Performance with Analytics Software
Smart HVAC systems represent an exciting evolution towards more autonomous operation through data-driven insights. Where technicians once manually tweaked settings, these systems now collect dense operational data over time to fine-tune their own performance like a thoughtful, learning person might. 
Control adjustments occur automatically based on comprehensive performance histories. It's truly impressive to see machines studying themselves to such a highly optimized degree. 
Pattern detection across wide-ranging conditions, both seasonal changes and other unique operational variations, provides an intelligent, personalized touch. Self-adjustments maximize efficiency by deeply understanding individual building needs. 
Perhaps most akin to human intuition, predictive maintenance shows these systems can sense subtle shifts just as a technician would spot troubles brewing. Analytics foresee issues in their early stages to prevent costly downtime through proactive intervention. Reliability remains rock solid without constant human minding. 
In many ways, data-driven HVAC represents a new step towards autonomy through thoughtful self-analysis and response, just like a keenly observant, problem-solving human might bring to the job. 
Integrating IoT Connectivity
There have been some impressive developments in smart HVAC through integration with Internet of Things (IoT) technology. Two-way communication over this connectivity infrastructure allows remote oversight, upgrades, and refinements to air quality and climate controls without onsite visits. 
Technicians can now troubleshoot issues from afar by pulling stored operational data from the cloud. Seeing performance trends over time better informs their diagnosis compared to isolated on-location checks. 
IoT also facilitates partnership with smart grid management. The HVAC coordinates with energy demand to lessen load during high-use periods. Buildings reap financial rewards for assisting utility companies in balancing the distribution load. What's more, grid coordination puts renewable electricity to its most effective use. 
Overall, wireless connectivity opens many doors for enhancing HVAC efficiency and reliability through remote interfaces, performance tracking, predictive maintenance, and utility coordination. It translates building systems operation into digital comprehension with extensive long-term memory accessed anytime, anywhere. Truly transformative for facilitating environmentally sympathetic operations. 
Engineering for Reliability and Efficiency
Underpinning all the high-tech automation and data-driven intelligence are fundamental principles of engineering design. Even the smartest HVAC systems rely fundamentally on robust mechanical function enabled by skilled application of core concepts. 
A prime example is heat recovery ventilators that refresh indoor air efficiently through thermal transfer engineering. By capturing heat leaving and applying it to incoming air, the load on boilers/coolers is significantly reduced to save substantial energy over time. Simple yet ingenious application of known properties. 
Additionally, variable refrigerant flow setups showcase engineering intellect through precise refrigerant control linking multiple cooling/heating elements. Tailoring airflow precisely to demand allows ultra-targeted climate management to maintain comfort without wasted effort or electricity. 
Integrating HVAC and hood ventilation panels, particularly in commercial kitchens, is also an important engineering consideration. Stainless steel panels, like the BA-AA HVAC and hood ventilation panel, specially designed for restaurant HVAC and hood ventilation applications optimize system performance.  
Overall, automation complements mechanical engineering. But automation cannot compensate for an undersized or poorly designed HVAC system. The two disciplines work together to create truly smart HVAC solutions. 
Final Thoughts
Smart HVAC systems represent the exciting fusion of new digital tools with tried-and-true engineering design. Automation's comparative brain power through data analysis and machine learning optimization enhances efficiency. However, these solutions still ultimately rely on robust underlying mechanical infrastructure for HVAC hardware configurations, with considerations like component spacing and material properties. Only with a well-constructed physical foundation can automation software truly flourish. 
Owners benefit through energy cost reductions, as facility operators gain a powerful ally optimizing operations automatically. Cutting-edge innovation and principled engineering design fuel continuous progress—a synergy set to maximize comfort and sustainability for buildings worldwide through HVAC solutions smarter than ever before. The future remains bright as technology enhances rather than replaces HVAC's hardworking mechanical side