Hello, readers welcome to the new post. We will cover the details of the Differences Donor and Acceptor Impurities in semiconductors.  The elements existing in group V of the periodic table are called donor impurities and elements existing in group III of the periodic table are known as acceptor impurities.
The process through which impurity is added to the semiconductor is called doping. Doping helps to increase the conductivity of semiconductors. Two types of doing exist donor and acceptor doping.
If we add an impurity in the semiconductor material then that impurity helps to add electrons or holes in that semiconductor. That changes the conductive nature of that material. The doping process changes the conductive nature of the material. If we add elements from group V that is pentavalent that have five valence electrons. Four electrons of impurity make a bond to four electrons of semiconductor material and one electron is left free. This electron can be used as a free charge carrier after getting the energy. The energy value for these electrons to get free is about 0.01 eV to 0.05eV. The pentavalent impurity denotes the electrons to the semiconductor known as a donor impurity. These impurities are also known as N-type semiconductor material
Differences between Donor and Acceptor Impurities
What is Donor Impurity
Donor impurities are components that help to increase the electrical conductivity of material where added. Group V elements are called donor impurities.
Donor atoms can make n-type regions when added to a semiconductor like silicon
Commonly used elements of group V as donor impurity are phosphorous, bismuth, and antimony.
There are 5 electrons that exist in their external shell when these impurities us added to silicon four electrons make covalent bonds and one remains a free electron. These electrons increase the conductive nature of an atom
What is Acceptor Impurity
The dopant element that has three electrons in the external shell when added to semiconductor material is called acceptor impurity.
The three electrons of that element make the bond with the semiconductor and one electron of the semiconductor material remains free and a hole is created meaning a Positive charge that is called P material.
The elements of group III are known as accepter impurity
Let's discuss an example where aluminum from group 3 is added to silicon material. ALumium has three electrons in its valence shell and makes a bond with three electrons of silicon. One electron of the silicon remains free. Holes created get filled through neighboring electrons and holes created at that electrons place so conduction is done by the holes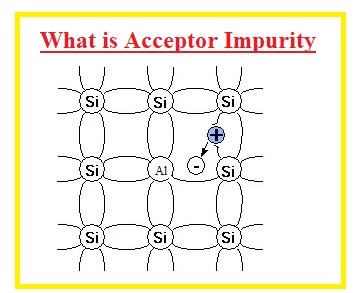 Donor vs Acceptor Impurities
Donor impurities are added to the donor element to enhance the conduction and acceptor impurities are added to acceptor elements
Donor impurities are from group V elements and acceptor impurities are from group III
Arsenic phosphorus bismuth is a donor and aluminum boron are acceptor
Donor impurities enhance the free electrons in the semiconductor and acceptor increases the hols in the semiconductor
Donor impurities have five electrons in their valence shell and accept have 3 electrons
That is all about the Differences between Donor and Acceptor Impurities in Semiconductor all details have been explained if you have questions ask them below the comments box