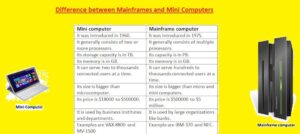 Hello, readers welcome to the new learning module. In this tutorial, we will discuss the Difference between Mainframes and Mini Computers. These two modules are types of laptops but mainframe computer provides larger features and high capability as well as a memory than minicomputers with high speed. Mainframe computers were created to generate to handle the process mostly used for services.
After that minicomputers were created having small sizes that operate as individual and high-end devices. In this post, we will discuss both and finds their differences. So let's get started Difference between Mainframes and Mini Computers. So let's get started Difference between Mainframes and Mini Computers.
What is Mainframes Computer
The mainframe computer is a type of computer that have a larger structure high speed and high memory size.
The size of this computer can occupy your complete bedroom. This computer is mostly used at the central point of any application that has a CPU attached to many points like input and output devices. This feature makes it useful that many users can use this one unit of CPU
This computer is also called a multiprogramming and multiuser computer. It has features to handle thousands of users
Its common applications are railways airline backing and some commercial uses since their huge data is handled
There are two types of terminals used for mainframe computers dumb and intelligent terminals. The dump terminal comes with input and output devices but no data is stored at these this terminal
Intelligent terminals have input and output devices but process data. These two terminals can not store data
Features of Mainframe Computer
These computers need trained operators and certain space to operate
This computer can control the operation of many devices and users
Through this computer, you can handle high data and millions of operations
The faults existing in this computer can be easily solved without having any impact on the operation
It has compatibility with lager size memory unit
What is Minicomputer
The minicomputer is called Mini is a type of small computing module. It was created at mid of the 1960s.
These computer comes in small size but is equipped with all features of larger size computer.
Minicomputers are mid-level computers between mainframe and microcomputers. that has later size than a microcomputer and less than a mainframe
There are two or more processors that exist in the minicomputer that why is known as a multiprocessor computer.
These computers are used in different organizations and offices to perform the basic operation like billing, inventory accounting, etc
These computers is known as minicomputers since their circuits consist of transistor and core memory
Common types of minicomputers are Tablet PC Desktop Mini PC iPad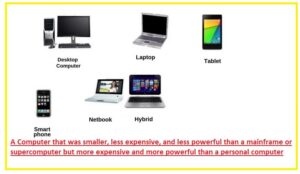 Features of Minicomputer
Some features and characteristics of a minicomputer are discussed here
These computers used by any single person and small offices
This computer performs the multitasking
it is small in size than a mainframe computer
Their prices are also lessened main frame and other high computers
It is less powerful than a mainframe but high powerful than a minicomputer
Advantages of Minicomputer
The main benefit of this computer are discussed here
It has high reliable operation
High-speed computer
Can be transferred to any other place since it si portable
It is small in size and easy to repair
Disadvantages of Minicomputer
With benefits, it has some drawbacks
Their display screen is smaller so some tasks that need larger screens can't perform  on this computer
Their memory is less and stores limited data
Their keyboard is small in size
It cannot easy to use since having different types of operating system
It did not support the CD/DVD
Some minicomputers also do not have USB ports
Difference between Mainframes and Mini Computers
| Aspect | Mainframes | Mini Computers |
| --- | --- | --- |
| Size | Large | Small to medium |
| Power | High | Less powerful than mainframes |
| Operating Systems | Specialized | Standard (e.g. Windows, Linux) |
| Applications | Large organizations (banking, finance, healthcare, government) | Small to medium-sized businesses (inventory management, accounting, payroll) |
| Data Storage | Centralized | Decentralized |
| Processing Power | Designed for handling complex applications and multitasking | Designed for handling multiple applications simultaneously |
| Cost | Expensive | More affordable than mainframes |
| Maintenance and Upgrades | Require specialized skills and dedicated resources | Easier to maintain and upgrade |
| Security | Highly secure and reliable | Less secure than mainframes |
| Reliability | High degree of reliability | Less reliable than mainframes |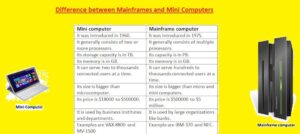 The mainframe is a server-based computer. That has high processing power larger memory and can handle larger operations. While minicomputer is small size computer that has less features than a mainframe computer. That was used in the 1960s
Process speed is high, high reliability, and durable operation is done by mainframe computers while minicomputers are high prices, less weight, easy to take to another place, high speed performs multitask,.
The architecture of the main computer is severed or hub while and minicomputer is small in size, then mainframes but performs numerous operations and provides the batch processing
Common applications of mainframes are ERP, banks, Education systems, Airline, hospitals, military, and applications of Minicomputers are data retrieval, file handling, database, engineering problems solutions
IBM zSeries, System z9 and System z10 servers Are main fraim computer and IBM's AS/400e, Honeywell200, TI-990 minicomputers
That is all about the Difference between Mainframes and Mini Computers all details has explained That will helps you to find the basic differences between a mainframe and a minicomputer.