Hello, readers welcome to the new post. Today we will discuss PCBWAY 5th PCB Design Contest. There are different types of PCB manufacturers working that offer PCB-used services at different rates and features. PCBWAY is one of the best PCB suppliers that offered PCB services and related products with good quality and rates. With high-quality products, they also introduce different contests and promotions for their users and customers.
They are serving in PCB prototyping and manufacturing for the last decade. Their main features for users to urge them to get the products are their quality products, high-speed delivery fewer costs, and products according to customers' demands. They offered the services not only for PCB but also for PCBA services with a specialty in prototyping and small volume production. These features make PCBWAY a single solution for all PCB projects. They help to make our research and development operations easy. With that, they have now introduced their PCB design contest with huge awards. It is the best opportunity for engineers and students to take part in this contest and share your new ideas all over the world. So let's get started
PCBWAY 5th PCB Design Contest
PCBWAY introduced the PCB design contest after some time interval that is their 5th design contest.
In this context, there are different projects such as educational robots controllers, solar-based electronic projects as well.
To take part in this contest
This platform will help you to share your ideas and projects all over the world and others can buy those projects as well in a result PCBWAY will give ten percent PCB prices to you for taking part in this contest
This contest is started on the 1st,Sep 2022 and ends on 31st, of Dec 2022. After that experts review your projects from 1st, Jan 2023 to  31th, Jan 2023. the final result of this contest will be announced on 6th, Feb 2023
There are 3 theme options available for this contest that you can choose
The first theme is next-generation hardware through that you can send projects like IoT-based, home automation, wearable projects embedded system
The second theme is  Earth-Friendly Project through this theme you can share solar-based projects that has less effect on the environment.
The third option is free theme if your projects do not lie in the previous category then can send in free mode
Prizes for Contest winner
The first of this contest will get the $1500 cash with a 200$ coupon also Raspberry Pi 4 Model B-4GB *1 will be awarded
The 2nd winner will get $1000 Cash, $100 Coupon, and Raspberry Pi 4 Model B-2GB *1
The third winner will be awarded  $500 Cash, $50 Coupon, and  Arduino Mega 2560 Rev3 *1
Popular Design Prize 10 winners will be awarded $100 Cash + $20 Coup + $10 3D Printing Coupon + Digital High-Precision Automatic Multimeter *1
PCB Design Contest Rules
Here are some rules that you have to follow to take part in this contest.
Projects must or real and plagiarism free otherwise will not be entertained
The intellectual features are according to entrants. 3 themes are available you can upload more than one project
There must be PCB design exist in the project and also upload all related files of a project like bom, schematics, code, 3D design file, etc. that will judges to understand your projects with details
To take part in this contest press on "Participate Now"   or you can create new projects through the PCBWAY community click the "Submit project to…" button on the page and select the resultant theme.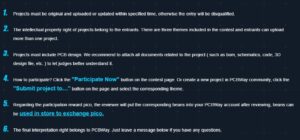 Judges of Contest
Judges to this contest are seen here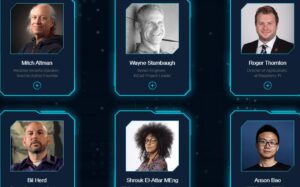 Evaluation Criteria
There must all details of projects like video documents, debugging experience display will be shown

Circuits and software used for projects, application models, and techniques used must represent in the projects
Challenges and solutions of that challenges must be shown
The impact of projects on society will also display
Further details of the contest can get here
https://www.pcbway.com/activity/5th-pcb-design-contest.html
That is all about the PCBWAY 5th PCB Design Contest all details about the PCBWAY contest has explained. Do not waste your time and take part in this contest to get high awards and prices also introduced your ideas to all over the world