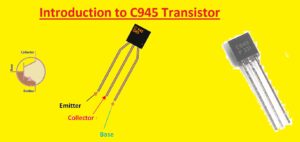 Hello, readers welcome to the new post. Today we will discuss Introduction to C945 Transistor. The transistor is a switching and amplifier circuit component that is commonly used in electronic devices and projects to amplify the signals and control the circuit operating as a switch. It has three pinouts emitter-base and a collector. There are two main configurations of transistors according to doping level. That NPN and PNP transistors. If the transistor is doped with elements of the periodic table group of three elements then called NPN has electrons as majority carriers.
If it is doped with group five elements of the periodic table then called PNP configuration since it has holes as majority carriers. Both holes and electrons work as charge carriers in transistors. In this post, we will have a look at  C945 Transistor which is NPN configured transistor. So let's get started with Introduction to C945 Transistor.
Introduction to C945 Transistor
The C945 is NPN configured transistor that is created by the Japanese. It has three pinouts emitter-base and collectors like other transistors but the Emitter collector and base are the order of its pins
As in the case of the European transistor, the pin order is emitter-base and collector.
The gain value of this transistor is about 700 and operates in a linear fashion.
It is a common part of amplifier circuits and preamplifiers operation for high-frequency projects
It operates as an oscillator in electronics through a combination of PNP transistors.
It can be powered through microcontrollers or processors since it needs five volts to operate.
It has ability to operate a load having a value of fifty volts but it can not be used for high loads having a current of 150millieampers.
These transistors are older versions and are not easily available in Europe and Asia.
Its saturation value is about 0.3 volts which is good for this component to use in electronics. With that, it has less noise and good dc gain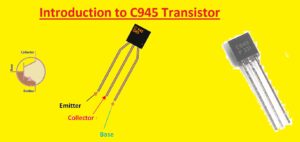 C945 Transistor Features
There some main features of this device are explained here
it has an operating temperature of about -55 to +150 Centigrade
It is NPN general-purpose transistor
Dc current gain for this component is 70 to 700
The highest value of transition frequency is 200MHz
The value of VCE is fifty volts
The highest dissipation of power is 400MW
VEBO is five volts
The highest value of VCB is sixty volts
IC for this module is 150mA
It comes in To-92 Packaging
C945 Transistor Pinout
It has three pinouts like other transistors Emitter, collector, and bases.
Emitter: Through this pin current comes out and it linked to the ground terminal
Base: It is a control pin like the tap that controls the biasing of the transistor
Collector: Current goes into this pin and is attached to load
C945 Equivalent
Equalivant transistors of C945 are listed here
A733
BC558
BC556B
Use of C945 Transistor
This transistor comes with less noise and a decent value of current gain so it is used as an audio amplifier and preamplifier circuit. With that used in signal amplifiers. Most BJT transistors have 0.6 saturation volts but this transistor has 0.3 volts so used in low-voltage projects. With that employed in radio frequency circuits where a frequency value of 200MHZ is used
Can I use 2N2222 instead of C945?
In form of gain value, there is a high value of gain fro C945 and less for 2N222 but with this difference you can use 2N222 in place of C945. But before using must consider the pin configuration according to your projects since C945 has pin arrangements emitter-collector and base while 2n222 has emitter-base and collector
Is C945 a NPN or PNP?
C945 is a general purpose NPN transistor
Which transistor is better NPN or PNP?
In electronics, NPN transistor is used mostly since it has high electron movement than holes which causes a high transfer of energy.  While for PNP positive terminal of the power source is common for input and output so the ground current is positive. In some cases, this configuration is not preferred of circuits
C945 Transistor Amplifier Circuit
C945 is commonly used in amplifier circuits like preamplifiers operations
In the below diagram, C945 is used as a preamplifier circuit.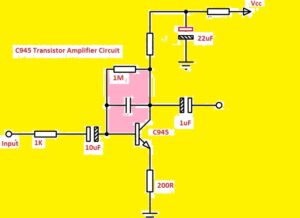 The main component of our circuit is
In the circuit, you can see that there is bypassing path created through the use of input resistors and capacitors for input supply. Capacitors minimize the ripple existing in the voltage and resistor workings current limiter
The signal from the input supply goes to a transistor that operates it and then that signal is amplified by the transistor
At the output side capacitor is used to create a bypass for a signal at the output
C945 Transistor Applications
main applications of this transistor are explained here
It used in amplifier circuits
Used in sensing devices and projects
Radiofrequency circuits have this module
It operates as a switch and control operation of different circuits
Work as pre amplifier
That is all about the C945 Transistor all details has explained. If you have any queries ask here. Thanks for reading have nice day