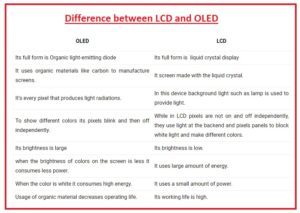 Hello, readers welcome to new post. In this post, we will learn Difference between LCD and OLED.  The full form of OLED is an organic light-emitting diode first OLED was manufactured in 1987 by the Ching W.Tang who belonged to Hong Knog and Steven Van Slyke (was American Chemist) during working at Eastman Kodak (is an American company that manufactured cameras). After that in 1999 Sanyo (Electronic company of Japan) and Kodak make partner with each other to create OLEDs. In September 1999 they manufactured 2.4 inches OLED first time created by any company in the world.
The full form of LCD is a liquid crystal display this module consists of 2 types of matter first is solid and second is liquid. For displaying the images it uses liquid crystals. The screens of liquid crystal have less thickness so it easily used on the screen of laptops, computers, televisions, cameras, etc. Before the invention of an LCD cathode ray tube was used in the screens of tv, the computer, etc that made the screen bulky and large but after the use of LCD, all displays have become less thick. LCD comprises different layers with the 2 polarized panel filters and probs (electrodes). The lens is used to project light on the liquid crystals.
What is OLED
The word OLED stands for organic light-emitting diode also called an organic electroluminescent diode.
This device comprises an electroluminescent layer manufactured with the organic layer that releases photons of light when current passes through OLED.
 The layer of organic material is placed among the 2 electrons one electrode is transparent.
The screens of TVs, PC monitors, mobile screens, and other electronic devices screens are manufactured with the organic LED for digital displays.
The OLEDs are categorized into 2 groups first one that uses small size molecules and a second one that used polymers.
If we add movable ions in the organic LED than it becomes an electrochemical cell that provides different features than normal OLED.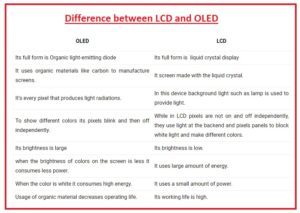 What is  LCD
The word LCD stands for liquid crystal display also known as flat panel display which operates by using the liquid crystal properties of light modulation.
Like LED generates light it not generate but uses reflectors to make images in a single color.
There are 2 types of images shown by the LCD first one is arbitrary images that displayed on a computer or laptop and the second one is fixed images that provide less info.
The fixed images further provide two features that can be shown or hide like presetting of words, numbers (digits) and numbering display in a digital clock.
Both of these images display uses similar techniques but also have some difference that arbitrary images are formed by using the small pixel matrix and fixed images have large size matrix.
The configuration of polarizers decides the on (positive) and off (negative) state of liquid crystal display.
There are numerous applications of liquid crystal display such as TVs, laptop screens, computer monitors, mobiles, screens, etc.
Small dimensions liquid crystal display screen are normally used small sizes electronic devices such as mobiles, watches, calculators, clock, cameras, etc.
Working of OLED
The working of an organic light-emitting diode is alike to the general diode and light-emitting diode, but the difference is that instead of n-type and p-type semiconductors that comprise of organic materials for the production of electrons and holes.
There are 6 different layers in an organic light-emitting diode. The upper layer and the lowermost layer are manufactured with glass or plastic to provide protection from the outer environment.
Among the upper and lower layer, there are 2 terminals positive and negative, positive called anode and negative called anode.
Further 2 layers are exits created with the organic material one is near to the cathode used to emit light and second after come to the anode called a conductive layer.