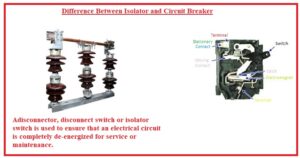 Hello, readers welcome to new post. Here we will discuss Difference Between Isolator and Circuit Breaker. Tehre are different types of circuit control devices are used in the electrical power system Commonly used as circuit breakers and isolators.
In this post we will get the details about these devices and finds their basic differences. So let get started Difference Between the Isolator and Circuit Breaker.
Difference Between Isolator and Circuit Breaker
What is Isolator
Isolators also named as disconnectors from its name can say that it is switching and isolating components that are used to break the circuit from the main supply.
It is an offload device that operates only when the current flow in the circuit is 0. It does not has any built-in arc system and is used during the offload states.
These modules are used in the system to make sure that system is ready for the removal of any component and fault.
It is only used for circuit breaks and is mostly used in distribution and industries where different components from the system have to remove for repairs.
Disconnectors can operate manually and motors are used for operation and are connected to an earth switch to the ground that makes sure that any person does not get harmed during preparing the component.
High volts isolators re used in substations to remove the devices such as circuit breaker transformers and transmission lines.
These devices are not used for circuit control but help to provide the safety to a system
Disconnectros are normally operating when current is not flowing system if current flow than a spark occurs can cause serious problems
So they called offload devices used after completely breaking the current flow.
It is a mechanical device that operates as a switch
Tehre are different types of disconnectors are used
Center-break disconnectors
Double-break disconnectors
Pantograph disconnectors Horizontal break knee disconnectors
Vertical break disconnectors
Coaxial disconnectors
What is Circuit Breaker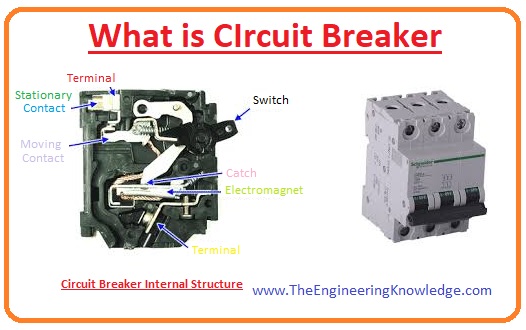 Circuit breaker used in the system to break the circuit to protect the system from errors
Performance can be mechanical and automatic due to the configuration of the structure
Due to the need for high accuracy in the timing of the system the breaker is maintained to function properly
Its main function is to interrupt the flow of power if an error is present in the system
Also called OCPD device
Its functions are based on switching and electromagnetism phenomena
If it works once it can be used multiple times
When an employee provides an indication of its effectiveness
It can be used as a switch
Its performance is based on ambient temperature
It is widely used to protect the system from short circuits and overcrowding
Its operating time is 0.02 to 0.05 per second
There are different types of breakers used
More expensive than a fuse
There are different types of circuit breakers used
Oil circuit breaker.
Air circuit breaker.
SF6 is a circuit breaker.
Vacuum circuit breaker.
That is all about the Difference Between Isolator and Circuit Breaker. All details has been explained. If you have to know more ask in comments. see you in next tytorial