Hello fellows, I hope you all are doing great. In today's tutorial, we will have a look at Difference Between Bus and Star Topology. In a communication system, both bus and start topologies play a very important role. The main difference between these topologies is that bus topology has a single line or bus bar with which other devices are connected. While in start topology there is a central switch that control and communicates with other devices connected to the network. The implementation of bus topology is simple as compared to a star topology.
In today's post, we will have a detailed look at the configurations of both topologies and find their differences. So let's get started with Difference Between Bus and Star Topology.
Difference Between Bus and Star Topology
Bus Topology
The component used in this topology is a cable.
In this technique, the data transfer speed is less.
The direction network of this topology is linear.
Its price is less.
If any fault exists in this configuration it is difficult to trace this fault.
The network formed through this topology can be extended with the addition of further devices.
If the main cable in this network is damaged almost the complete network will disturb.
The signal transmission in this topology in a single direction.
Star Topology
The main component in this configuration is the switch or hub.
Its data transfer speed is larger.
The direction of this network is non-linear.
Its price is large.
Due to the complicated configuration of the bus topology, it uses a large quantity of cable.
In this arrangement tracing of fault is easy.
In this network, only limited number of devices can be connected.
In this network, if hub is damaged then network disturbance is very complex.
Signal transmission in the technique is not uni-directional.
What is Bus Topology
The system which has numerous devices connected in a linear configuration with the single cable is known as bus topology.
The central cable can be constructed with the coaxial cable or twisted pair cable.
In below figure you can see the bus topology.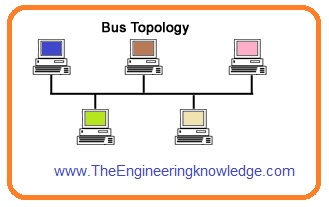 The main cable with which devices are joined through the node is called the backbone of system.
It operates as main component of system because if it damages there will disturb the operation of system.
Bus topology is also known as line topology and mostly installed in small areas.
The signal transmit through this network is not secure since it moves across the single cable which can be accessed through all devices connected with the bus bar.
If any component connected with bus bar is damaged there will be no effect on complete system but bus bar damage there will be effect on the complete system.
What is Start Topology
It is such configuration with which numerous devices are connected with the central switch or hub.
In this configuration every device is linked with the hub separately and had not connected with another device.
In below figure you can see the figure of star topology.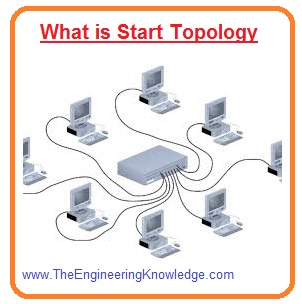 All components in this system are such configured that their central switch transmits data to each device separately.
Therefore we can say that signal flow is controlled through a central hub. So hub should operate correctly if any fault occurs in the hub will disturb the complete network.
But it provides run transmission through other devices it one device is damaged.
The complete system is configured to start like an arrangement so it called star topology.
But in practice, its structure is very complicated and it due to the continuous process it prefers over the bus topology.
Bus vs Star Topology
| Feature | Bus Topology | Star Topology |
| --- | --- | --- |
| Network Layout | In this topology, all devices are attached with a single cable or wire that is called bus | In this system, all devices are attached to a switch or central hub |
| Scalability | It comes with limited scalability | It is scalable and supported a larger number of devices |
| Fault Isolation | Its isolation from fault is difficult | Its fault can be easily isolated |
| Performance | Its operation can be affected due to larger devices | Its operation is not affected |
| Cost | It needs less cabling than other system and less expensive solution for all networks | It needs more cables than a bus topology high installation and costly prcoess |
Comparison between Bus and Star Topology
In bus topology all devices are linked with the common cable and data is transferred to from one point to other through a bus bar. But in bus topology, all components of a network are linked with the main hub that transferred data with connected devices.
In bus configuration data transfer in a sequence to others so transmission is slow but in start hub transmit data to other device separately so speed of transmission is fast.
To send information to larger area bus topology is preferred since large number of devices can be linked but in start, only limited devices can be linked.
The physical configuration of bus system is linear since large number of devices can be interlinked but in the start network physical configuration is not linear.
For the connection of numerous devices, only a single cable is needed while for start topology there is a need of a separate cable for every device.
The cost of star topology due to the complicated configuration is high but the cost of the bus system is less.
Fault detection of fault is difficult in bus topology while in star fault can be detected easily.
Signal transmission in bus topology is uni-direction while in star it is not unidirectional.
So that is detailed post about difference between start and bus topology if you have any query ask in comments. Thanks for reading. have a good day.