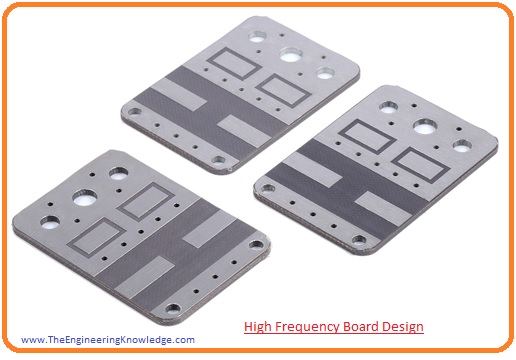 The high frequency is the type of PCB (Printed Circuit Board) like other categories. It operates at a frequency range from five-hundred Mega-Hertz to two Giga-Hertz it also compatible with microwaves, radio frequency signals. Due to its capability to transmit signal longer distance it used in radar, industries, and military applications, as well as in medical devices.
In the previous tutorial, we discuss detailed its introduction, features, and applications. In today's post, we will have a look at its construction and design with detail. So let's get started with High Frequency PCB Construction.
High-Frequency PCB Construction
The construction of this board is time taking and costly process so we should follow some serious factors about its construction.
These parameters depend on the quantity which you are going to create, your budget, design layout, and some standard that are commonly used in the world for construction.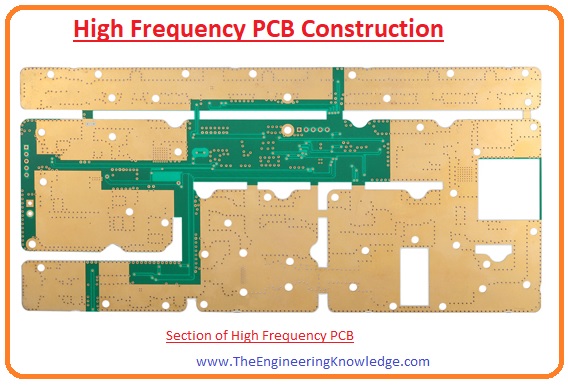 After setting these factors you can start to design a high-frequency board.
for construction, you should also follow these steps.
First thing is to monitor the frequency of the PCB board.
Mostly higher frequency printed circuit board uses fifty-hertz frequency for the better performance of circuitry that using it.
You can check the dimensions of traces on the PCB board either you are working on a high-frequency board or not.
If your find trace is over the 3rd the rise time of your device switching speed, then you operation board is High Printed Circuit Board.
After that find that either your board is a single unit or has different partitions.
If there are multiple divisions on your board then it is a High-frequency board.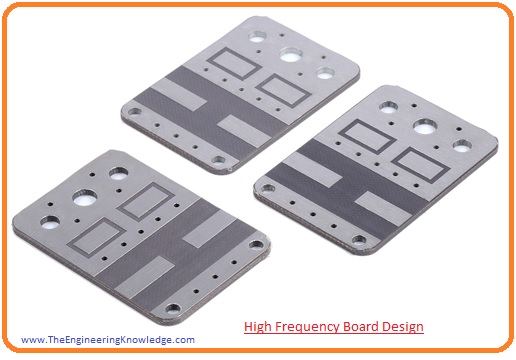 High-frequency circuit boards
Due to the increment in the complication in electronic elements and switching circuits, there is a need of high-speed signal movement and high-speed transmission of frequency.
Since of the small pulse rise time in electronic devices, it is compulsory for high-frequency techniques to observe the conductor dimensions in electronic elements.
According to different factors, high-frequency signals are reflected at the circuitry boards, in other words, there is a change in impedance according to the transmission component.
To avoid this fact there should be certain features and implementation at a high level of process control
The main causes for impedance in HF PCB are generally the conductor traced structure, creation of layers, and dielectric constant.
HF PCB by PCBWAY
Till now i hope you have become well aware of HF PCB board nowhere i main things i want to mention that from where you can get services related to HF PCB.
There is numerous manufacture working in the market but each has its own features but The most reliable and trustable manufacturer of HF PCB is the PCBWAY.
It is a china based PCB online manufacturer that offered PCB-related services on reasonable prices and within given time interval.
It has high experienced team of technicians and engineers for the creation and design of PCB according to tour desired requirements.
The material used of HF PCB at PCBWAY are RO4003C, RO4350B, Ro3003, Ro3010, RT5880.
The least size of spacing is two mil.
The least hole size for the HF PCB is 0.15 millimeters.
The board thickness is available in 0.2 to 3.2 millimeters.
The main features and capabilities offered by the PCBWAY for the HF PCB board are mentioned herein below figure with the detailed.
HF PCB Designs
There are multiple circuit boards supporting instantly in the designing of boards. There is a need to search for accurate substrate, conductor dimensions, and impedance values.
The generally prefeed material for the substrate is PRFE having less loss.
With that multiple layers used for controlling impedance.
The range of micro vias is up to seventy-five micrometers.
Materials for HF PCB
High-frequency boards are used for such applications where wireless applications are employed different data rates in the upper gigahertz having certain requirements for the material.
The features for material used are adapted value of permittivity.
Less attenuation for effective signal transmission.
Homogeneity in creation having less value fo tolerances in insulation thickness dielectric constant.
In different applications, there is enough to use FR4 with the combination of accurate layers creation. With that the procedure helps to improve through the use of well accurate dielectric material.
Such features offered through less loss factor, less dielectric constant and do not depend on the varied value of temperature and frequency.
Applications of HF PCB
The main applications of HF PCB are mentioned here with the details.
It used in the creation of different types of instruments used in military purposes.
It used in medical devices for the creation of different tools.
It used in industries for different machines and equipment where hf frequency is employed.
The devices created through HF PCB used in radar applications for communications.
That is a detailed post about HF PCB I tried my level best to explain about this board. If you have any further query ask in the comments, Thanks for reading have a nice day. See you in the next post