Hi, guys welcome to the new post. In this post, we will have a look at what is a Capacitor Polarity. Capacitors are the main components of different electrical devices and circuits. For capacitors to be used accurately and work at their best, it is important to understand the idea of polarity. The construction, types, uses, and applications of capacitors will be explained here. So let get started with What is a Capacitor Polarity

What is  Capacitor Polarity
The direction of the electric field in a capacitor is measured by a characteristic of capacitors called capacitor polarity. Two terminals, one positive and the other negative, exist on polarised capacitors. The anode is positive and the cathode is negative. When connecting a polarised capacitor to a circuit, it is significant to check its polarity if the polarity is wrong capacitor can damage=
Tantalum and electrolytic capacitors are the two main types of polarised capacitors. The most common type of polarised capacitor is an electrolytic capacitor. They are created with metal foil that is covered in an oxide layer, which works as a dielectric material. As oxide layer thin, there is a high capacitance per unit volume. Power supply and other projects that need a sizable quantity of capacitance frequently use electrolytic capacitors.
Another type of polarised capacitor is the tantalum capacitor. The metal used to make this module, it has an extremely high dielectric constant. That makes tantalum capacitors' high capacitance per unit volume possible, so it is good than electrolytic capacitors. Tantalum capacitors are used in high-frequency devices like radio transmitters and receivers.
How to Identify Capacitor Polarity
Look for a positive (+) or negative (-) sign on the capacitor. This is the basic method to find the polarity of a capacitor. The positive sign is marked with a solid line, while the negative sign made of a dashed line.
Look for a longer lead on the capacitor. The longer lead is the positive lead. it is that positive lead is configured with the anode of the capacitor, which is the larger of the two plates.
Look for a color coding scheme. Some capacitors are color-coded to define the polarity. For instance, a red stripe on a capacitor shows that the positive lead is the red stripe.
Types of Non-Polarity Capacitors
Ceramic capacitors: They are the main type of non-polarized capacitor. They are created with ceramic materials, like porcelain mica,, or polyester. They are available in different values of capacitance values, from some picofarads to a few microfarads.
Silver mica capacitors: They are part of a ceramic capacitor that is designed from a silver-mica dielectric. They are used for their high capacitance and low leakage current. it is used in high-frequency applications, like radio receivers and transmitters.
Polystyrene capacitors: This capacitor material is polystyrene dielectric. Polystyrene capacitors are mostly used due to their high capacitance and low dielectric absorption. Their common uses are in oscillators and timing circuits.
Polypropylene capacitors: They are designed from polypropylene dielectric. Its main features are high capacitance, less dielectric absorption, and different temperature values. it is used in general-purpose applications.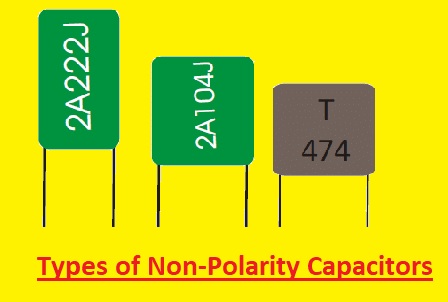 Non-Polarized Capacitors and Polarized Capacitors Comparison
| Feature | Non-Polarized Capacitors | Polarized Capacitors |
| --- | --- | --- |
| Polarity | No polarity | Positive and negative terminals |
| Capacitance range | Few picofarads to a few microfarads | Few picofarads to a few farads |
| Dielectric materials | Ceramic, mica, porcelain, polyester | Electrolytic, tantalum |
| Applications | Filters, oscillators, timing circuits, general-purpose | Power supplies, filters, oscillators, timing circuits |
| Advantages | Can be connected in any orientation,  less expensive, less likely to be damaged if the polarity is reversed |  more well-suited for high-power and high-temperature applications, Higher capacitance values, |
| Disadvantages | Lower capacitance values, not as well good for high-power and high-temperature applications | More costly, and can be damaged if the polarity is reversed |
 Construction of Capacitors
Capacitors have two conductive plates separated by a dielectric material. The dielectric material can be of different types like ceramic, tantalum, or electrolytic materials. The conductive plates, usually metal, allow the storage and discharge of electrical energy when a voltage is connected across the terminals.
Types of Capacitors
There are differnt types of capacitors some are explained here
Electrolytic Capacitors
Polarised electrolytic capacitors often have higher capacitance values and are polarised. They are often utilized in power supplies, audio amplifiers, and other devices that need high capacitance.
 Ceramic Capacitors
Non-polarized ceramic capacitors come in different sizes and capacitance values. They are often utilized in electrical circuits for bypassing, filtering, and decoupling purposes.
 Tantalum Capacitors
Tantalum capacitors have high capacitance in a small package and are also polarised. They have used in devices with constrained storage, including laptops and mobile phones.
 Film Capacitors
Film capacitors offer good stability and dependability and are non-polarized. They are frequently employed in situations where high voltage and temperature tolerance are necessary.
Capacitor Polarity and its Importance
Polarity is important in capacitors with an electrolytic or tantalum construction. Application of a reverse voltage or connecting them incorrectly can cause electrolyte leakage, explosion, or damage of components. It is important to note the polarity markings on these capacitors and attach them appropriately in the circuit.
 Capacitor Functions
 Energy Storage
When necessary, capacitors release the electrical energy they've stored. They can control voltage levels in the circuit or serve as temporary power sources.
 Filtering and Smoothing
To provide a steady and dependable power supply, capacitors are employed to filter out undesirable noise and ripple voltage.
 Timing and Oscillation
In circuits like oscillators and timers, capacitors and resistors connected to control the timing and frequency of oscillations.
 Applications of Capacitors
 Power Supply Units
Capacitors are the main components in power supply units, regulating voltage and storing energy to deliver a stable power output.
Audio Systems
it is used in audio systems for decoupling, coupling,  and filtering to ensure clear sound quality and eliminate noise.
 Motor Starters
Capacitors help in starting electric motors by giving an initial surge of power.
Radio Frequency Circuits
In radio frequency circuits, capacitors work as coupling capacitors and tuning components, respectively.
 Choosing the Right Capacitor
It's important to select the accurate capacitor for a given application. Capacitance value, temperature range,  voltage rating, and size limitations are all things to think about. To select the best capacitor, it is important to refer to datasheets and study electronic design principles.
 Common Issues with Capacitor Polarity
A capacitor's polarity can be incorrectly identified or connected, which can cause different problems. These are
Component Damage
Reversing the polarity or providing excessive voltage can damage the capacitor or other components connected to the circuit.
 Circuit Malfunctions
Polarity-related problems can cause circuit malfunctions, causes in erratic behavior, or complete failure of the device.
 Safety Hazards
Certain capacitor types, including electrolytic capacitors, can leak or blow up if connected in the wrong direction or exposed to voltages that are too high.
Capacitor Polarity and Circuit Design
Circuit designers should consider capacitor polarity during the design.  Placing polarized capacitors accurately in the circuit and making sure their accurate orientation helps avoid functionality problems and enhances the overall performance and reliability of the electronic system.
Capacitor Polarity Symbols and Markings
Capacitors with polarity often feature symbols or markings that show the correct orientation. Common symbols include "+" and "-" signs, arrows, or shaded regions. It is necessary to carefully check and interpret these markings to make sure correct installation.
What Happens After Reversing the Polarity of a Capacitor?
There are some of the outcomes that can occur when the polarity of a polarised capacitor is reversed:
The capacitor may short out. This means that the two pins of the capacitor will be connected together, and the capacitor cannot store any charge.
The capacitor can overheat.  If the capacitor is linked to a voltage that is larger than what is recommended for it, this might result. The capacitor's lifespan can be shortened and damaged by overheating.
The capacitor can explode.  The most detrimental effect of reversing a polarised capacitor's polarity is this. Overheating or using a voltage that exceeds the rating of the capacitor might result in an explosion.
Do Capacitors have Polarity?
Not all capacitors have polarity. Two terminals, one positive and one negative, are present on polarised capacitors. Anode and cathode are the names of the positive and negative terminals. When connecting a polarised capacitor to a circuit, it is important to note its polarity because doing so might harm the capacitor.
The positive and negative terminals do not exist in non-polarized capacitors. Any orientation can be used to connect them to a circuit. Materials used to make non-polarized capacitors are ceramics, that are mica, porcelain, and polyester. They are utilized in many different applications, including timing circuits, oscillators, and filters.
What is the capacitor's positive side?
The positive end of a capacitor is the point that is marked with a positive (+) sign or a red stripe. The negative point of a capacitor is marked with a negative (-) sign or a black stripe. It is important to attach the capacitor in the circuit accurately, with the positive side configured to the positive voltage terminal and the negative side to the negative voltage. If the capacitor is connected incorrectly, it can be damaged.
 Capacitor Polarity Testing
To verification of the polarity of a capacitor, differnt tests can be employed. That is the use of a multimeter, observing the markings, or denoting to the datasheet or manufacturer's instructions. Proper testing helps to avoid potential polarity-related problems before integrating the capacitor into the circuit.
 How to Reverse a Capacitor
In some conditions, reversing the polarity of a capacitor can be necessary. This can be done by desoldering and reconnecting the component with the correct direction. However, it is important to follow caution and refer to the manufacturer's rules to avoid damaging the capacitor or the circuit.
 Importance of Capacitor Polarity in Electronics
Capacitor polarity has important in electronics, as it makes sure the correct operation and longevity of electronic devices. By following accurate polarity guidelines and observing markings, engineers, and hobbyists can avoid costly mistakes, minimize circuit failures, and enhance the overall performance of their designs.
Conclusion:
Electronic circuit design, operation, and dependability all depend heavily on capacitor polarity. Engineers, amateurs, and anybody dealing with electronic equipment must comprehend capacitor polarity. One may harness the power of capacitors and build effective and reliable electronic systems by choosing the appropriate capacitor, paying attention to the proper polarity, and adhering to best practices.
FAQs
Q1: Can non-polarized capacitors be connected in reverse?
A1: Non-polarized capacitors can be used in any direction without causing any problems because they don't have a fixed polarity.
Q2: What happens if you connect a polarized capacitor in reverse?
A2: An electrolyte leak, component damage, or possibly an explosion may result from connecting a polarised capacitor in reverse.
Q3: Are there any capacitors that don't have polarity markings?
A3: Non-polarized capacitors do not need special markings because they may be connected in either direction, whereas polarised capacitors often have distinct polarity marks.
Q4: How can I determine the polarity of a capacitor without markings?
A4: The majority of the time, capacitors without polarity marks are non-polarized and may be connected in either direction. Though it is preferable to refer to the datasheet or manufacturer's instructions if unclear.
Q5: Can capacitor polarity affect circuit performance?
A5: It is true that improper capacitor polarity can cause circuit problems, decreased performance, or outright failure of the device or system.