Hello, friends welcome to our site for a new interesting post. In this post, we will have a detailed look at HDI PCB by PCBWAY Best PCB Supplier. PCB stands for a printed circuit board that is a very commonly used circuit board in the electronic industries and engineering projects. Almost every electronic device either it is your calculator or laptop over which you are reading this post comprises of PCB.
There are numerous categories of PCB single layer PCB, double layer PCB, multilayer PCB rigid PCB, etc. To get these PCBs there are numerous PCB creators are working in this world but there is one and only PCB supplier which I always suggest is PCBWAY. I am also a user of this PCB supplier that provides the best and high-quality products and its products have good quality at a reasonable price. In this post, I will explain about their product that is HDI I hope you will select PCBWAY after reading this post. So let's get started with HDI PCB by PCBWAY Best PCB Supplier.
HDI PCB by PCBWAY Best PCB Supplier.
Introduction to HDI PCB
The HDI stands for high density interconnects PCB that is a modern form of PCB which has introduced a new product in the PCB industry.
This board provides larger space than the other boards so there is small size vias and pads can be created.
At this board blin and buried are assembled some time micro size vias are also assembled that has a size range of 0.006 or some time is less than it.
The use of HDI techniques in electronic engineering provides facility tho the engineers assembled more components at both surfaces of general PCB in some certain requirements.
With the development of via in pad and blind via techniques facilitate the engineers to assembled small size elements at a small distance.
That provides high-speed signal transmission and also reducing the loss of signal.
The common application of HDI PCB is in the mobile phones, such devices that have touch display computer laptops, digital cameras.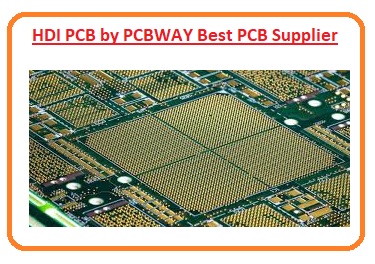 Vias Used in HDI PCB
There are 3 types of Vias are used in HID PCB for optimization of spaces required for interlinking among layers and different elements of circuits.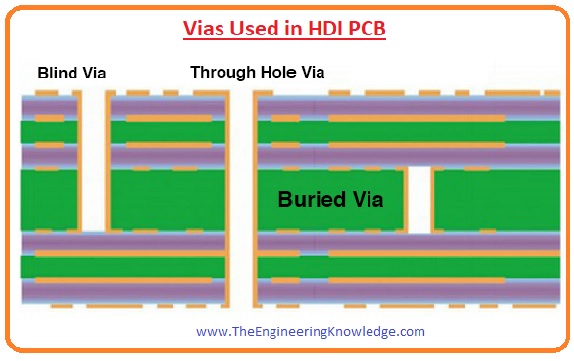 Microvias
These vias has a very small size and can be created with the use of lasers. Their dia is very less than normal vias. Micro vias have 2 further types. Stacked and Staggered.
Blind Vias
These vias are used for the interlinking of the exterior layer to the internal layers and have access to a single outer layer.
Buried via
It can interlink the internal layers to a similar substrate or numerous substrate and has no access to the outer layers.
The blind and buried vias offer accessibility tot the functionality needed layers and have nor cover the space at all layers of board.
These features offer larger space for more elements to attached for enhancement of routing in the tracing.
By using this feature engineers can place a larger no of elements for increment int he board's density and can decrease the area of the board according to circuit need.
Structures of HDI PCB
There are commonly used three HDI PCB structures that are discussed here.

HDI PCB (1+N+1)
ELIC (Every Layer Interconnection)
HDI PCB (2+N+2)

Let us discuss them with the details.
HDI PCB (1+N+1)
The type of the HDI printed circuit board comprises of one build-up of larger density interlinking layers.
It is the best option for BGA having fewer inputs and outputs.
It comprises of accurate lining micro via and registered techniques have the capability of 0.4-millimeter ball pitch.
It provides high mounting stability.
HDI PCB (2+N+2)
This category of HDI structure comprises of two or more two build-ups of larger-density interlinking layers.
Micro vias at different layers can be staggered.
This type of structure uses copper-filled stacked and is used in high-level applications.
This structure is the finest for BGA having a small ball pitch and a larger no of inputs and outputs.
It is used in such applications where routing density increment is required.
ELIC
It stands for Every Layer Interconnection every layer of this PCB is largely density interlinking that permits conductive material at the layers of board to link to the copper-filled stacked micro via structure.
It provides a highly reliable interlinking for complicated modules having larger numbers of pinouts like CPU, GPU, etc.
Benefits of HDI PCB
The feature that make it useful are packaging density that is provided by the HDI technique.
In this board room for the accurate trach, structures exist to different types of elements to connect.
As this board provides net board size reduction so small size board will be constructed that is good for creating large projects.
In general FPGA (field-programmable gate array) exists having one millimeter or less space.
Features Enhanced with HDI PCB:
The common features important with the HDI is described here.
It provides denser trace routing.
The stability of power provided by this board is larger.
It decreases the interference inductance and capacitance factors.
In large-speed designing, it enhances signal integrity.
Accelerate Production with HDI PCB
With this board, the linking of SMD devices is every easy than other types of board.
It provides high-speed routing.
It also offers decrement in position replacement of components.
There is a large space for more elements it has.
PCBWay HDI PCB manufacturing capabilities
The features or capabilities provided by the PCBWAY in HDI PCB are discussed here.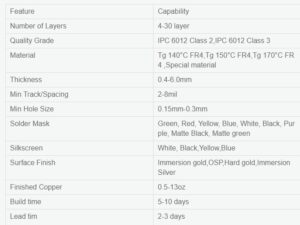 | | |
| --- | --- |
| Features | Capabilities |
| Number of Layers | There are four to thirty layers existing in the HDI boards created by the PCBWAY. |
| Grade Quality | The grade quality provided by the PCBWAY is IPC 6012 Class Two and IPC 6012 Class Three. |
| Material | The common material used for HDI construction is Tg 140 centigrade FR4,Tg 150 centigrade FR4,Tg 170 centigrade FR4. |
| Board Thickness | The board is thickness has a value of 0.4 to 6 millimeters. |
| Minimum Track | The value of minimum spacing is 2-eight mil. |
| Minimum Hole Size | The dimension of the minimum hole is 0.15 milliliter from 0.3 millimeters. |
| Solder Mask | The Tsolder masks used in this technique are Green, Red, Yellow, Blue, White, Black, Purple, Matte Black, Matte green. |
| Silkscreen | The silkscreen is White, Black, Yellow, Blue |
| Surface Finishing | The surface finish used in PCBWAY are Immersion gold, OSP, Hard gold, Immersion Silver |
| Finished Copper | The finished copper is 0.5 to 13 ounces. |
| Creation time | It takes five to ten days. |
| Lead time | The lead time is two to three days. |
That is all about HDI PCB by PCBWAY Best PCB Supplier if you have any queries ask in the comments. Thanks for reading.