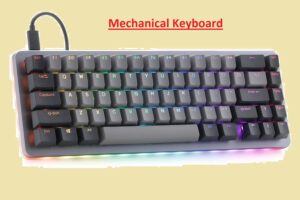 Hello readers welcome to new post. Today we will discuss Elecrow Mechanical Keyboard Special Promotion 2022. The mechanical keyboard is the keyboard of the computer that operated through spring-activated switches. Contrary to the scissor switch keyboard used in modern laptops or rubber membrane keyboards used with different PCs, the mechanical keyboard uses discrete components which can be customized in any useable way.
In this post, we will cover the details of Elecrow promotion about the mechnical that will help you to get the latest mechanical keyboard with good prices and high quality. So let get started
Mechanical Keyboard Working
The mechanical keyboard function is to send the signal about the pressed key, after the computer register that keystroke in-game, browser or in any other program
This process is simple just started with keycap which is component of plastic that denotes a number or letter like F that you press with your finger.
The keycap exists on the switch, mechanical component created with plastic, metal spring and metallic electrical connectors.
If we press the keycap, we are also pressed the switch down. When switch pressed electrical connectors inside the switch create the electric circuitry.
As the keycap is positioned on the switch, switch is positioned on the board, that is the nervous system of keyboard.
The circuit board consists of circuit for each keycap. If electrical connectors of switch touch, they make circuit with the circuit board, which then inform to the computer that the circuitry is completed, anything you pressed will be shown on screen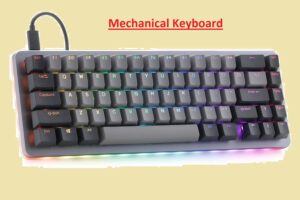 Why Mechanical Keyboard used
There are many features of mechanical keyboard that urge people to use them. Some use them for typing and high speed games. Some other high typists use these boards to avoid any accidental keystrokes. Some uses these keyboards due to their sound to feel good.
Some main features of these keyboards are discussed here them urge people to use them
The nostalgia factor
For expressing their abilities
It helps to type in low light
It can be used for fun and thriving community
Till know you have learned about the mechanical keyboard now we discussed the great promotion of Elecrow for Mechanical Keyboard that will helps you to get high quality board in affordable prices.
First of all have some overview of Elecrow.
Introduction to Elecrow
Elecrow was established in 2014 Shenzhen city of China. Elecrow is a company that integrates research, development, production and sales. In the last several years, they has expanded from 2 founders to more than 140 members. Their business has expanded from open source hardware to STEAM education, smart home, 3D printing
More than that, they provide a one-stop OEM/ODM solution service for our customers. With these products and services, Elecrow helps makers or startups bring creative ideas to life, assist enterprises to cope with supply chain work which makes them reduce costs and concentrate on development and marketing.
Elecrow Mechanical Keyboard Special Promotion 2022
Here Elecrow has introduced a special promotion for a mechanical keyboard that will continue from Nov.17 to Dec.17 2022. through this promotion, you can get a chance to win high discounts such as free PCB assembly, $1 for three dimensional printing mechanical keyboard cases and acrylic laser cutting services, that helps to get low cost mechanical keyboards at Elecrow.
Promotion Details
Promotion details are explained here

PCBA for mechanical keyboards
Through this promotion you high discounts are available such as there is no soldering fee for Quantity ≤50 pcs
There will be 50% discount of the soldering price for Quantity >50 pcs
Free Assembly Cost for Mechanical keyboards PCB orders≤50 pcs
3D printing services for mechanical keyboards
Material used for this service is Photosensitive resin (domestic 9400)
Weight ≤ 10g & Quantity ≤ 5 pcs: Order price =$1
Weight >10g or Quantity>5 pcs: 50% discount of the order price
Laser cutting services for mechanical keyboards
There is Transparent Acrylic laser cutting material used for cutting
Quantity ≤10 pcs & Size ≤15*15 & Thickness within 2~3mm: Order
price =$1
Quantity >10 pcs & Size >15*15 & Thickness >3mm: 50% discount of the order price
Share and Earn
If you share the PCBA production video that Elecrow has provided on your social platform or maker community can get a chance to win $50 for any PCBA order after sending the sharing link to their project manager for confirmation.
Makers can apply for Elecrow sponsorship for their mechanical keyboard-related projects, and they need to publish their projects on social media and maker communities for promotion.
Elecrow Reward System
Registration:
You will get 500 points (5$) after  registering an account  on Elecrow's website as a new customer.
Recommend Elecrow to other customers:
You will get 1000 points (10$) for inviting each new customer after they registered a new account and finished their first order. Besides, you will get additional feedback points of 10% of their first order amount. The recommended person will get 500 registration points and the first.

Purchase points
*The maximum amount of credit deduction shall not exceed 40% of the total value
of shopping cart amount;
* Points cannot be used to deduct shipping charges.
That is all about the Elecrow Mechanical Keyboard Special Promotion 2022 must visit this promotion to get the quality products. thanks for reading have a good day