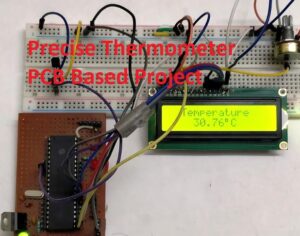 Hello, readers welcome to the new post. In this post, we will learn Precise Thermometer PCB Based Project. The thermometer is such instrument that used to find the value of temperature. Temperature is the degree of hotness and coldness of any material. There is 2 main component exist in the thermometer first one is sensing material and the second one is mercury bulb. When the temperature is increased in the surrounding then the mercury rises to the point over which temperature lies. It commonly used in hospitals, homes, and industries for measuring temperature there are many types of this device according to use and configuration that lies.
In this post, we will make a precise thermometer that is constructed with the PCB board here i mention that the board used in this project is manufactured by the PCBWAY that is the best PCB service, provider. Currently, many PCB suppliers offering the services of PCB and it is very challenging to have a good manufacturer. So PCBWAY is a very good choice for you if you want to get high-quality boards for your projects as I have. It is china based and offering services of PCB prototyping, PCB assembly, SMD stencil, etc. I get the products from the other PCB supplier but they never satisfied me as PCBWAY did. SO i always recommend using the services of PCBWAY to all my friends. In this project, the PCB used also get from this PCB supplier and they offered all requirements that I send to them for this project. They also have special discounts for their regular customers. So let get started with our project.

Introduction to Precise Thermometer
The thermometer is a device used to finds the value of the hotness and coldness of any object.
While precise thermometer used to offer a high value of accuracy for temperature with the use of RTD that is a resistance temperature detector.
It also uses SPRT or standard platinum resistance thermometers that increase its accuracy level and prefer over the thermocouple.
It accuracy level is such that so it employed in different temperature modules to get the high value of temperature.
Its certain interval calibration needed to retain correctness.
THeir accuracy level is such high that they employed to finds the value of correctness of other types of thermometers.
The thermometers used in different departments, labs, food processors are categories of the precise thermometers.
Its main features are large in size with can be read values of temperature easily.
For display, values consist of LCD and incorporated with the battery.
Its battery has a value of 1.5 volts and offered the least two thousand battery life hours.
For increasing the battery operating life it will be off after 10 minutes if not in use.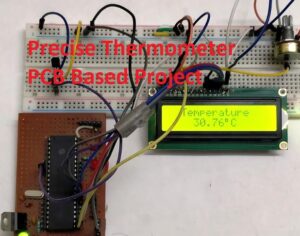 Precise Thermometer PCB Based Project
The components used in this project are mentioned here.
PCB from PCBWAY
Resistances
Capacitor
LED or LCD
Switches
Controllers
The device designed in this project can display the value of temperature up to four decimal.
The board used in the project is designed with red color solder mask and this board is operating very accurately and all above-mention components are placed on the board.
Its configuration is such that has the ability to show resistance for the outer environment and can be used in harsh conditions.
The use of resistance is that it limits the value of current offered by the battery to such a level that can bear by the module.
LCD used to show the measuring value of temperature.
Switches are used to control its operation with the controller like microcontroller is used for control its function according to a given value of coding.
That is the detailed post about the Precise Thermometer PCB Based Project I have explained all aspects of this project. If you still have any query ask in the comments. Thanks for reading have a good day. See you in another interesting tutorial.