Hi, friends, I hope you all are doing great. In today's tutorial, we will have a detailed look at the Introduction to Atmega328. The ATmega328 is a microcontroller that is assembled on the single-chip and manufactured by the Atmel (who was producers and creator of semiconductors materials) in the megaAVR group of microcontrollers. The processor core of this module is eight-bit RISC (reduced instruction set computer) which has Harvard architecture with some modification.
In this controller 32 kilobyte already built memory exits. In today's post, we will have a detailed look at its working, pinout, structure, and some other related factors. So let's get started with Introduction to Atmega328.
Introduction to Atmega328
The Atmega328 is a very commonly used microcontroller board created by the Atmel. It can support data up to eight bits and has a flash memory of thirty two-kilo bytes.
This module also comprises of one kilobyte of EEPROM and two-kilo byte of inner static random access memory.
Like Arduino, UNO atmega328 is also used wit the Arduino Duemilanove board. This type of Arduino has two types of microcontroller shops first is atmega328 and the second one is atmega168.
There is a twenty-eight pinout of atmega328.
The voltage over which it operates is 3.3 volts to 5.5 volts, Usually, five volts are given to it.
Between atmega328 and atmega168 the atmega328 is more advanced.
The atmega168 has sixteen kilobytes of flash memory and five hundred twelve bytes of inner static ram while atmega328 has thirty-two KB of flash memory and two kilobytes of inner static ram.
The most common features it provides are less price, less power usage, and has a real-time counter with the separate oscillators.
Features of Atmega328
these are some main features of Atmega328 which are discussed here.
There are twenty-eight pinouts this module has similar to the Atmega328P.
It has a central processing unit of RISC based on an eight-bit AVR.
It has a ten-bit analog to digital converter.
It has a flash memory of its two kilobytes.
It has a static ram of 2048 bytes.
It has an EEPROM of 10244 bytes.
There is eight analogs to digital converter channels it has.
There is six pulse width modulation pinout it has.
It consists of one comparator.
The voltage range over which it works is 1.8 volts to 5.5 volts.
Pinout of Atmega328
There are twenty-eight pinouts exits in the Atmega328.
There are twenty pinouts of this module that operate as input and outputs.
Fourteen input operates as digital pins six of them are pulse width modulation output and six are of analog inputs and outputs.
On the chip of this controller, ADC is already built. There are three pinouts AVcc, AREF, GND, and AVcc are used for ADC operation.
Analog to digital converter needed separate power supply.
There are two pins are used as a crystal oscillator. These pins used to deliver a clock to the atmega.
The pinouts VCC and GND are used to provides power to the module. The required voltage for this module is 1.8 volts to 5.5 volts.
Its GND is the ground terminal. AREF is a reference voltage that is used by analog to digital converter for its resultant digital values.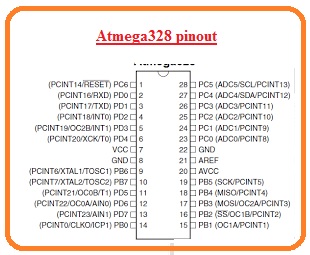 ATmega328 Architecture
In the below figure you can see the architecture of Atmega328 which described the complete internal structure of the controller.
ATmega328 Applications
The complete structure including Arduino and Atmgega328 is used in different applications.
It used in different types of projects such as mobile embedded systems it prefers here due to operation at different values of power operation
As it comes with the high-leve RISC structures so applied in applications where high-speed application of programin exit
It helps to process digital data.
It used in different controlling devices that are based on automation like machines.
To design a small size plan and quadcopter this controller is used.
That is a detailed post about atmega328 I tried my level best to make it simple for you if you have any further query ask in comments. Thanks for reading