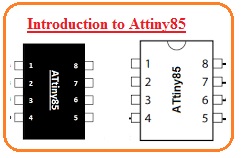 Hi, friends I hope you all are having fun in your life. In today's post, we will have a detailed look at Introduction to Attiny85. It is the category of the microcontroller which is like the Arduino board but with some difference that it has less number of input and output pinouts small memory and less form factor than the Arduino. This module is available in the form of an integrated circuit instead of the board. If suitable power is given to it can be used as a bare chip on the breadboard.
This module is provided with the universal serial bus interfacing such as complete USB port like Digistump or micro USB. As it has small size packaging it can be interfaced in numerous ways. In today's post, we will have a detailed look at its working, pinout, operation, and applications. So let's get started with Introduction to Attiny85.
Introduction to Attiny85
The Attiny85 is a less power usage microchip eight-bit AVR based microcontroller and used in different robotics and Arduino simulations.
It consists of eight-byte ISP flash memory, five hundred twelve byte EEPROM, five hundred twelve Byte static RAM.
This module has six GP inputs and outputs connections with that have thirty 32 registers, and counter of eight bits having compared mode.
In this controller, there is a high speed operating counter of eight-bit exits, USI (User System Interface), inner and outer interrupts four channels for ten-bit analog to digital converter.
It has a programmable watchdog timer with the inner oscillator and it gets a throughput of twenty MPIS at a frequency of twenty megahertz.
The operating voltage of this module is 2.7 volts to 5.5 volts.
Through this module communication through the I2C and SPI can be used.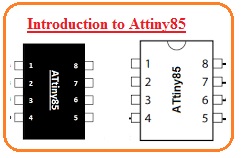 Features of Attiny85
These are some features of Attiny 85 which are discussed here.
This module has programmable flash memory.
The size of programmable memory is eight kilobytes.
The operating speed of these modules is twenty  MIPS.
It has a static RAM of five hundred twelve bytes.
It has EEPROM which has a data storage space of 512 bytes.
The digital communication can be done through this module with the use of I2C and SPi.
There are 2 timers of eight bits exits in this module.
There is one comparator exits in the structure of this module.
Its operating temperature range is -40 to 85.
Its operating voltage is 1.8 to 5.5 volts.
There are eight pinouts exits in this module.
It has six inputs and output programmable pinouts.
Pinout of Attiny85
There are main eight pinout of Attiny85 which are described here with the details.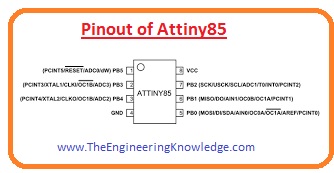 PB5 (PCINT5/ADC0/dW)
It is the fifth pinout of PORTB and used to changing of pin interrupt used as reset pinout analog to digital converter at channel zero and debugging at inputs and outputs pinout.
B3 (PCINT3/XTAL1/CLKI/ADC3)
It is the third pinout of port B and used as interrupt change crustal oscillator connection, to connect exterior clock as input and at channel three analog to digital converter connection.
PB4 (PCINT4/XTAL2/CLKO/OC1B/ADC2)
It is the fourth pinout of port B used as interrupt pinout at source four, the connection of crystal oscillator, provides an output of system clock, timer connection and analog to digital converter at channel two.
GND
B0(MOSI/DI/SDA/AIN0/OC0A/AREF/ PCINT0)
It is zero pinouts of port B used as connection of SPI USI data input 2 and 3 wire modes, analog comparator, timer, AREF and as interrupt pinout.
PB1(MISO/D0/AIN1/OC0B/OC1A/ PCINT1)
It is the first pinout of port B and used as MISO, as output, analog comparator, timer, as to interrupt pinout.
PB2(SCK/USCK/SCL/ADC1/T0/INT0/ PCINT2)
It is the second pinout of the port of B and used as the serial clock input, USI clock timer, exterior interrupt.
Vcc
A positive voltage is given at this pinout.
ATtiny85 Block Diagram
In the below figure you can see the block diagram of Attiny85.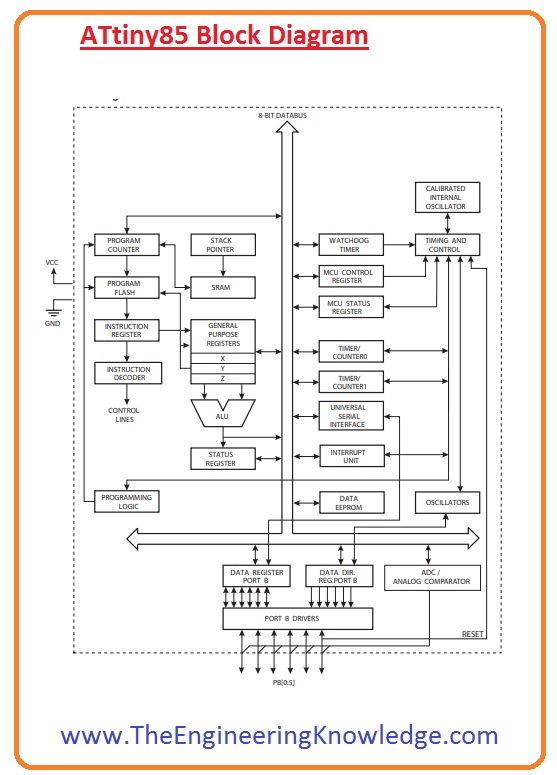 Applications of Attiny85
These are some applications of Attiny85 which are discussed here.
It employed in different types of od circuit boards.
It uses in engineering and robotic projects.
In industries for controlling of different machines.
It used in different power regulation systems.
It used in different types of display units.
That is a detailed post about Attiny85 if you have any questions ask in comments. Thanks for reading. have a good day,