Hello readers welcome to new post. Here we will discuss Introduction to PIC16F1503 Microcontroller. Micrcontroller is portable computer designed on the one metal oxide semiconductor VLSI board. It consists of single and more processors with memory unitand some input and output devices. Its memory units are RAM NOR flash are positioned on the board.
Microncontller contrary to microporcessors are created for embedded appliations.  In curent way microcontroller are like the SOC but less sophisticated. Tehre are different types of microcontrollers used in the embedded system here we will cover details of PIC16F1503 Microcontroller. So let get started
Introduction to PIC16F1503 Microcontroller
PIC16F1503 is eight bit RISC based microncotrller and belongs to the very famous seris of controller that is PIC and created by the Microchip.
To program the PIC microcontrollers PICkit and MPLAB IDE is used. It consists of different devices such as analog and mix signal interfaces.
It comes with ADC  having 8 exterior changes which can be labed as pinout names RA0, RA1… RA4, RC0… RC3
This controller has features to make connection with the exterior DAC, referne volts and temperature sensors
It in bulited with five bit DAC that gives the thirty two output volts. Value of reference votls can be chosen and output can be manged ot RA0 and RA2
Its output can be send to ADC and inner comparators. It has 2 inner configured comparators.
PIC16F1503 Microcontroller Features
Its main features are discuss here
It is manufactured by the MICROCHIP Technology
It is PIC microcontroller board
Its program memory is 3.5 kilpobyte
Static ram is one twenty-eight byte
Clock frequency is twenty megahertz
Its communication protocol is SPI and I2c
It is SMD module
its casing is TSSOP14
It has twelve inputs and eleven outputs
It has two eight bits timmers
Belongs to PIC16 family of microcontrollers
It has eight capacitive channels
operating temperature is minus forty to eighty five
It has four PWM channels
3500 byte flash memory
The operating frequency is 20MHz
PIC16F1503 Pinout
Main pinout of PIC16F1503 are discussed here
Vdd is 1 pins used for IC supply pinout
Pins Ra0…. RA5 are denoted as 13, 12, 11, 4, 3, 2 used pins of PORT A and work as general-purpose pins
PinsRC0 to RC5 denoted as 10, 9,8,7,6,5 pins fo Port C and general-purpose pins
Vss if 14 pins are used as ground reference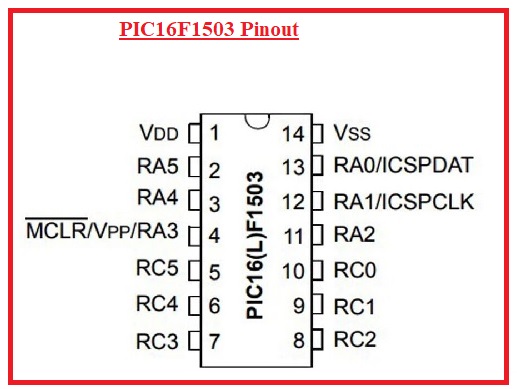 PIC16F1503 Applications
Common applications of this boards are explained here
It used in smart and control appliances
Used in signal applications
used in PLC Circuits
That is all about the PIC16F1503 all details has been explained if you have any further query ask in comments. THanks for reading have a goodday.