Hi, guys in this post we will cover the Double Pole Double Throw Switch. In the life of electrical switches Double Pole Double Throw or DPDT switch has importance since it is versatile in function and used in different applications. But its proper working and other parameters must be known. So let will cover its different parameters in detail in this post. So let's get started with Double Throw Double Pole Switches
Introduction Double Throw Double Pole Switch
The DPDT or double pole double throw is an electrical component that has the ability to control current flow in two separate circuits at the same time
It has two poles and each pole with two through positions that make a total of six terminals. this configuration helps DPDT switch to connect 2 input sources with two different output loads.
The DPDT switch is used in applications where many devices required to be controlled with one switch

Structure and Working Principle of DPDT Switch
The structure of DPDT switches has mechanical liver or toggle that can be actuated in a manual fashion.
In this switch, there are 2 terminal sets and 2 separate circuits every with its own common point. When the lever is at one state, contacts related to one circuit are connected in case of other position contacts related to 2nd circuit are connected
The working of the DPDT switch is based on the motion of the inner structure. When the lever is toggled it shifts the position of contacts helping the current to flow in different paths. This process helps the switch to alternate between connecting inputs with different output loads
Double Pole Double Throw Switch Diagram
A DPDT switch comes with 6 terminals or pinouts that are divided into two sets. The switch has two independent poles every one with a common terminal and two related through terminals that are normally labeled as A and B.
In the diagram of DPDT two poles are shown with vertical lines. The upper pole has two terminals 1, 2, and 3 and at the base pole 4, 5, and 6 terminals lie. the common terminal is attached with mid pins that 2 and 5
When the switch is in default state common pins 2 and 5 are connected through terminal A 1 or 4. This structure helps the current flow to terminal A. At  that time terminals B 3 and 6 are not attached to common terminals made in open circuitry
When the switch is toggled or flipped common terminals 2 and 5 are disconnected from terminals A and connected to through terminal B. This process reverses the current flow, redirecting through the circuit connected to terminal B. At that time through terminal A become open break the circuitry
The DPDT switch helps to control separate circuits or devices at the same time helping to switch between them or reverse current flow
What is DPDT Toggle Switch
A DPDT toggle switch, in full form, is a Double Pole Double Throw toggle switch, which is a switch that provides a control for two separate circuits or devices. If has a level or toggle which can be flipped up or down to vary the switch position and regulate the flow of current is a type of switch that provides control over two independent circuits or devices.
The DPDT toggle switch also has 6 pins that are divided into 2 sets of three. The witch comes with two poles, every with a common terminal and two related through pins. That is labeled as A and B
The toggle switch has a default state normally middle where common pins are connected to related terminals A. This structure helps current to flow through the circuit connected with Terminal A and through Terminal B are not connected has an open circuit
If the toggle switch is flipped up or down common pin is disconnected from through pin A and connected to B. This process reverses current flow redirecting it through circuitry attached to terminal B and through terminal A is open to break the circuit.
This switch provides features to control two separate circuits at the same time. it is used in different applications where selection between two different modes, like current reverse, or switching among two power sources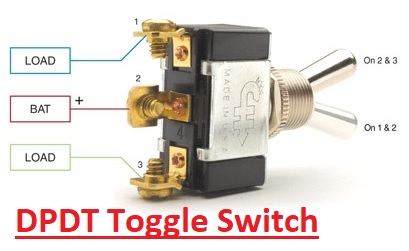 DC Motor Control using DPDT Switch
DC motors are used in different applications and the control direction of rotation needs proper functioning. One method is to control the dc motor with the use of a DPDT switch
To control the motor with DPDT some points have to follow
DC Motor: First of all arrange the motor that you have to need.
DPDT Switch: Arragne the DPDT switch with accurate current and voltage values of motor
Power Supply: Arrange the power supply for your circuit
So here are steps explained that will help to control the motor with the switch
Wiring the DPDT Switch: As we know there are 6 terminals for DPDT. The upper set of three terminals is used to control the motor in a clockwise direction while the bottom set is used to control the motor in an anticlockwise direction. Connect the positive pins of the power source with a common pin of the upper set of the DPDTb. Make the connection of one through pin A of the top set with positive leads of dc motors. Now connect the other throw pin B of the top set with a negative pin of the power supply.d. Attach the positive pin of the power supply to the common pin of the bottom set on the DPDT switch

e. After that connect one of the throw pins A of the bottom set to the negative pin of dc motor

f. Attach other throw terminal B of the bottom to the opposite pin of the power supply

Operation:a. When DPDT switches in a default state, the motor will not move since both sets of throw terminals A and B are opened. For the motor to rotate in a clockwise direction flip toggle switch up. This process connects an upper set of through terminals A and B together, making a closed circuit. Current passes from the positive terminal of the power supply through the switch, and motor and back to the negative terminal of the power source, So the motor rotates in a clockwise direction c. For motor rotation in an anticlockwise direction, flip the toggle switch downward. This process connects a bottom set of through terminals A and B with each other helping the current to flow in the reverse direction. So motor rotates in the anticlockwise direction
Through flipping DPDT switch up and down we can easily control the direction of the motor. This type of motor control is used in robotics, small-scale machinery, and DIY projects.
Read also: What Is Double Pole Single Throw Switch 
Applications of DPDT Switch
Motor Reversing: This switch is used to reverse motor direction that helps to use in fans, winches, and convert belts
Audio Equipment: It is used in audio systems to different functions like tone control, channel selection, or switching between different audio sources.
Lighting Control: It is used to control lighting systems helping users to switch between many lighting arrangements or control distinct sets of lights at the same time
Power Supply Selection: It is also used in electronic devices with double power supplies helping users to switch between ac power and battery power so providing uninterrupted operation.
Signal Routing: It is used in electronic circuits to route signals among components making flexible signal flow
Polarity Switching: These switches are used in circuits where polarity variation is done, like electromagnets, electric locks, or devices with bidirectional control.
Instrumentation and Testing: It is also used in testing environments and laboratories helping with different test points, configuration
Industrial Control Systems: It is part of industries' control panels to control many parameters of machines and devices helping reliable and accurate control
Robotics: It used in the control of robotics arms and actuators
Advantages and Disadvantages of DPDT Switch
Versatility: It is reliable and flexible since can control two separate circuits at the same time
Simplicity: it is a simple design switch and easily operated with its installation easy
Cost-effective: it is the less costly and affordable module
Reliability: its opening life is longer and makes sure to operate in different conditions
Disadvantages
Space Requirement: It needs more space than other switches due to its large size and extra pins
Complexity in Wiring: Wiring of this switch is more difficult than other switches and it needs careful attention during installation.
Related: What is Double Pole Switch & its Working
Choosing the Right DPDT Switch
Current Ratings: Make sure that the switch rating can handle the required load without any problem or risk of overheating
Voltage Compatibility: Take into consideration the voltage needs of circuitry while choosing a switch with accurate voltage ratings to make sure safe operation
Environmental Considerations: If the switch is used in harsh conditions use a DPDT switch that has the ability to bear variations, moisture, or dust.
Switching Mechanism: This switch comes in different structures like toggle, rocker, or slide switches. Use the best type according to your project demands
Installation and Wiring of DPDT Switch
Follow these tips for the installation of the DPDT switch
Off the power supply to the circuit where the switch has to be installed to minimize the electrical hazards.
Find the accurate position for the switch and define the position accordingly.
Drill holes and mount the switch accurately with the use of screws or any other tool
Identify the terminals on the switch and connect accurate wires with the use of the best connectors and soldering methods
Make sure that the wiring is accurate by reading the datasheet or wiring diagram
Maintenance and Safety Considerations
Regular Cleaning: Keep the switch clean from dirt, dust, and debris through the use of a soft, dry cloth or mild cleaning solution. Try to avoid harsh chemicals which can damage the switch
Inspect for Damage: Do an inspection of the switch regularly to check for any physical damage, like cracks or closed connections. If any damage is found replace the switch to avoid larger damage
Lubrication: Use a small contact cleaner or electrical lubricant to movable parts of the switch f they are stiff or difficult to toggle.
Safety Precautions: During working with electrical switches follow instructions. Off the supply before installing or replacing the switch. Use insulated tools to make sure of grounding to avoid electric shocks.
Conclusion
The flexible and crucial Double Pole Double Throw (DPDT) switch is a part of electrical and electronic systems. Its capacity to concurrently regulate 2 different circuits makes it indispensable in a variety of applications, from motor control to power supply selection.  Understanding the DPDT switches' structure, operation, and applications enables efficient use and integration in a variety of tasks.
FAQs
Q: Can we use a DPDT switch to control DC circuits?
A: Yes, it can be used for ac and dc circuit controls.
Q: How to determine the appropriate current rating for a DPDT switch?
A: Suppose that maximum current passes through a switch in normal conditions. Choose DPDT to switch with a current rating larger than the value to make sure reliable operation
Q: Can we use a DPDT switch to control three different devices?
A: No, it can control two circuits simultaneously. for control of three devices, we need a switch having more poles like a triple Pole Double Throw (TPDT) switch.
Q: Are DPDT switches suitable for high-frequency applications?
A: This switch is used for low to medium-frequency applications. For high-frequency applications, specialized switches designed for high-speed switching can be more suitable.
Q: Can we replace a DPDT switch with a different type of switch?
A: It is based on certain needs of circuitry and functions of dpdt switch. Discuss the circuit specifications and consider the compatibility of alternative switches before replacements.
Read our latest Electronic Guides: