Hello readers welcome to the new post. In this post, we will have a detailed look at What is Double Pole Double Throw Relay. Let's suppose that you have to control many circuits with the use of one switch. So DPDT relay will help you to do that. The full form of DPDT is Double Pole Double Throw, which is a relay that is used in different electronic projects and circuits. In this post, we will cover a type of relay commonly used in electrical applications. In this article, we will explore what a DPDT relay is, how it works, and its wide range of applications. So let's get started with double pole double throw relay 
Introduction Double Pole Double Throw Relay
A relay is an electromagnetic switch used to control the flow of current in circuits. Relays are electromagnetic switches that control the flow of electrical current in a circuit.
A double pole relay is a certain type of relay that has two poles and 2 throws. Every pole is a group of common, NC, or normally closed and normally opened contacts. The through defines the different positions of contacts when the relay is energized or de-energized
What is Double Pole Relay
The double pole relay comes with two groups of contacts every one has a common terminal, No, and NC terminals. This structure controls two distinct circuits at the same time. When the relay gets energized the contacts switch positions varying connection among common NO and NC points.
Related: What is DPDT Switch and its Working
What is a DPDT Relay?
The DPDT relay is 2 SPDT relays connected in one structure. It comes with two isolated switches which can be regulated with the use of one input at the same time.
This feature makes it versatile in different circuits and projects
Structure and Working Principle of DPDT Relay
Internal Components
The double throw relay has a coil, armature, and numerous contacts. The coil is electromagnet that produces the magnetic field when current flows.
Its armature is the moveable iron core that attracted or repelled through a magnetic field generated by a coil. The contacts are configured in pair form and connected with armature and regulate electrical connections.
Read also: What Is Double Pole Single Throw Switch
Working Principle
When current is given at coil of SPDT relay it produces a magnetic field which attracts armature. it motion results in contacts changing their position, switching between NC and NO terminals.
When the coil is de-energized armature again back to its original position and contacts revert to the default condition
Types of DPDT Relays
There are two main types of DPDT relays that are mechanical and solid-state relays.
Mechanical DPDT Relay
Mechanical DPDT relays use movable parts like springs and mechanical connections for contact switching. They are used in applications where high current and volts switching is needed for example industrial controls
Solid State DPDT Relay
Sold State DPDT relay uses semiconductor components like optocoupler and transistors for contact switching. There are no moving parts for this relay that cause high-speed switching and increase durability.
Solid state DPDT relays are used where silent operation, longer working life, and high-speed switching is needed like digital control system and automotive electronics
Symbol of Double Pole Double Throw or DPDT Relay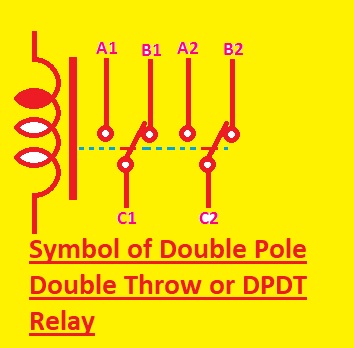 DPDT Pinout
| Pin Number | Pin Label | Description |
| --- | --- | --- |
| 1 | COM | It is a common connection of the relay. It is connected to any one pin either NO or NC on the base of the relay condition |
| 2 | NO | It NO pin contact of the relay. When a relay is not energized this terminal is not attached to COM pin. When the relay coil gets energized this pin is attached to the COM pin |
| 3 | NC |  When the relay is not energized this terminal is attached with COM pin. When the relay is energized it is not connected to the COM pinout |
DPDT vs SPDT
| Relay Type | Pin Number | Pin Label | Description |
| --- | --- | --- | --- |
| DPDT | 1 | Coil 1 | One end of the coil |
| DPDT | 2 | Coil 2 | 2nd end of the coil |
| DPDT | 3 | NO1 | Normally Open contact 1 |
| DPDT | 4 | COM1 | Common connection point for Pole 1 |
| DPDT | 5 | NC1 | Normally Closed contact 1 |
| DPDT | 6 | NO2 | Normally Open contact 2 |
| DPDT | 7 | COM2 | Common connection point for Pole 2 |
| DPDT | 8 | NC2 | Normally Closed contact 2 |
| --- | --- | --- | --- |
| SPDT | 1 | Coil | One end of the coil |
| SPDT | 2 | NO | Normally Open contact |
| SPDT | 3 | COM | Common connection point |
| SPDT | 4 | NC | Normally Closed contact |
How Does a Relay Work
Energizing the Coil: When voltage is provided to coil terminals of the relay electric current passes through the coil producing a magnetic field about the coil
Magnetic Attraction: The magnetic field produced by an energized coil attracts a moving part of a relay, called an armature or relay switch. The armature is generally connected to contacts.
Contact Changeover: As armatures move it varies the position of NO, NC, or both terminals.
Normally Open (NO) Contacts: In the resting condition or when the relay is not energized, NO contacts are not attached to any component of the relay. When the coil gets energized armature attracts to the coil, closes the NO contacts, and builds an electrical connection
. Normally Closed (NC) Contacts: In the case of the rating state NC contacts are attached, helping current to flow in the circuitry. When the coil is energized armature moves away from NC contacts, opens the connection, and affects the current flow.
Switching High-Power Circuits: Relays are mostly used for controlling high-power circuits with the use of low-power signals. By providing small voltage and current to the relay coil, we can control the switching of larger electrical loads like motors, etc
Isolation and Protection: The main benefit to using really is that they provide isolation between the control circuit and switched circuits. This isolation protects sensitive control elements from high voltage or current that exists in switched circuitry.
Read our latest post about: What is a Double Pole Switch? How its Work
What is the Advantage of DPDT?
DPDT relays the main advantages explained here
Versatility
One main benefit of this relay is its versatile nature. With 2 groups of contacts, they provide control of different circuits at the same time. This feature helps to control complicated switching and integration of different components in the system
High Current Handling Capability
It is designed to handle a higher current than SDPT really. So it is best for high loads or high power devices. By providing 2 independent sets of contacts DPDT relay ensures of consistent current flow and reduces the risk of circuit damage
Easy Integration
DPDT relays come in different sizes, shapes, and contact ratings. They can be easily integrated with existing circuits or control systems without any high-level modification in circuits.
This easy integration makes them the less costly product for new installation and retrofit projects.
Applications of DPDT Relays
Home Automation
In home automation systems DPDT relays are important in the control of lighting, HVAC systems, and security systems. They help us to automate numerous functions with the use of one switch or control panel, in an easy and efficient way
Industrial Control Systems
Industrial control based on DPDT relays to control machines, starting the motor, solenoid valves, and conveyor belts. The ability to switch numbers circuits at the same time DPDT relay is best for complicated operations
Automotive Electronics
It is also best for automotive industry use in different applications like power windows, door locks, electric mirrors, and windshield wipers. Their feature to handle high current makes them best for automotive systems that need a reliable switching process
How to Connect Dpdt Relays in the Circuit
To connect DPDT (Double Pole Double Throw) relays in a circuit some steps are explained follow them
Find pins of the DPDT relay: DPDT has eight pins. That comes with two sets of coil pins (Coil 1 and Coil 2), two sets of normally open (NO) contacts (NO1 and NO2), and two sets of normally closed (NC) contacts (NC1 and NC2).
Function of relay: This relay has 2 distinct sets of contacts that are mechanically configured to coil. When the coil is energized contacts switch from default state to reverse state
Determine the desired circuit configuration: We can use this relay in different circuit configurations based on project demands. Some commonly used configurations are explained here.
Single-pole double-throw: In this configuration, we can use just a set of contacts either NC or NO, and others are opened  Dual-pole double-throw: In this design, we can use both contacts NO and NC for control of two separate circuits at the same time
Connect the coil: Provide the required voltage to coil pins to energize the relay. The voltage is based on the features of the relay and the configuration used.
attached are the contacts on the base of the required configuration.
a. Single-pole double-throw (SPDT):

Connect input or power supply with a common (COM) pin.
Connect the  (NO) pin to the required desired output or load.
Left the NC pin unconnected.

b. Dual-pole double-throw (DPDT):

Attach input or power supply with COM pin
Connect the (NO) pins of one set to one circuit or load.
Attach the(NC) pins of the same set to another circuit or load.
Repeat these steps for 2nd set of COM NO, and NC pins for controlling the separate circuit or load.

 insulation and protection: Use accurate insulation material like heat shrink or electrical tape to save connection from short circuits
DPDT Relay Wiring
Accurate wiring is important for the accurate operation of the DPDT relay. As we know DPDT has eight terminals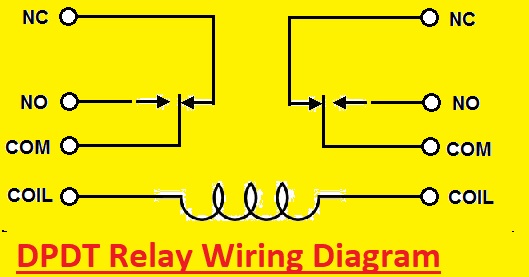 Wiring Diagram
[Insert Wiring Diagram]
The wiring diagram explains that DPDT relays are interconnected with controlled circuits. it is significant to check the instructions of manufacturers and wiring details and make sure of accurate connections.
Common Wiring Configurations
Two common wiring configurations for DPDT relays are explained here
Latching Wiring: In latching wiring, the relay retains its last switched condition also when input power is off. This structure is used in projects where the relay is already known states, like memory functions or power interruption recovery systems.
Non-Latching Wiring: Non-latching wiring is the standard configuration, in this method relay returns to the default state when the input power is off. This configuration is used where momentary switching or a certain action is performed to energize the relay every time
Troubleshooting and Maintenance Tips
Testing a DPDT Relay
If the relay is not working accurately do some basic testing with a multimeter. First, disconnect the really from the circuitry and measure the resistance values about NC and NO contacts in energized and energized states. The multimeter must show continuity in its operation to ensure sure accurate function of the relay
Maintenance
 Inspections: Regular inspection of the relay for any damage must be performed like loose connections, burnt contacts, and overheating. Find any issues instantly to avoid damages
Cleanliness: Clean the relay and surrounding areas clean from contaminants. dust, debris. With the use of cleaner to clean contact
 Load Handling: Make sure that the relay is accurately sized and rated for the load where it is used. Overloading the relay can cause premature damage.
Environmental Parameters: Provide the protection to relay from corrosive conditions temperatures, and humidity.
How Many Types of Relay Are There?
There are different types of relays that are explained here.
Electromechanical Relays: This relay uses an electromagnet to open and close contacts. They are used due to their  reliability features
Solid State Relays (SSRs): SSRs use semiconductor devices, like thyristors or transistors, for switching operations without any use of moving parts. They come with high-speed switching, durable working, and good electrical isolation.
Reed Relays: Reed relays come with magnetic contacts sealed in a glass tube. When a magnetic field is provided contact close or open. They are famous for their smaller size and low power
Thermal Relays: It also called thermal overload relays, these relays protect electrical devices from temperature variations, interrupting the circuit and tripping contacts
Latching Relays: Latching relays provide two stable states and remain in any state without regular power. They use a permanent magnet or mechanical latch for holding the contact in a closed or open position till an opposite pulse is provided to vary the condition
Time Delay Relays: These relays incorporate timing mechanisms to offer delay before the switching process for contacts. They are used in projects that need certain timing functions like lighting control motor control, or sequence control.
How Many Terminals Does a DPDT Relay Have?
A DPDT (Double Pole Double Throw) relay comes with 8 terminals. Pins do different functions and make connections in the relay. These pins are explained here
Coil Pin 1 (Coil 1)
Coil Pin 2 (Coil 2)
Normally Open (NO) Contact 1
Common (COM) Contact 1
Normally Closed (NC) Contact 1
Normally Open (NO) Contact 2
Common (COM) Contact 2
Normally Closed (NC) Contact 2
The two sets of contacts (Contact 1 and Contact 2) are known as poles, and every pole comes with three terminals(NO, COM, and NC). The coil pins (Coil 1 and Coil 2) are used for the energization of the relay coil and produce a magnetic field for switching the contacts. latest post: Solar System with Diagram
Why is SPDT Used?
SPDT relays are used in different applications due to their features. Some features explained that help them to use in different projects
Simple Control: This relay needs one control signal for switching between NO and NC states. It makes easy-to-control circuits
Circuit Switching: it is commonly used for circuit switching applications. So helps to choose the different paths or connections in the circuit, helping to transfer signal or power among different components or subsystem
Signal Routing: These relays are used for signal routing projects where they can select direct signals to different paths or destinations. it is certainly best for audio systems and instrumentation and telecom sectors
Safety and Redundancy: It provides safety measures and redundancy for the electrical system. With the use of both NO and NC contacts, it is easy to make fail-safe phenomena or redundant circuit paths. If the path or component is not working relay can switch to another path, confirm the continued operation of the circuit
Interface and Control: It can be used as interface modules between voltage and current levels. They help low power control signals to switch high power loads, proving electrical isolation and protecting the sensitive components
Cost-Effective Solution: It is a less expensive solution than other relays having multiple poles and throws.
Conclusion
Relays with the use of DPDT technology come with flexibility and effective techniques to manage different electrical circuits. They are useful in different applications, industrial control systems, home automation,  and automotive electronics, due to their featues to switch two isolated circuits at the same time. We can ensure the reliable operation and lifetime of double-throw relays with proper design, function, and wiring configurations as accurate maintenance and troubleshooting process
FAQs:
Q1- Write the difference between a DPDT relay and an SPDT relay.
A DPDT  comes with two independent poles and two throws helping the same control of 2 circuits. While an SPDT relay has one pole and one throw to control one circuit
Q2- Can we use a DPDT relay in low-voltage applications?
Yes, this really comes with different coil voltage ranges so best for low-voltage projects.
Q3- How can we determine the coil voltage rating of a DPDT relay?
The coil voltage rating is defined by the producers and can be set from the relay datasheet. It is important to choose a relay with coil voltage compatible with the power supply
Q4- Is DPDT relay used in a motor control circuit?
Yes, it is used in motor control circuits. They can switch the direction of the motor through reversing polarity for current flow, helping the motor to forward and reverse move
Q5- Is DPDT relays suitable for high-frequency applications?
DPDT relays have features to handle moderate frequencies but are not good for high-frequency applications. Solid-state relays are best for high-frequency switching since they provide a fast time response and do not have mechanical parts.