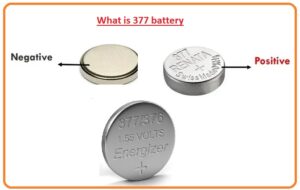 Hi, guys welcome to the new tutorial. In this post, we will discuss 377 Batteries. Batteries are considered as a very significant component of our current-day technologies. From your small size portable devices to large machines each uses batteries for its operation. One of the main types of batteries is the 377 battery also called the SR626SW battery.
It is a small size but powerful button cell battery used in different projects and electronic devices. In this post, we will discuss different parameters of 377 batteries like equivalent, voltage, size, operating life, uses, and some other details
What is a 377 Battery?
The 377 battery is a small-size button cell battery that comes with 1.55 volts nominal volts and a capacity of 28mAh.
It is a very commonly used type of battery is part of electronic devices like calculators watches small toys and remote controls.
Its cathode is created with silver oxides and its anode is with zinc. As this battery uses alkaline electrolytes for example sodium hydroxides so its operation is like with the alkaline batteries.
The 377 batteries are commonly known since it provides high and low discharge. it also provides a stable output during its operating life.
The use of potassium hydroxides as electrolyte helps these batteries to work in heavy drain and low-temperature conditions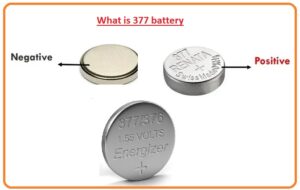 377 Battery Size
The size of this battery is small generally its diameter is 6.8mm and 2.6 mm height. This small size makes it useful for small devices
377 Battery Equivalent
The 377 battery is also named  SR626SW, AG4, 177 LR626, 376, and 565 batteries.  These batteries also have the same size and voltage as 377 batteries so they can be interchangeable.
Though it is notable that some devices require a certain category of battery, therefore it is recommended to read the device datasheet before replacing of the battery, Here you can see 377 battery equivalent
377 Battery Equivalent Chart
| Battery Type | Nominal Voltage | Diameter (mm) | Height (mm) |
| --- | --- | --- | --- |
| 377 | 1.55V | 6.8 | 2.6 |
| SR626SW | 1.55V | 6.8 | 2.6 |
| AG4 | 1.55V | 6.8 | 2.6 |
| LR626 | 1.55V | 6.8 | 2.6 |
| 177 | 1.55V | 6.8 | 2.6 |
| 376 | 1.55V | 6.8 | 2.6 |
| 565 | 1.55V | 6.8 | 2.6 |

Difference Between 376 and 377 Battery
The main differences between 376 and 377 batteries are their capacity values. The 377 battery provides a high capacity of about 16mAh than the 376 which has 10mAh.
It means the power provided by the 277 is large than the 276 battery. Though both batteries have the same value of nominal volts which is 1.55 volts and height and diameter of 2.6mm and 6.8 mm respectively
It is notable that 376 and 377 do not interchange and must not be used as interchanging devices. Every battery has its own features and uses. it is necessary to use batteries according to projects demands and design
| Battery Type | Nominal Voltage | Diameter (mm) | Height (mm) | Capacity (mAh) |
| --- | --- | --- | --- | --- |
| 376 | 1.55V | 6.8 | 2.6 | 10 |
| 377 | 1.55V | 6.8 | 2.6 | 16 |
377 Batteries vs 377A Batteries
The 377 and 377A batteries are the same and can be interchangeable but also have some differences.
The physical structure of these batteries is different. But both have a smae dia that is 6.8mm height of 377A is larger than 377 that is  3.05 mm and  2.6 mm respectively
Another difference is that they have different capacities, 377A capacity is high that is 23mAh, and 377 has 16mAH.It means 377A operates for a longer duration
377 Battery Specifications
| Specification | Value |
| --- | --- |
| Nominal voltage | 1.55V |
| Diameter | 6.8 mm |
| Height | 2.6 mm |
| Capacity | 16 mAh |
| Chemistry | Silver Oxide (Ag2O) |
377 Battery Voltage
The value of the nominal value of voltage is about 1.55 volts but its voltage changes on the bases of applications.. If the battery gets depleted its voltage is lost and affects its operation
377 Battery Life
It provides a longer shelf life and generally operates for 5 years if it is stored accurately.
Though its operating life varies on the basis of use. High-drain modules like digital cameras and electronic toys use batteries fastly than low-drain devices like watches and calculators
What are the Uses of 377 Battery?
The different uses of the 377 battery are explained here
1. Watches
It is the main part of watches like quartz watches. It comes with a reliable power supply which increases the watches operating life
2. Calculators
It is also used in calculators. Its longer shelf life makes it useful for these modules
3. Remote Controls
It is used in TVs and DVD player remote controls.
4. Electronic Toys
Its small size and longer shelf life make to use in small electronic toys
5. Digital Cameras
It is part of digital cameras
How to Prolong the 377 Battery Life?
Here are some steps explained that will prolong the operating life of 377 battery
1. Store the battery properly
The battery must be stored in cool environments, and avoid direct sunlight and high temperatures. Battery storage in high-temperature conditions can increase the battery discharge rate and decreases its operating life
2. Use the right battery for the device
The use of batteries in not suitable devices decreases the battery operating life. It is necessary to follow the device's instructions before using of battery
3. Turn off devices when not in use
If you are not using any device turn off it to save battery life. It is good for high-drain devices like cameras
4. Avoid mixing new and old batteries
The mixing of the new and older batteries affects the life of newer batteries. So replace the older batteries with new one's batteries at once.
Conclusion:
In conclusion, the 377 battery is a versatile button cell battery that is little but mighty. It is the best option for devices with limited space because to its tiny size and extended lifespan. Batteries like the SR626SW, AG4, LR626, 177, 376, and 565 are equal to the 377 battery. The battery's life might vary based on usage and the device it is used in, and its nominal voltage is 1.55V. It's critical to store batteries properly, use the appropriate battery for the device, turn off electronics when not in use, and refrain from combining new and used batteries to maximize battery life.
FAQs
1. Can we replace the 377 battery with a different battery type?
Yes, we can replace the 377 battery with other equivalent batteries like SR626SW, AG4, LR626, 177, 376, and 565 batteries. But before use must check the details of the device where you have to use the battery
2. How long does a 377 battery last in a watch?
The 377 battery can operate for two years in a watch on the basis of use and structure of the watch
3. Can we charge a 377 battery?
No, it is not a rechargeable battery.
4. Can 377 battery use in a digital camera?
Yes, it can be used in cameras but can drain fastly than other devices
5. Is stored in a 377 battery in a refrigerator?
No, it can cause condensation and damage the battery. The best solution is to store in cool and dry places and save it from sunlight.