Hello readers welcome to new post. Here we discuss Difference between Through Hole and SMT. PCB board the very basic component of every electronic devices that created through different process and techniques. Normally two types techniques are employed first one is SMT and other one is through hole.
These two technique has their own advantages and offered the different features. SMT technique is used on the surface of boards to make the different projects while through hole is used through making the holes on the boards to connect the components. Here we will discuss different parameters for these two techniques and their differences. So let get started.
Introduction to Through-Hole Technology
Through hole is the oldest techniques to make PCB boards than the SMT.
But in different applications it is considered as batter techniques than the SMT. Previous boards comes with layers just on single sides but now on both sides.
After inserting the pins of any circuitry component at the PCB board drilled holes can be enhanced.
So negative pin has component solders at the copper board.
Through hole technique through which component's pinouts are pass in the boards through drilling process.
Pins of components are positioned on the board through use if wave soldering and reflow soldering. This technique is known as through hole assembly.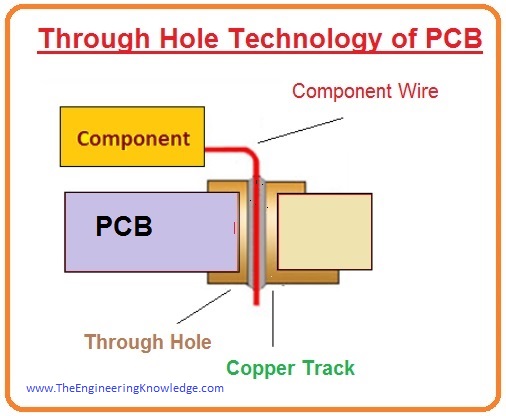 Introduction to SMT Technique
SMT technique first time was introduced in 1960s and after that became common in 1980s.
Firstly it was known as planer mounting technique. It was uses surface mounting packages.
The common difference between SMT and through hole is that there is no need of drilled holes like the through hole technique.
There is stencil solder is used to make the connection of components on the boards.
Pic and place device is used for placing the elements at the solder paste that are positioned on the PAD.
When the components are positioned on the board it move to reflow oven to solder the surface mount board assembly.
Spaces Differences
In case of SMT components can be connect on both side of boards since its components has small sizes.
This features of large spaces uses make prominent SMT over the through hole since through hole has large component that uses large spaces.
Cost Differences
Due to creation of holes on the board there is time and cost is needed that make through hole expensive process.
Through holes also restricted the routing areas in any board that comes with more layers. Since it needed holes move to all layers
If we observe the through hole PCB assembly then assembly parts with less cost than the surface mount.
How to Manufacture SMT and THT
There are different PCB manufacturers are working in the world that offered the PCB based services on different prices and rates.
There is most reliable and trustable PCB supplier is JLCPCB. JLCPCB is best in all services that offered the THT and SMT services at single place with affordable prices and features.
To get the services of THT and SMT send the details to JLCPCB sites their team will contact you to get the all details for making the boards according to your requirement.
Their engineers are waiting for you the helping the design and creation of your projects according to requirements.
JLCPCB comes with different features such as low prices with high quality fast delivery. With that they also offered the occasional discounts for their regular customers they have special discounts so must attach them for better services they will never disappoint you.
Use in Assembly Automation
SMT has ability to generate in large volume with less prices since SMT comes with features of assembly automation.
It also has features of less charges when manufactured.
Automated assembly has features to save time used for PCB assembly. Numerous PCB manufactures comes with machines related to SMT so products can be created very fast.
This feature make it high speed and advanced over the through hole technique.
For creation of any projects there is preference given to SMT and ask your supplier to make the boards.
Advantages and Disadvantages Of Through Holes And SMT Assembly
Through Hole Advantages
There must be pins placed with the drilling holes. It creates the firmness for the elements of device.  It has ability to bear the different environmental conditions such as stress high temperature.
PCB created through use of through hole technique is best for high values of accelerations that helps to use it in electrical devices such as transformer military uses.
Disadvantages of Through Hole
It is somewhat expensive due larger size elements installed on the board.
The elements through this technique can be connect through manual process that make it costly.
Due to drilling there is no chance of small size PCB boards at less expensive prices.
SMT Advantages
There is small components are used in this technique for project creation and has ability to installed elements on both sides. So it is less expensive than through hole
Small size and less weight boards employed SMT technique so they have less surface area then the through hole boards.
 The component on the boards are firmly connected on the helps to reduce its size.
Due to small size of components can be connected with high speed that reduces the prices.
SMT Disadvantages
Due to connection of vias high accuracy is needed for SMT technique.
This technique needed highly skilled technician to work on it.
That is all about the Difference between Through Hole and SMT. I have explained all parameters about these two techniques with the details. IF you have any further query ask in comments. Thanks for reading have a nice day