Hello, readers welcome to the new post. In this post, we will learn What is Surface Mount Technology & Advantages. This technique is used to connect the components on the board and at the start called Planer mounting. It was first time used in 1960 and in the 1990s the other technology was replaced with the SMT. In 1960 it was used in small-scale computers designed by the IMB and after that it used in-vehicle digital computers.
Now it has become a very common part of PCB manufacturing process and different industries used this process for creation of PCB and its related projects. Here we will discuss its all details and will guide you how can avail these services. So let get started.
What is Surface Mount Technology
SMT is a technique that is used to connect the component of the project at the surface board through a direct process.
The connection of components through this process and resultant device called surface mount device
Due to less cost and well quality, this technique has been replaced with the through-hole technology for larger size devices.
It features is that larger components can be positioned on the board.  SMT is small in configuration than the through since it has small size leads.
It comes with shorter pinouts, flat shape connections, and a matrix of BGA.
How to Get SMT Service
There are different PCB manufacturers are working in the world that offered different services based on their features and qualities. But there is one and only  JLCPCB in all aspects and features that offered the PCB and SMT services on reliable rates and features.
To get the services of SMT from the JLCPCB press here when new page will be open for SMT assembly services.
In the below figure you can see that easy steps are described for getting the SMT services from the JLPCB
Just Upload your Gerber, BOM&CPL files to get an instant quote on PCB, components and assembly.

Assembly Prices start at $8.00 setup fee

, and $0.0015 assembly fee per joint.
JLCPB also offers a teaching system for orders through this platform you can get the all details of your orders and processing requirements at any time.
SMT devices
The components and devices created through this technique are different as compared to their other counterparts.
Instead, they use of wire for component connection components is placed on the board and soldered.
The leads of components are not pass through the holes like others and different types of components are created through it.
Normally MST component comes in three types of packages passive, transistors and diodes third one is ICs that are described here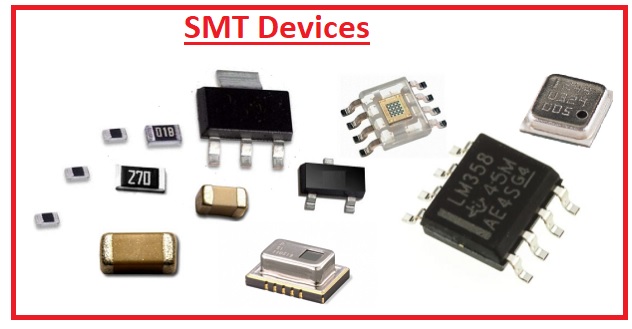 Passive SMDs: 
There is different types of packaging used for passive SMDs and mostly used are SMT resistances and SMT capacitors that have the standard value of dimensions.
Capacitors and resistances come in different types of packaging. Their values are 1812, 1206, 0805, 0603, 0402.  Here dimensions define the hundred of inches.
Like 1206 define the  12 by 6 measurement.
Diode and Transistors
SMT diodes and transistors comes in small plastic created packaging. Their connections are created with the leads that come out from the packaging and connect to the board.
This packaging comes in three leads. This configuration helps to find the device.
ICs
Ics comes in different types of packaging. Interconnection defines the packaging types.
Some ics have fourteen or sixteen pinouts and VLSI comes up with about two hundred pinouts.
For small size ics SOIC packaging is used.  that is correspondent of 74 logic boards.
In VLSI there is quad flat packing is used that has square-shaped dimensions.
There is another packaging called BGA is employed for ICs. This technique has a connection underneath other than at outer side.
A smaller category of BGA is called microBGA employed for different ICs.
SMT for PCB Assembly
Nowadays SMT is very commonly used for PCB manufacturing. That helps to make electronics more compact than previous.
SMT component has small size and offer a good level of operation and can be employed through automated pick and place machniery.
Wired elements are not easy to place since wired required different shaping for connection
Currently, for PCBA there is elements are placed on the board through automatic process. Some processes required manually process
Today in the PCB assembly process, most of the components on a board are placed automatically.
Sometimes others may need manual intervention, but this always goes down. Traditionally some connectors and perhaps a few other components needed assisted placement, but the level of personal placement is constantly declining. Today, printed circuit boards are often upgraded to reduce this to a minimum, to the point of changing the design to use parts that can be installed automatically. In addition, parts manufacturers have developed specialized versions of mounting parts that allow for the complete automatic assembly of many boards.
Advantages of surface mount technology
Through SMT small board can be designed having larger components.
it is less cost with the absence of holes and creates projects fast than the through-hole technology.
Due to its compact nature high-speed circuits are designed.
In SMT technology components can be configured on both side of the board.
It gives the high-frequency performance due to less resistance and inductance at the connection point
Disadvantages of surface mount technology
For such projects where mechanical stress is applied this technique is not used.
Thermal cycles can damage the connection made through this process.
Due to small size operation and working there is high skilled engineers are needed
Some SMT components can not be installed in the sockets.
That is all about the Surface Mount Technology. If you have any further query ask in comments thanks for reading see you in next tutorial