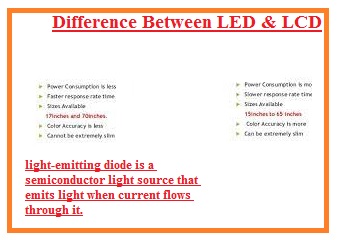 Hello, friends, I hope you all are doing great. In today's tutorial, we will discuss the Difference Between LED & LCD. The basic difference between LED and LCD is that in LED there is PN junction diode that releases light when current flow through it. While for the emission of light in LED liquid crystal or plasma is used. The liquid crystal is placed among the electrodes created with the glass when the input supply is given these liquid crystals get energy and releases light.
Both LED and LCD are used to show different pictures and textual data. In LED gallium arsenide and gallium phosphide are used after getting of energy it releases light.  The LCD shown textual data and pictures in the shape of dot matrix. In today's post, we will have a detailed look at both LCD and LED and compare them to find their differences. So let's get started with Difference Between LED & LCD.
Difference Between LED & LCD
LED
LED is a semiconductor device that releases light when current flows through it.
It is such an electronic module that releases light when a voltage source is linked to it.
It belongs to the family of semiconductor devices.
Its resolution is larger than the LCD.
It needed larger power than the LCD.
Its full form is a light-emitting diode
It emits light when supply connected to it then free electrons combine to a hole and releases energy in form of light.
The color of emitted light depends on the energy needed to electrons to left the bandgap.
LED uses less energy than a normal incandescent bulb, with less cost.
It employed in different areas, like the aviation industry, lights of vehicles, signal
It does not need any backlight.
Its switching speed is fast.
There is no effect on the LED of DC current.
Its contrast ratio is less than the LCD.
its display area is smaller than the LCD.
It is created with the Gallium arsenide phosphide..
LCD
The word LCD stands for liquid crystal display also known as flat panel display which operates by using the liquid crystal properties of light modulation.
Like LED produces light it not generate but uses reflectors to make images in a single color.
There are 2 types of LCD first one is arbitrary images that displayed on a computer or laptop and the second one is fixed images that provide less info.
It is less expensive than the LED.
It is created with Liquid crystals and glass electrodes.
Its contrast ratio is larger than the LED.
It used in different applications like TV, computer, display.
LCD projectors are also created. it used in mobile phones screen
Its switching time is less than the LED.
The DC current affects its operating life by reducing Life Span.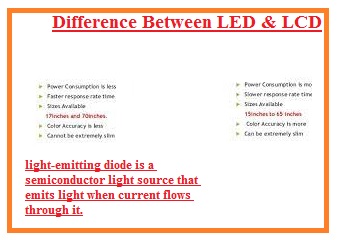 That is a detailed post about the difference between LED and LCD if you have any queries ask in comments. Thanks for reading. Have a good day.