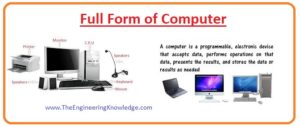 Hello, friends, I hope all of you are having fun in your life. In today's tutorial, we will have a look at the full form of Computer, its parts, types and applications. The full form of computer is a common operating machine purposely used for technological and educational research. Nowadays the computer has become very common for us from our houses to schools, colleges, universities, industries, shopping centers, laboratories, etc computer is being used. With the invention of the computer our mathematical calculation and data processing has become very easy and less time-consuming.
Before the invention of the computer, it was very difficult to solve complex calculations but now in a few seconds, we can get our desired results. After the invention of the internet and for common use increased the importance of computer and its reliability. Now we can send messages and mail from one part of world to the other part within a few seconds. Now the size of a computer also reduces firstly it was available in the only desktop but now its different types such as laptops, tablets, etc, are constructed that can we carry from one place to another. This facility was not available in the previous desktop computer. In this post, we will have a look at its working, parts types, applications, and some related parameters. So let's get started with the Full form of Computer.
Full form of Computer
The computer word was derived from the word compute that means to calculate. Computer stands for common operating machine purposely used for technological and educational research.
It is an electronic instrument or device that processes raw material or data into information or in our desired output. Processing any data provided to the computer program is used.
There are main parts of the computer and numerous subparts' first main part is the control unit (CU) and the second is the arithmetic logic unit (ALU).
ALU performs the arithmetic and logic operation on the computer.
CU controls the operation sequences according to stored data or information in the memory unit.
Charles Babbage is known as the father of a computer he designed the first mechanical computer that known as an analytical engine.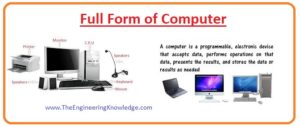 Classifications of Computer
Computer Categorization on the basis of Generation
There are five types of computer classification according to their generations, all these generations are defined here with the detailed.
First Generation (1940 to 1956)
First-generation computers were designed and used from 1940 to 1956 the size of these computers was almost equal to your room.
In these computer vacuum tubes used to manages different circuits and for storage of data magnetic drums were used.
To provide input data to these computers punched cared were used and language used in this machine was binary machine code.
The computer was manufactured in the first generation was the Atanasoff berry computer (ABC), IBM 650 and the electronic discrete variable computer (EDVAC).
Second Generation Computer (1956 to 1963)
The 2nd generation computer was invented in the year from 1956 to 1963 and in these computers instead of vacuum tubes transistors were used.
To store data magnetic tape tapes were installed, assembly language used in these computers was BAL and input data providing the punched cared were used.
With the use of transistor heat produced due to the vacuum tube was lessened and the efficiency of computer increases as compare to the first generation.
In this generation computers used were Universal automatic computer  (UNIVAC) IBM 1400 and IBM7094, IBM 7090.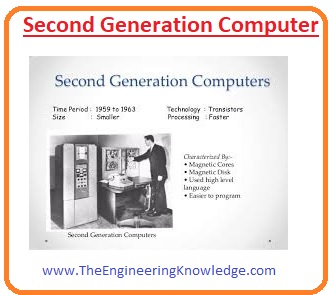 Third Generation Computer (1964 to 1971)
The 3rd generation computers were manufactured in the year of 1964 to 1971 in these computer transistors were replaced with the integrated circuit that reduces the size of the computer.
For data storage, MOS (metal oxide memory) memory was used.
These computers gave a new boost to the computer industry due to their less cost high speed, over their previously used computers.
In these computers keyboard used for input data processing output were shown on monitors and language used was FORTRAN, C, and common business-oriented languages (COBOL).
The examples of these computers are IBM360 and IBM 370 series.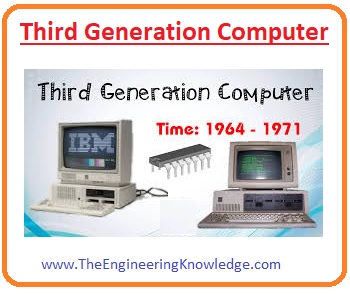 Fourth Generation Computer (1972 to 2010)
The  4thgeneration of a computer was constructed from 1972 to 2010 in these computers with the ICs, microprocessors, VLSI and for data storage, RAM and ROM were installed.
The languages used in this computer were C and C+++.
In this time interval, common uses of the internet also increase the use of computers in each and every industry.
The examples of this generation computers are apple's Macintosh and IBM's PC.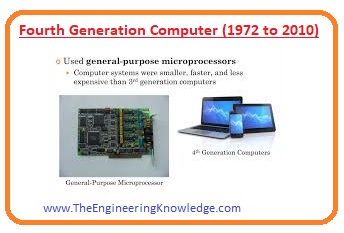 Fifth Generation Computer (2010 to Beyond)
The 5th generation computers consist of more than one processor, uses large scale integrated chips and based on artificial intelligence.
Computer Categorization on  basis Data Handling
There are three main categories of a computer on the basis of technology used that are listed here.

Digital Computer
Analog Computer
Hybrid Computer
Digital Computer
The digital computer performs numerous mathematical operations. The digital word in the name of the computer tells that the data and information this computer is designated in the form of variable.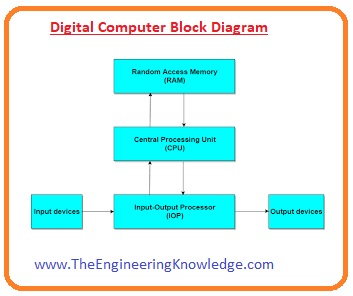 Analog Computer
This type of computer uses continuously variable factors of like mechanical, electric and hydraulic quantities to process data.
Hybrid Computer
It is a type of computer that has operating features of both digital analog computers.
It used in such an environment where a large number of calculations are performed where hybrid computers preferred.
Functions of Computers
This is a list of the functions performed by the computer.
First, get data from input devices.
Stored the data received by the input devices and used them when required.
Precesses the data and make the required pieces of information.
Finally produced the output at the output devices.
With all the performance of these functions, it also controls these functions.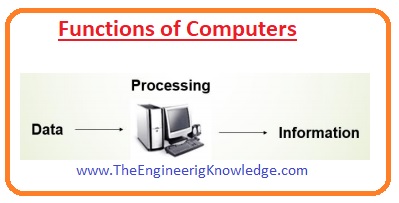 Parts of Computers
Every type of computer consists of two main parts first one is hardware and the second one is software.
Hardware Parts of Computers
All physical components and parts of computers that can be touched are the hardware of a computer.
These parts consist of the mouse, monitors, keyboard, hard drive disk, CPU, etc.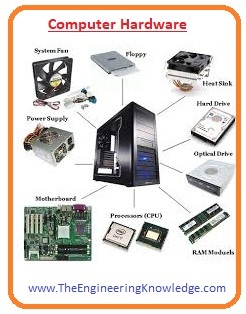 Input Devices
Such hardware parts of a computer that provide input to the computer called input devices.
These devices convert humans' understanding in computer understanding mostly used input devices are mouse and keyboard.
Computer Input Devices
| | | |
| --- | --- | --- |
| Keyboard | Graphics Tablets | Joystick |
| Mouse | camera | Gamepad |
| microphone | Pen Input | Electronic pad |
| Touch screen | Video Capture hardware | Electronic whiteboard |
| Scanner | Microphones | Barcode reader |
| webcam | Trackball | Touchpad |
| MIDI Keyboard | Digital Camera | |
Computer Central Processing Unit (CPU)
Central processing of computers is known as the brain of the computer. All function performed in the computer is controlled by the CPU.
There are 3 main parts of computers.
ALU
CU
Registers
ALU
In this part of the computer, all logic and arithmetic operations are performed.
Addition,subtraction, multiplicatons,division all are arithmatic operaions.'
A comparison of numbers, letters, and special characters is logic operations.
Control Unit
This part of CPU control and coordinate with the other parts of the computer.
Registers
The function of registers is to store and execute data very fastly.
Computer Primary Memory
There are 2 main types of primary memory of the computer first one is RAM  and the second one is ROM.
RAM:
The RAM stands for random excess memory it is a volatile memory used to store data for a short time interval.
It stores data only for time when the computer is in on state when a computer is off data will also be removed stored in this memory.
ROM
ROM stands for read-only memory it stores data permanently either computer working or not.
Computer Secondary Memory
The secondary memory of data retains data and program permanently till we do not remove by own or damage that memory.
The example of these devices is the hard drive, optical disk, DVD, CD, etc.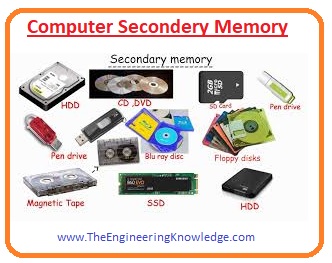 Comparison between RAM and Secondary Memory of Computer
| | |
| --- | --- |
| RAM | Hard Disk |
| It is a memory of a computer | It is a storage device |
| It stores data from 500 MB to 6 GB | It can store data larger than ram 80 GB to 100GB |
| It stores data for small-time  interval | It stores data permanently. |
| Data in this device will be lost when power will off. | It retains data either power is connected or not. |
| This device consists of chips | It consists of platters |
Computer Output devices
Such instruments that are part of computer hardware used to show the results processed by the computer on the input are called output devices of computers.
Computer Software
There are two main types of computer software first one system software and application software.
System Software
This software of a computer is used to control, integrate, and manage the hardware parts of the computer.
The windows installed computer is an example of the system software.
Applications Software
This software is used in computers to perform specific task examples of this software are Microsoft Office, powerpoint spreadsheets, etc.
Difference between Application and System Software
System Software
Applications Software
It is a program used to run the hardware part and other applications of computers.
While applications software is like an app that used to perform a specific task like MS word for writing purposes.
The examples of system software are

Microsoft Windows, Linux, Unix  Mac OSX, DOS

The examples of applications software are Opera, Microsoft Word, Microsoft Excel, MySQL  Microsoft PowerPoint, Adobe Photoshop
Normally the operator of the computer does not directly interact with this software these software work in the background.
While computers directly work on the application software such as we write on the MS word.
System software operation does not depend on the applications software
The working of application software depends on system software.
So friends that is the detailed post about the full form of computer I have mentioned each and every parameter related to this post with the detailed description. If you have any queries and want to add something more in this tutorial ask in comments. See you in the next interesting tutorial. Take care. Have a good day.