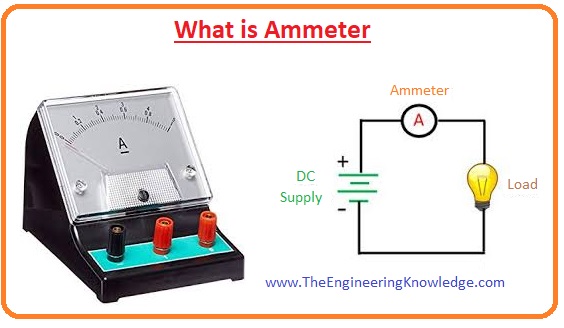 Hello, friends, I hope all of you are having fun in your life. In today's tutorial, we will explain what is ammeter. in 1820 Hans Christian oersted who belonged to Denmark discovered the relationship among current, magnetic field and physical forces (gravitation, electromagnetism, weak interaction, and strong interaction). He performed an experiment for this relationship he saw that the needle of compass moved towards north when current flows in nearing the wire. For current measurement, he used a tangent galvanometer.
In electrical and electronic engineering there is numerous meter are used like voltmeter for voltage measurement, ohmmeter for resistance measurement. In today's post, we will have a look at ammeter its working, construction, applications and some other related parameter. So let's get started with what is ammeter.
What is ammeter
The ammeter is also known as ampere meter and used for measurement of electric current and the unit of the current measured by this meter is ampere so it also called ampere meter.
the ampere meters used to find the small value of currents like mas, the ammeter used before the 19th century was only used in different laboratories since their working operation depends on the magnetic field of the earth.
After the nineteenth century, some improvements were made in these meters and now they can be used at any location with higher accuracy.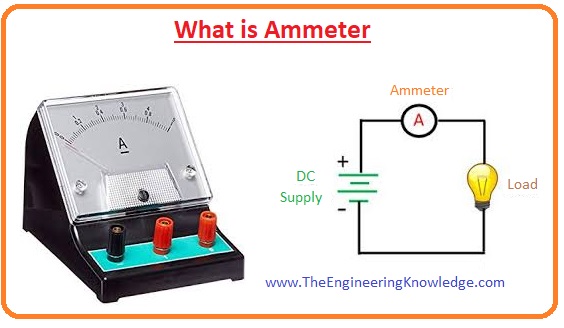 Difference between ammeter and galvanometer
Now we compare ammeter and galvanometer and will observe what is the difference between these two meters.
A galvanometer is used to find a very small amount of current passing through the circuit and ammeter used to find a larger ampere current.
For the working of a galvanometer, there is a need of a magnetic field and while in ammeter there is no need of a magnetic field.
The accuracy of the galvanometer is larger than the ammeter and ammeter is less accurate.
Due to larger accuracy galvanometer can find a small amount of variation in current.
A galvanometer can use only for direct current measurement while ammeter can be used for both direct current and alternating current measurements.
A galvanometer is used in bridge circuits for measurement of current and ammeter is used in electrical circuits.
A galvanometer is a mechanical instrument while the ammeter is both electric and mechanical.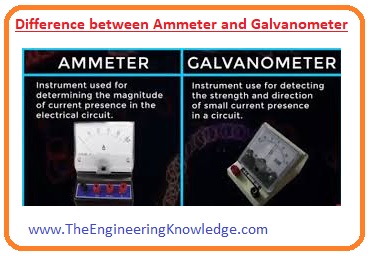 Difference between ammeter and voltmeter
Ammeter:
It used for the measurement of current.
Its resistance value is less as compare to the voltmeter.
In-circuit it linked in series.
This meter is more accurate than the voltmeter.
Its range can not be varied.
Voltmeter:
It used to find the value of voltmeter in any circuit.
Its resistance value is high than the ammeter.
It linked in parallel combination in the circuit for voltage measurement.
Its accuracy is less than the ammeter.
Its range can be varied.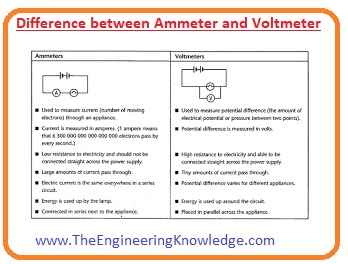 Why is an ammeter connected in series and a voltmeter in parallel in a circuit?
The ammeter is used to find the value of current in circuitry for accurate measurement of current it should pass through the ammeter.
So it arranges in series in a circuit. If we place it in parallel and its resistance is also less so all current will flow through it and can damage this meter because we know that current always follows less resistance path.
so it always preferred to connect in series for current measurements.
while the resistance of voltmeter is high so if we place it in series then there will be less amount of current will flow through the circuit due to this it uses in parallel to measure the voltage across any element.