Hello readers welcome to the new post. In this post, we will have a look at the 50 amp sub panel. When we have a need for installing a 50 amp sub panel, the selection of accurate wire size is important to make a sure safe and effective electrical distribution. In this post, we will cover the different factors for accurate wire gauge for 50 amp sub panel installation with different wire sizes and their installation. So let's get started 50 Amp Wire
Introduction to 50 Amp Sub Panel
Subpanels are electrical panes used for power distribution to certain places or appliances installed in homes or offices.
They work in workshops, garages, or other points where some additional circuits are used.
For installation of a 50 amp sub panel, it is compulsory to find an accurate wire size to handle the electrical load and fulfill the safety measures
Understanding the Importance of Wire Size in Sub Panels
The wire size is important for the configuration of the sub-panel since it finds the highest current capacity and avoids voltage loss problems.
If a wire is not required can cause overheating issues and also increase the resistance and fire hazards. While there is a waste of resources if your use oversized wire that does not fit accurately in the connectors of panels.
Determining the Load Requirements
Before doing the selection of wire size it is important to assess the needs for electrical loads of panels.
Make consideration for devices and components connected with the panel and their related amperage ratings. Sum up the single loads to find the total current requirements. In the case of the 50 amp sub panel highest current value is already known
Voltage Drop Considerations
Voltage loss is a phenomenon that occurs when electrical current passes through wire and decreases voltage about its length. High voltage loss can cause in the bad operation of devices and incorrect power supply. To ensure the reliability and effective panels installation voltage loss must be in a limited range
Choosing the Right Wire Gauge for a 50 Amp Sub Panel
National Electrical Code (NEC) Guidelines
The National Electrical Code provides different instructions for the selection of accurate wire sizes for different uses. On the basis of these guidelines 50 amp sub panels need a minimum wire size is 6 AWG or American Wire Gauge for copper material conductors and 4 AWG for conductors created with aluminum. These instructions are based on certain safety considerations and residential installation
Copper vs. Aluminum Wiring
For sub-panel wiring 2 types of conductors aluminum and copper used. Copper wiring is famous for high conductivity and is mostly preferred for residential uses
Aluminum wiring is less costly but comes with high resistance. If you use aluminum wire it is important to follow the guidelines of the NEC
Factors to Consider
There is a need to follow different factors for wire gauge for a 50 amp sub-panel installation.
Distance
The wire length between the sub-panel and the main panel is important for the selection of an accurate wire gauge. Longer wire causes increases in resistance that can result in voltage losses. It is compulsory to find distance accurately to find accurate wire size
Ampacity
The current carrying capacity of wire is called the ampacity of wire. For 50 amp panels wire used must have an ampacity value that is equal to or larger than the current capacity. It is significant to get guidelines from creators' features or get the instruction of NEC to make sure wire has the ability to handle the load
Conduit Size
The size of conduct used for running wires among the sub-panel and main panel also has an impact on wire gauge selection. The conduit must have effective space to handle selected wire sizes easily. It is important to follow electrical codes and regulations related to conduit sizing to make sure accurate installation
Common Wire Sizes for a 50 Amp Sub Panel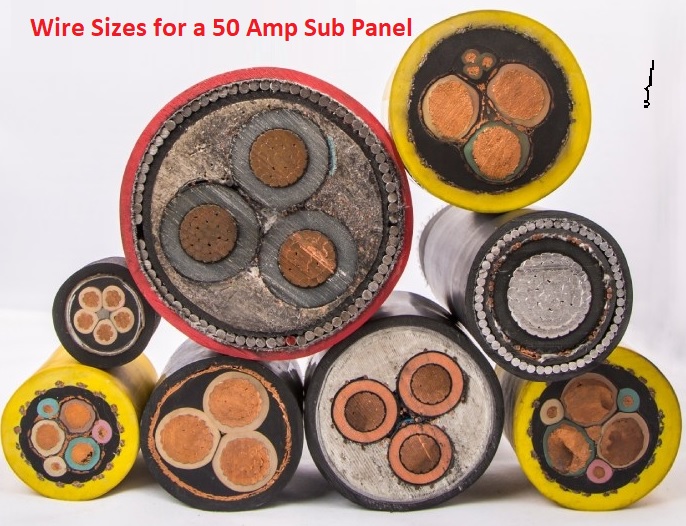 Copper Wire Sizes
For a 50 amp sub panel, copper wire sizes is implied here
6 AWG: it is the least recommended wire size according to NEC instructions for copper conductors in the installation of these panels. it has the ability to handle the required current capacity accurately and is best for residential applications
4 AWG: It is not commonly used for 50amp panel 4 AWG wire can be used for large distance and there is fewer voltage losses. It offers safety measures
Aluminum Wire Sizes
4 AWG: According to NEC instructions this aluminum wire is the least recommended size for these panels.It has a larger dia than copper wire but can handle the required current capacity
2 AWG: For longer distances use of 2AWG aluminum wire helps to reduce voltage loss and make sure effective power distribution. Though it is significant to follow electrical codes and regulations since some required larger wire sizes for aluminum
Calculating Voltage Drop
To make sure accurate voltage regulation for these panel installations it is necessary to find the required voltage loss. It can be done with the use of voltage loss equations or online calculators. By putting wire size, length, and required load can find the voltage loss percentage. It is recommended to keep voltage loss less than three percent for effective electrical distribution.
Explore Our Coins Articles:
Installation Tips for Sub Panel Wiring
Safety Precautions
Before working on any electrical wiring turn off the power supply.
Use gloves and safety glasses during working on electrical components
Follows the regulations and local electrical codes to make sure compliance
You must get a consultation from any experts if you are facing any difficulty in the installation
Proper Wire Termination
Remove the wire insulation for accurate length to ensure the secure connection of panels
To do the accurate termination use wire connectors or terminal blockes
Tight all connections to reduce the risk of losses connection and electrical hazards
Understanding 50 Amp Wiring
50 amp wiring is created to handle certain electrical loads. It has two conductors that are hot wire and neutral aires that carry current in opposite directions. In some applications like 240-volt circuits, a 50 amp wire can also have 2nd hot wire that helps split-phase system.
Applications of 50 Amp Wire
RVs: Recreational vehicles mostly need 50 amp wires to provide power to different components and systems at the same time. It makes sure of accurate power supply for air conditioning, kitchen appliances heating, and other onboard devices
Hot Tubs: Hot tubs and spas required certain power for heating components controls and pumps. this type of writing mostly provides compulsory electrical current with safe and easily
Electric Vehicle Charging Stations: Electric vehicles are very popular the need for dedicated charging stations increases. It helps faster charging and helps high power required to fulfill for electrical vehicles
Industrial Equipment: Certain machines and devices like compressors, motors, and welders need this wiring to handle their power demands
Read also: CR2025 vs CR2032 Batteries
What is 50 Amp Sub Panel Wire Size
The wire size for a 50 amp sub panel is based on different factors like maximum current capacity, main panel, and wire material. Though general instruction a 50 amp wire size needs the least wires size about  6 AWG (American for copper conductors and 4 AWG  in case of conductors created with aluminum. It is significant to note that local electrical codes and regulations can have certain demands or variations, it is noticeable to consult guidelines in eras to make sure safety
Wire for 50 amp service
In the case of 50 amp service, choosing the right wire size is important and effective. The accurate wire size is based on factors like distance between load and power supply highest current capacity and wire material.
Mostly for a 50 amp service, it is recommended to use wire size 6 AWG for copper conductors and 4AWG in case of aluminum conductors. Though it is necessary to find certain needs for your local electrical codes and regulations since they have different considerations.By following accurate wire instructions we can make sure safe and reliable electrical system for  50 amp service.
What Size Wire for 50 Amp Breaker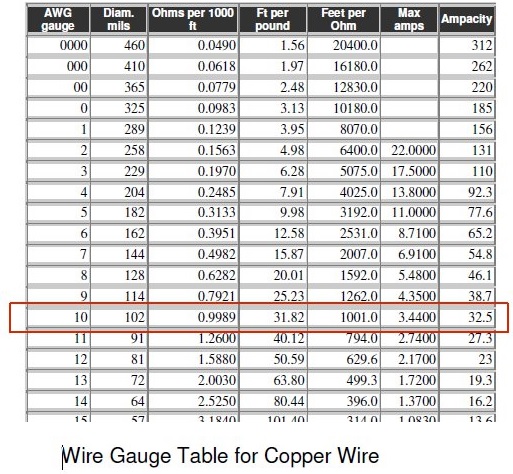 To maintain a safe and effective electrical distribution, numerous criteria must be taken into account when choosing the right wire size for a 50 amp breaker. The length of the wire, the needed maximum current capacity, and the kind of wire material all influence its size.
As a general rule, it instructed to use wire sizes of 6 AWG  for copper conductors and 4 AWG  for aluminum conductors when using a 50 amp breaker. To find out the accurate demands in your area, must discuss the  National Electrical Code standards and your local electrical laws and regulations.
The wire size is selected to support the breaker's maximum current capability and guard against overheating or voltage drop. The electrical system will function securely and effectively if the proper wire size is used. To guarantee compliance with electrical codes and regulations and prioritize safety, it is advised to speak with a skilled electrician if you are confused about the proper wire size or installation requirements.
Conclusion
For a 50 amp sub panel to distribute electricity safely and effectively, the proper wire size must be chosen. Taking into account elements like distance, ampacity, and conduit size will aid in choosing the right wire gauge for your particular installation. Electrical rules and regulations shall be adhered to by following NEC recommendations and seeking advice from a licensed electrician.
Adhering to safety procedures and giving serious thought to installation requirements are essential. Always make first safety if you make sure about any part of the installation procedure, get expert help. You may build a dependable and effective electrical sub-panel system by choosing the right wire size and using the right installation procedures. follow for more updates solar system diagram
FAQs
Q: Can we use a smaller wire size for my 50 amp sub panel?
A: It is not recommended to use a small size of write than the NEC guidelines. Smaller sizes can cause overheating, resistance increment, and potential safety hazards.
Q: Can we use copper wire for a 50 amp sub panel instead of aluminum?
A: Yes, it can be used for 50 amp sub panels since ti provides good conductivity. If we use aluminum wire it is significant to follow NEC instructions and take safety precautions.
Q: How to determine the wire size for my specific sub-panel installation?
A: To determine accurate wire sizes discuss factors like distance conduit size and ampacity. Get the guidelines of NEC for accurate wire size selection.
Q: What is voltage drop, and why is it important in sub-panel installations?
A: Voltage drop, which happens when current runs through a wire, is the drop in voltage that results. Poor equipment performance and an insufficient power supply may be caused by excessive voltage drop. Voltage drop must be kept within allowable bounds to guarantee effective electrical distribution.
Q: Can I install a 50 amp sub panel myself, or should I hire an electrician?
A: While it is possible to install a fifty-amp subpanel It is advised to work with an experienced electrician. To guarantee safety and compliance, electrical work requires skill and familiarity with local codes and laws.