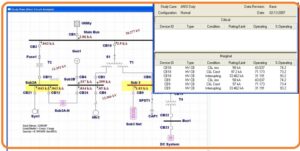 Hello, friends welcome to new tutorial. In this post, we will have a discussion about Run a Short Circuit Analysis in ETAP. In this post we will learn about the short circuit analysis performance in the ETAP will learn through the creation of a project about short circuits analysis. Here we will explain each and every step involved in this circuit to have a good understanding.
So let's get started.
Run a Short Circuit Analysis in ETAP
First of all from the Mode toolbar of your ETAP software choose the short circuit mode by pressing at the short circuit analysis tab.
A toolbar that we can choose the title of the output report as already given. or Prompt. For is chosen through the already created short circuit analysis report.
Through the study case toolbar press at the Edit study case button. It will open the short circuit study case editor, permitting us to vary calculation criteria and values.
Through the information, display selects the bus or numbers of buses that has some error.
PRess at all buses lifting Sub three and choose fault to put at the buses in the do not fault category.
Sub three must will exist alone in the faulted category.
Then press Ok to complete.
We can see that faulted buses, sub3 will be dark-colored at the one line showing that it has a fault.
Now we can operate our short circuit analysis by pressing at the Run 3 phase device duty tab at the short circuit bar.
If the option prompt was chosen similar to the output report at the study case toolbar we will be prompted to press a name for the output report.
The outcomes of the device duty short circuit measures are shown at the one line.
Varying the settings in the short circuit display tab can vary the outcomes showed and their formates at the one line.
We can see that breaker CB9 and CB18 are changed to magenta-colored. This flag indicates that the module features have changed.
Press at the Alert view tab existing at the short circuit menubar to display flag modules.
To show the output analysis press at the report manager through short circuit menubar and move to the outcomes page and choose short cirucit report.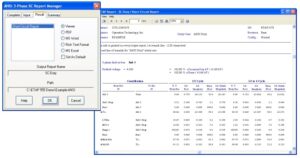 FOr modification of Alert adjustments open the short circuit study case editor at the Alert tab. See the marginal tab and vary the limits to seventy percent. With that press the Auto display tab and press at click ok.
IF the marginal tab is clicked all modules which has changed through that limit but has one hundred percent ratings will look at the alert tab at the marginal display.
Now operate the similar short circuit study tech now for the below procedure. Will observe that when the measurements have finished the Alert tab will open by own according to the variation creation in the alert tab in the short circuit study case editor.