Hello, readers welcome to new tutorial. IN this post we will learn How to Make Component in Proteus.  In proteus, there are different types of components are used but if you are going to make such a project that is using such components that not exist in the proteus library then do not worry. I will teach you how you can make new components through use of proteus
In this tutorial, I will make a simple component that has four inputs and outputs. THrough getting understanding you can make different components for your projects that do not exist in the proteus library.
How to Make Component in Proteus
First of all move to 2D tab of the proteus library press on it and draw a box in the proteus working area.
Now go to the device pin mode option press on it and link four input and four output pinouts at the rectangular box can seen here

Now we will assign to each pinout a name for this press right on each pin then edit pin option and write name. I have given the required name to each pinout and a resultant component can see here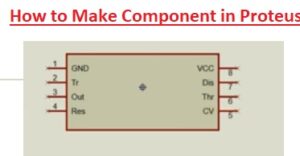 Now move to library tab at the upper bar and press on it tab will be open and assign the name to that component and add in the library. So our new component is added in the proteus library.
That is all about the How to Make Component in Proteus. I have explained each and every step to making a component in the proteus. If you have any further query ask in the comments. Thanks for reading have a nice day see you in next post