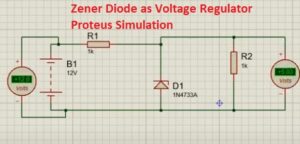 Hello friends welcome to new post. Here we will discus Zener Diode as Voltage Regulator Proteus Simulation. in this tutorial I will explain to you how to use Zener diode as a voltage regulator. I will construct a circuit in Proteus and define you practical working of Zener diode as a voltage regulator. In this circuit I will use a 1N4733A Zener diode that regulates the voltage to 5V irrespective of variation in input voltage.
we will make circuits in proteus software using Zener diode and see the practical understanding of Voltage regulators.
Introduction to Zener Diode
Zener diode is a type of diode that operates in a receding area where the normal diode does not work.
If the voltage is above the anode the diode is correct and across the cathode is negative rather than operating uniformly on a normal diode.
If the voltage at the anode is negative and the cathode is correct than the reverse voltage value at which a breakdown occurs and the reverse current flow is called Zener voltage.
This process was discovered by Clarence Zener, an American scientist known as the Zener effect.
There are different Zener voltage levels for different Zener diodes and some diodes have a Zener voltage voltage control area.
The doping rate of the Zener diode PN junction is greater than the normal diode. A distortional variation such as a Zener diode also occurs on a normal diode but a curve in the event of a split diode is not as good on a normal diode as on the Zener diode.
The Zener diode can operate in a broken area but a normal diode cannot receive damage in this region.
But the design of the Zener diode is similar in that it can be easily operated on a broken site without interruption.
The Zener diode is almost used in all electrical tools and is a key element of any device circuit.
These diodes are used to provide protection from any circuitry from electrostatic discharge (sudden flow of power between 2 charged objects).
Zener Diode as Voltage Regulator Proteus Simulation
To make voltage regulator in proteus there should be installed proteus software at your PC. I also have explained details about Proteus if you know this software. you must have read this tutorial for basic understanding to learn different functions.
First of all open the Proteus and then move to the proteus library

After clicking on components mode you will see two buttons P and L. If you move to P button you will see Pic from Libraries
Voltage Regulator Components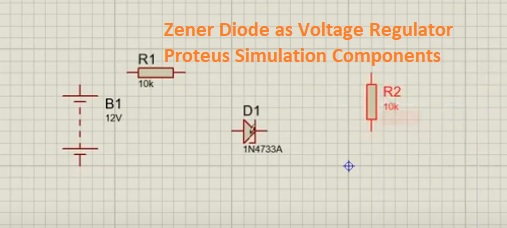 Just make the circuit by combining the above components and assigning their respective values as can see in below figure
When you will make the circuit to see the behaviour of Zener diode as voltage regulator just vary the values of the battery connected mean its volts then you will see the change at output voltmeters according to change in input.
For voltage change at input press at the battery and change the value of it can be seen here.
Here you can see it has initially 12V then changes to 13V their outputs volts are varying according to input volts can see here.
Continue the changes in the volts of the battery and will see the result at the output so it is a simple way to see the learning of Zener diode as voltage regulators.
So that is all about the post if you have any further query ask in the comments thanks for reading have a good day