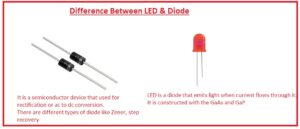 Hello, friends, I hope you all are doing great. In today's tutorial, we will discuss the Difference Between LED & Diode. The basic difference LED and diode is that when current flows through the LED it releases light while diode converts ac current into dc and this process is called rectification. The circuit used in diode for ac to dc conversion is called a rectifier. The LED is constructed with the Germanium arsenide that has the ability to emit light. But diode is constructed with the N and P types materials that use to changes the direction of current from variable to single direction.
In today's post, we will have a detailed look at both LED and diode compare them to find their differences. So let's get started with the difference between diode and led.
Difference Between LED & Diode
LED
LED is a diode that emits light when current flows through it.
It is constructed with the GaAs and GaP.
It working operation based on the conversion of electrical energy into light energy.
Its reverse breakdown voltage value is less than the diode.
LED uses less energy than a normal incandescent bulb, with less cost.
It employed in different areas, like the aviation industry, lights of vehicles, signal
It does not need any backlight.
Its switching speed is fast.
There is no effect on the LED of DC current.
Its contrast ratio is less than the LCD.
its display area is smaller than the LCD.
It is created with the Gallium arsenide phosphide..
The on condition voltage range for the light-emitting diode is 1.2 volts to 2.0.
It used in seven-segment displays and different lighting systems.
The IR type of led used in your tv remote control
The first type of led design has a red color and less intense
Now LEDs exist in visbile , UV and IR lights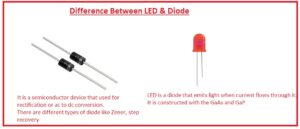 Diode
It is a semiconductor device that used for rectification or ac to dc conversion.
There are different types of diode like Zener, step recovery.
there are two types of mode of operation in diode first one is forward biased and the second one is reverse biased
In reverse biased anode is connected to the negative terminal and cathode to the positive terminal of the battery.
The current flow in the diode due to two types of charge carries the first one is a hole and the second one is electrons.
There are two parts of the diode first is positive and the second is negative has electron as carriers and P has holes
The material used for the construction of a diode is silicon and germanium.
Its reverse breakdown voltage value is less large than the LED.
Its operating voltage value for the case of silicon is 0.7 volts and germanium is 0.3 volts.
It uses as a rectifier, in clamping circuits, etc.
That all about the difference between diode and LED if you have any query ask in comments. Thanks for reading have a good day.