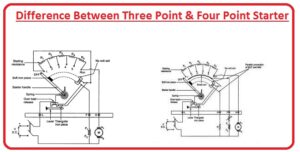 Hello, friends, I hope you all are doing great. In today's tutorial, we will discuss the Difference Between Three Point & Four Point Starter. The device that used for the starting and running of the motor is called starter. The most commonly used starters are three-point and four-point starters. 3 point starter the no voltage coil is not attached in a series configuration with the field winding but in 4 point starter no voltage windings is linked with the power supply.
The NVC or no voltage coil is a relay that stops the operation of the motor when the input supply is off. In the three-point starter configuration, the NVC is connected in series combination with the field winding so current passing through the NVC and field winding is the same.  In today's post, we will have detailed look at both three-point and four-point starter with the detailed and compare them to find their differences. So let's get started with a Difference Between Three-Point & Four Point Starter.
Difference Between Three Point & Four Point Starter
Three-point Starter
The start that has 3 terminals to operate the motor is called a three-point starter.
It employed in shunt and compound dc motors.
It called three points starter since it consists of three pints denoted as L, F and A
L points of these modules is linked to any terminal of the battery.
A point is linked with the armature windings
The 3 terminals of the three-point starter are Armature, field winding terminal, and the Line terminal.
The connection between NVC and field is series.
Its disadvantage is that bear serious problem related to speed control of the motor.
To get the normal speed of moto there should be a reduction in field current
it consists of an overload release coil that works in the sense that if the motor armature current is large then the field has such value to attract the M point.
In case of there is cut-off in supply then its HC will become de-energized and off the pointer of start.
That helps the motor to save in case of supply is recovering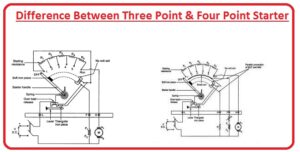 Four Point Starter
The starter that has 4 terminals to operates the motor is called a four-point starter.
It makes a parallel connection to the field winding of the motor
It can be employed to such motor that has varaibel speed.
The four terminals of 4 point starters are Armature, Field winding terminal, Line, and extra terminal which directly link input supply with the (NVC).
The NVC is attached to the field winding in parallel combination.
That is a detailed post about the difference between a three-point starter and four-point starter. If you have any query ask in comments. Thanks for reading. Have a good day