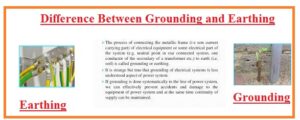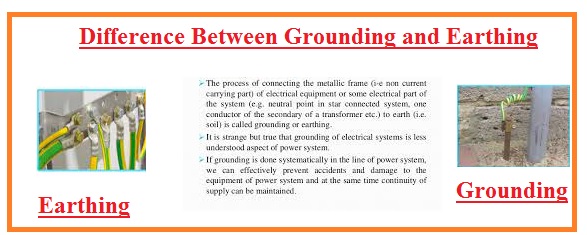 Hello, friends, I hope you all are doing great. In today's tutorial, we will discuss the Difference Between Grounding and Earthing. The basic difference between grounding and earthing is that in grounding the conductor through which the current is flowing is connected with the ground while in earthing the conductor through which the current is not flowing is attached with the ground.
In this post, we will have a detailed look at earthing and grounding than relate them to find their differences. So let's get started with a Difference Between Grounding and Earthing.
Difference Between Grounding and Earthing
Earthing
Earthing is a process that is used to link the part of the device called the dead portion that has zero value of current with the earth.
The frame of your fridge is a dead part and connects it of the earth
Earthing helps to make a reduction in the getting shock if there is current flowing in the device due to fault.
If earthing is done then current will flow to that part that has less resistance.
For earthing, there is green-colored wire is used
The main purpose of earthing is to save a person from getting shocked by a damaged device that has a current in its body
If someone gets a touch to the body can get shocked if decide is not properly earthed
In case of lighting bouls earthing also saves homes and other apartments
It rescues the fire probability in the different system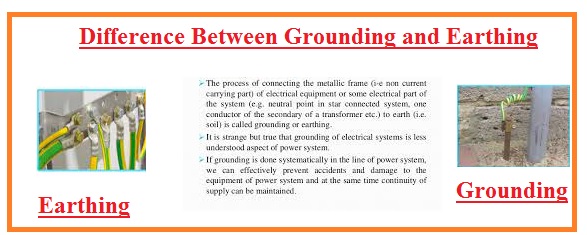 Importance of Earthing
The main component of electrical safety is earthing. It entails directly connecting electrical instruments metallic surfaces and exposed conductive portions to the ground. It is mostly used to minimize electric shock and lower the danger of fire from electrical failures.
Earthing in Electrical Systems
When earthing is used in electrical systems, fault currents are ensured to be dissipated and excess voltage is kept from building up on conductive surfaces. By enabling the safe discharge of fault currents into the ground, it helps to prevent electric shock in people.
 Components of Earthing
Components like earthing pits, electrodes, conductors,  and earthing terminals are used in earthing systems. These components are intended to make a dependable connection configuration with the ground and offer a low-resistance channel for fault currents.
Grounding
In this process, the active portion of the device means through which the current is passing is linked to the earth.
Its main purpose is to save the device from getting damaged an example is the neutral of the transformer linked to the ground
The main purpose of transform neutral linked to the ground is that if lighting bouts are fallen on it then its grounding will give less resistance path to move to the current to ground
For grounding there is black color wire is used
Importance of Grounding
Electrical engineering's foundational concept is grounding. It entails attaching electrical devices and systems to the ground or a conductor that acts as a standard for electrical potential. In the case of a failure or surge, grounding primarily serves to offer a safe path for electrical currents to follow.
 Grounding in Electrical Systems
In electrical systems, grounding offers a point of reference for voltage levels and helps in system stabilization. By diverting fault currents to the ground and protecting people and instruments from potentially hazardous conditions, it helps in the prevention of electrical shock dangers. With that, grounding decreases electromagnetic interference and guarantees the correct operation of delicate electronic equipment.
Components of Grounding
Grounding systems come with different parts, like conductors, grounding terminals, and grounding connectors. Together, these components make a low-resistance channel for fault currents, helping them to efficiently dissipate into the earth.
Similarities Between Grounding and Earthing
 Electrical Safety
By eliminating electrical shock dangers and minimizing the chance possibility of electrical fires, both earthing and grounding help to ensure electrical safety. They offer fault currents paths, providing the safe release of extra energy.
 Equipment Protection
Electrical devices can be protected from harm by transient voltages, power surges, and lightning by being grounded and earthed. They decrease the possibility of damage by rerouting fault currents away from the equipment and creating a low-resistance channel to the earth.
Fault Current Management
For successful management of fault currents, both earthing and grounding are needed.. They enable the safe dissipation of fault currents, minimize electrical risks, and decrease the effects of faults on the system as a whole by offering low-impedance routes to the ground.
 Grounding vs Earthing
| Grounding | Earthing |
| --- | --- |
| 1. Grounding us the connection if electrical systems to the ground. | 1. Earthing is connecting conductive parts and surfaces of electrical equipment to the earth. |
| 2. It provides a path for electrical faults and surges to safely dissipate. | 2. It prevents electric shock and decreases the risk of fire. |
| 3. Grounding protects against electrical malfunctions and damage to equipment. | 3. Earthing makes sure the safety of individuals and equipment. |
| 4. It stabilizes voltage levels and decreases electromagnetic interference. | 4. It discharges fault currents and avoids the buildup of excess voltage. |
| 5. Grounding is necessary for electrical system stability and proper functioning. | 5. Earthing is important to make sure electrical safety and prevent accidents. |
| 6. It is get through grounding conductors, rods, and grounding electrodes. | 6. It is done through earthing conductors, mats, and earthing electrodes. |
| 7. It is required by electrical codes and standards for safety compliance. | 7. It is mandated by regulations to meet safety requirements. |
| 8. It protects against lightning strikes, power surges,  and voltage transients. | 8. It protects against electric shock and equipment damage. |
| 9. Grounding reduces the risk of electrical noise and interference. | 9. Earthing minimizes the risk of electric shock hazards in various settings. |
| 10. It is important in industrial, commercial, and residential electrical installations. | 10. Earthing is compulsory in all types of electrical systems and environments. |
| 11. It ensures proper grounding continuity and fault current path. | 11.It provides a low-resistance path for fault currents to flow. |
| 12. It prevents static discharge and potential differences in electrical circuits. | 12. It prevents the buildup of static electricity and potential differences. |
| 13. This system protects sensitive electronic devices from voltage fluctuations. | 13. it protects individuals from electric shock in case of faults. |
| 14. It is important for electrical system safety and the protection of personnel. | 14. It decreases the risk of electrical accidents and injuries. |
| 15i t comes with grounding busbars, grounding conductors, and ground fault protection. | 15. it involves earthing conductors, grounding electrodes, and earth leakage protection. |
| 16. It maintains electrical system integrity and prevents overvoltage conditions. | 16. it maintains a reference potential and prevents electric shock incidents. |
| 17. This process provides a path for fault currents to return to the source safely. | 17. This method comes with a safe route for fault currents to flow into the ground. |
| 18. It is important for equipment grounding and protection against electrical faults. | 18.it is necessary for equipment safety and minimizing electrical hazards. |
| 19. Grounding is part of a comprehensive electrical safety program and risk management. | 19. it forms an integral part of electrical safety strategies and protocols. |
| 20. It ensures the safe operation and longevity of electrical systems and equipment. | 20. This techniques ensures the integrity and safety of electrical installations and appliances. |
That is a detailed post about the difference between earthing and grounding if you have any query ask in the comments. Thanks for reading have a good day,