Every machine consists of various parts. This includes both fixed as well as rotary. With the advancement in technology these parts not only need a transfer of power between these parts but also an uninterrupted transmission of signal, information, and data. This job is carried out effectively and efficiently by a small device known as Fiber Optic Rotary Joint. Do you have any idea about it? Continue reading to learn about this small, yet effective component.
Fiber Optic Rotary Joint
Source: MOFLON
Fiber Optic Rotary Joint (FORJ) is a connecting device responsible for transferring data and signals across rotating components of electric machinery. It can be compared to an electric slip ring but with the difference that it is used in the optic division. Also, FORJ's are generally used as a co-existing part of rotary electric devices.
These fiber optic rotary joints are responsible for the seamless transmission of heavy data and optic signals without distortion, mix-up, damage, or loss. These devices are responsible for carrying both digital, as well as, analog signals.
Key Parameters
FORJ not only forms a connection between two fiber optic cables but also allows data transfer while rotating. Hence, the key parameters of a FORJ are:
Low Insertion Loss
Very little Insertion loss variation
High Return loss
Types of FORJs
On their mode of operation, Fiber Optic Rotating Joints are categorized into:
Single Channel or Multi Channels
Active or Passive
Single Channel and Multi-Channel FORJ
In Single Channel/Single Pass FORJs the rotating assemblage has a single pass. The optic fiber enters from either side. It results in the coupling of optical signals between the rotating interfaces. The coupled light's diameter is increased by using large diameter fiber, lenses, or fiber bundles. A single-channel FORJ is known for its compact size, reliability, long service life, and high speed.
Source: Moflon
Multiple Channel FORJs are used in applications with more than two optic fibers with different configurations. The device can carry different fibers or bundles. The design of a multi-channel is more complicated as compared to a single channel.
Moflon has been producing a wide variety of fibre optic slip rings for over 30 years. MOFLON's products are built to perform well in demanding conditions while still meeting shifting specifications. Fluids such as hydraulic oils, chemicals, water, air, and many others are transferred from stationary to moving systems using their products. Solid coin silver rings, gold-gold contacts, graphite and silver brushes, stainless steel, and aluminum alloys are just some of the high-quality components that go into their products.
Active and passive FORJ
An Active FORJ's main function is to transmit electronic signals across a rotating assemblage. These devices are a perfect replacement for electronic slip rings. Transmission occurs through amplification, optical/electrical conversion, etc.
Passive FORJ transmits optical signals across fixed and rotating assemblages. These devices form an uninterrupted fiber-optic connection between the rotating and fixed components.
Benefits of Fiber Optic Rotary Joints
FORJ connects the fixed component with the rotating part. Applications with a need for transmission of massive data these devices create a platform for continuous data flow by connecting one or multiple passes of fiber cable. The use of this device reduces the chances of data loss and enhances efficiency and accuracy.
Fiber optic wires are smaller than the copper wire used in slip rings. Thus, a better option in applications with compact spaces or need multi-channel connections.
FORJ's signal carrying capacity is higher as compared to slip rings,
FORJs have a longer working life as optic fibers are rust-free and can withstand unfavorable weather conditions.
FORJs are cost-effective because of their low maintenance. These joints need less power for transmitting massive data, this means low power bills.
Use of FORJs in Wind Turbines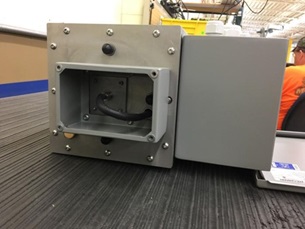 Source: Small Component big reliability
With the increase in the use of fiber optic joints, the use of FORJ applications has increased exponentially. Wind turbines, radar pedestals, robotics, medical devices, missile guidance systems, and ROVs are some applications that use slip rings and FORJs simultaneously.
This little device is on a verge of replacing the conventional metal joints in wind turbines. It comes quite handy in applications that require the transmission of extremely high-speed data that too without any mix-up or loss.
FORJs have proved to be more efficient, effective, and reliable in communicating massive data or signals in extreme or harsh environments. The device is used for transferring data between the hub and the top of the wind turbine. In wind turbines, both slip rings and FORJs are used in conjunction. Where slip rings are responsible for the transmission of both power and signals, the role of FORJs is limited to communication. These small devices are generally attached to the slip rings. Most wind turbines use single-channel FORJs.
Why are FORJs replacing traditional metal connectors in Wind turbines?
To meet the constant demand for increased data communications, engineers have come up with innovations including wireless solutions and fiber optics. In comparison to traditional rotary joints, FORJs have proved to be more efficient in situations involving
High levels of data transmission
Very high speed
Harsh weather conditions
An environment with electromagnetic radiations
Also, these devices have proved to be cost-effective and are more suitable in places with size constraints. Fiber Optic Rotary Joints ensure reliability and longevity in extreme environmental conditions. As discussed earlier, FORJs are mounted on rotary unions which themselves are present either on the rear or front of the gearbox. As a result, these little devices have to withstand extremities like temperatures ranging from -40 degrees to 60 degrees, vibrations, humidity variations, and high altitude.
The initial cost of implementing a FORJ is higher compared to a conventional slip ring. The major difference comes in after cost i.e. low or no maintenance cost. It further results in saving customers' time, money, and effort. Also, their position (mounted on top of rotary unions) comes in handy at times of replacement or maintenance.
Conclusion
FORJs are an innovative resolution for high-speed data communication in wind turbines. High speed, low maintenance, long service life, accuracy, cost efficiency, and reliability make these little devices an essential part of wind turbines.
Several FORJs manufacturers are available in the market. One can get the device made on specifications based on application, budget, and utility.