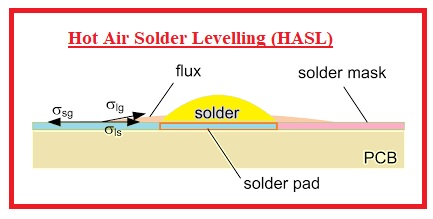 Hello, readers welcome to the new post. Today we will discuss Main Types of PCB Finishes. The surface finish at the circuit board is a coating of material at PCB board that is done before connecting the component on the board. The surface finishing of the PCB board enhances the solderable surface area of the board and protects the copper layers from oxidation and other environmental effects.
To perform accurate surface finishing techniques is simple. You must need PCBWAY-like experts for surface finish techniques that is equipped with high-quality experts and machines to perform this process easily and accurately. PCBWAY uses all materials compatible with RoHs compliance for boards. Here we will discuss different types of surface finishes techniques and also tell you about the features used at the PCBWAY for a surface finish that will help you to get good results for your boards. So let's get started Main Types of PCB Finishes.
Main Types of PCB Finishes
There are most types of surface finish are used at PCB discuss here with detail.
Hasl, ENIG, OSP, Hard Gold IS, ENEPIG and IT
Let's discuss one by one
Hot Air Solder Levelling (HASL)
When solder is completed on the board extra solder at the surface of the board and hole is removed through use of high pressure hor air and solder connected with the pad and hole is are plated through use of two techniques lead spray tin and lead-free tin spray.
This surface finish technique is less expensive and mostly used
Its main benefits are It sustains the solderability process during manufacturing.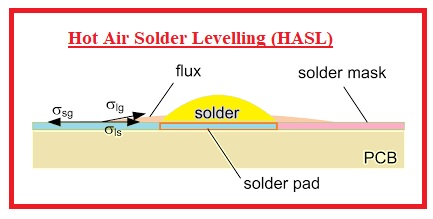 Immersion gold(ENIG)
there is the use of chemical reaction through the removal of nickel phosphorous layer and gold layer is placed on the board.
As there is a compound that has phosphorus through the solder mask is placed in the plating pan in results layer of non-conductive nickel and phosphorous can be created that called black pad.
As a results issue like the brittle nickel phosphorus comes.
The main benefits of this technique are it can handle many reflow soldering and flate surfaces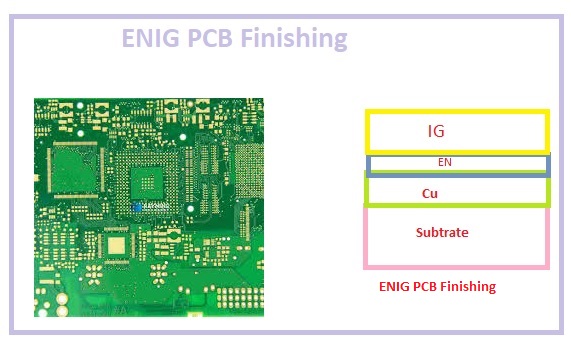 Organic Solderability Preservative (OSP )
This type of surface finish is used to build the organic layer at the clean bare copper board.
In this film, the layer comes with anti-oxidation thermal shock resistance and moisture resistance to save the copper from oxidation.
In case of certain conditions, this layer can be easily eliminated through the use of flux in result clean copper surface will meet the molten solder. But in some cases not used for reflow soldering
Its main benefits are good coplanarity and lead-free

Hard gold
In this process, nickel and gold are plated on the same surface. It consists of other metallic substances that enhance the wear resistance of the board.
The value of abrasion resistance of electric gold is high. Pins of IC become dense as a result IC becomes integrated.
Its main benefits are good solderability, and flate surface, and can bear different reflow soldering
Immersion silver(IS)
To protect the copper surface silver is placed in the metallic layer of 0.1 to 0.6 microns.
Immersed silver exists among the electroless nickel and organic coating and it will decrease its shining
As there is no nickel below the silver layer causes immersed silver has less physical strength.
The main benefits of this surface finish is a smooth surface and a good soldering process
ENEPIG
This technique is new to PCB finishing and was first time used in after the 90s.
There is three layers of gold, palladium, and nickel that enhance the use of these features to boards since it comes with lots of advantages to board.
There is a lot of new features are introduced in this finishing to fulfill the reliable, ROHS standards and requirements for packaging.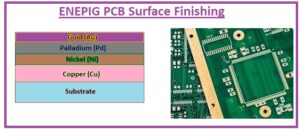 Tin Immersion
The use of tin is very helpful in the case of oxidation. There is an easy mixing process for copper and tin that increases the operational or storability of the PCB board.
Through this process, a reliable board can be obtained at lower prices.
Not good for the through hole technique.
Comparison of different PCB surface finish types by PCBWAY
Here we will make a comparison of PCB surface finish types and finds their features
physical Features
HASL
Immersion silver
Immersion Tin
OSP
Immersion gold (ENIG)
Shelf life
18 (month)
12(month)
6(month)
6(month)
24(month)
Reflow times
4
5
5
4
4
Prices
medium
medium
medium
low
high
Procedure complication
high
medium
medium
low
high
Temperature for process
240 centigrade
50 centigrade
70 centigrade
40 centigrade
80 centigrade
Thickness range
1 to 25 (um)
0.05 to 0.20 (um)
0.8 to 1.2 (um)
0.2 to 0.5(um)
0.05 to 0.2 Au

3 to 5 Ni

Flux compatibility
Good
Good
Good
general
Good
Environmental safety
No need
Yes
Yes
Yes
Yes
Others
Thickness No uniformity
Easily scratched
Short storage
Sensitive to atmosphere
Easily-broken interface
That is all about the Main Types of PCB Finishes all details have been explained if you have a query ask in the comments. Must visit the PCBWAY to get the PCB surface finish surfaces that are high-quality services provider.