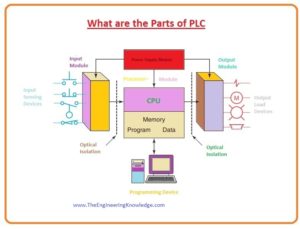 Hi fellows. I hope all of you are fine. As you already know we have started a series of PLC articles. In the last lecture, we discussed a detailed introduction to PLC. In today's tutorial, I am going to explain to you the detailed article on parts of PLC. Plc has become very important for our industry life, it has made many processes very easy to control and monitor. It eliminates the tough circuitry of relays which ware very complex to handle and implement.
As we discussed in our last tutorial about it is a very flexible, reliable, and fast time response controller. Its troubleshooting is very easy, means we can solve problem existing in circuits by seeing on the monitor. But in case of a relay, it's not easy to find fault and solve it. So let's get started with parts of the plc.
Parts of PLC (Programmable Logic Controller)
There are main two parts of PLC. Which has further divided into many parts like CPU, input and output sections, input supply, and different programming modules.
The PLC structural design can be consists of hardware and software or both.
There are also two restrictions during choosing plc first one is open architecture and the second its closed architecture.
Guys, I hope you all are aware of the iPhone structure which is also closed architecture means we cannot connect other company chargers or a data cable with it.
Like iPhone Plc closed structure is also not supported by other companies' instruments so be careful about this structure.
In the case of open architecture, you can easily connect your devices with other manufacturing company modules.
Moreover, though the main ideas are similar in all means of software design, there can be small changes in speaking, memory distribution, recovery, and data management for altered modules.
Subsequently, PLC programs cannot be swapped amid dissimilar PLC builders.
There are two methods by which inputs and outputs of plc are connected with it first is fixed type and the second is modular type.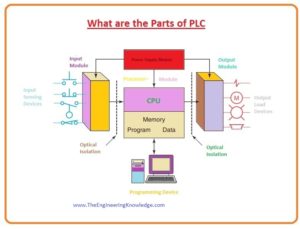 PLC Fixed Input/Output Configuration
Fixed input and output configuration are shown in a given diagram. It is a little plc that exists in single packaging and there are no separate removing parts.
In his type of casing the process and input, outputs are connected with each other, and in this casing, there are fixed terminals for input and outputs to make connections.
The chief benefit of this category of packing is a lesser price. The quantity of existing Input, output points differs and typically can be extended by purchasing extra components of fixed Input and outputs.
One drawback of this packaging is its absence of flexibility we are restricted to follow the instructions that are written on the casing.
One thing in this configuration is noticeable is that if one part of its damage then we have to replace the complete unit.
PLC Modular Input and Output Configuration
Plc modular input and output configuration is divided into different parts in which we can connect different separate devices.
These properties insist us to choose this flexible unit.
We can select units accessible from the producer and connect them any way according to our wish.
The elementary modular controller comprises a shelf, input supply, CPU, input and output, and an operative line for software design and observing.
The components connect with a stand or rack. When a unit is put into the frame, it makes links electrically with the sequence of the connection named as backplane that is manufactured at the backside of the rack.
The PLC CPU is also linked to the backplane and can send and receive data to all the components in the stand.
Power Supply of PLC
The rack of plc provides the dc power to components that are connected with it.
For big PLC schemes, this supply is not enough for components to connect with it, for larger scheme supply is given by separate DC or AC systems.
For small plc networks, the power supply can be used to power field instruments.
Processor of PLC
The processor of plc works like the brain of a human, which means it controls every process of plc.
The processor of plc comprises of the microprocessor for the implementation of logic and monitoring the signal communicating process between different parts.
The processor needs memory or storage place for storage of the outcomes of the logical processes done by the microprocessor.
Memory is also compulsory for the program EPROM (erasable programmable read-only memory) or EEPROM (electrically erasable programmable read-only memory) plus RAM (random access memory).
The Central processor unit regulates all PLC action and is intended so that the operator can put the anticipated program in ladder logic.
The PLC program is implemented as a portion of a repetitive procedure denoted as a scan, it explains in a given diagram.
A distinctive PLC scan reads the input status with the Central Processing Unit. Then, the submission program is implemented.
When the program implementation is finished, the Central Processing Unit does interior analytical and messaging jobs. Subsequently, the grade of all outputs is simplified.
This procedure is recurrent uninterruptedly for that time plc is working.
Input and output connections of PLC
The input and output connections make the network by which other working instruments are linked with the plc controller.
The motive of this interfacing is to a complaint about the numerous signals obtained from or referred to outside instruments.
Input components like push-pull buttons, limiting switch, and sensing instruments are connected to the input points.
Output instruments like less current consuming motors, starters, solenoid regulators, and pointer bulbs are connected with the output connections.
To electrically separate the interior constituents from the input and output termini, PLCs usually use a visual isolators, which usages light to join the circuits with each other.
The exterior instruments are also known as field inputs and outputs devices.
Ladder Logic Language and Programmable Device of PLC
Programming instruments are used to implement the specific program into the storage of CPU.
We can implement our program by a ladder logic language, it is a very famous and easy to understand language.
In place of letters, ladder logic language usages graphical signs which display their proposed consequence.
A program in ladder language is like a diagram for a relay controller circuitry. It is a distinct language inscribed to mark it simplest for person who is used to with relay logic controller to program the Programmable Logic Controller.
Portable programming devices are occasionally used to implement a program to small PLC controllers since there are less costly and easy to use.
When they are connected with the plc they work to implement and regulate the program.
Mobile tablets and laptops are often used on the workshop surface for troubleshooting apparatus, adjusting programs, and transporting programs to numerous pieces of machinery.
A PC is the normally used programming instrument. Maximum products of PLCs have software obtainable so that a Personal Computer used as the programming instrument.
This software permits operators to make, correct, text, save, and troubleshooting of ladder logic programs.
The monitor shows more programs then portable devices like mobile so it makes a program easily understandable.
The PC interconnects with the PLC CPU by a sequential or parallel statistics transportations connection or Ethernet.
If the programming component is not in usage, it can be freed and detached. Eliminating the programming component will not disturb the process of the operator program.
A program is an operator established sequence of commands which guides the PLC to implement different activities.
A programming language delivers guidelines for merging the commands so that they give the desired output.
The Relay ladder logic is the customary programming language which used for PLCs. Its foundation is built on the electromechanical relay controller.
The (RLL) program sketchily represents steps of connections, loops, and distinctive tutoring chunks.
Relay ladder logic was initially deliberate for informal usage and sympathetic for its operators and has been altered to retain with the growing needs of industry's controller essentials.
So it is a complete and detailed article on the parts of PLC,  each and every part of PLC has mentioned in this tutorial. See you in the next tutorial working principle of PLC.