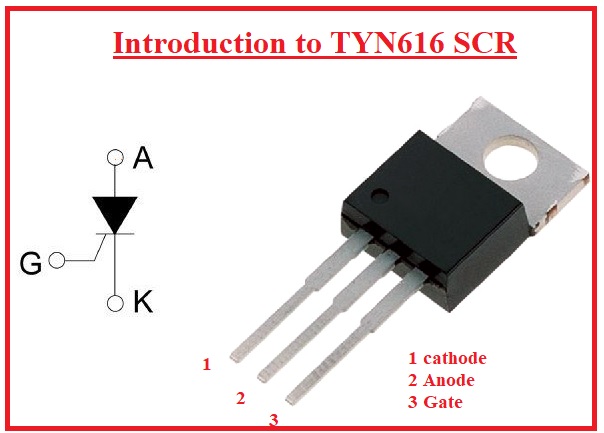 Hello, readers welcome to new post. Here we will learn Introduction to TYN616 SCR. SCR is a semiconductor rectifier having 4 layers and used for current control. It belongs to the thyristor It is structured as PNPN configured.  It was the first time created in 1957. SCR is a one-directional semiconductor module created with silicon.
It is used in different applications such as rectifiers regulating power and inverting it. It works as a rectifier like a diode rectifier circuit. It has three terminal anode-cathode and gate, In this post, we will give a details overview of  TYN616 SCR and related parameters. So let's get started.
Introduction to TYN616 SCR
THe TYN616 is less power usage SCR has the ability to control the current value to sixteen amperes and the volts value that can handle is six hundred volts.
SCR are latching switches that indicates that they continue their operation till a certain value of current passes called holding current.
The value of holding current is sixty milliamperes. The current needed to on the SCR after off state is called latching current and has a value of forty milliamperes.
The less value of gate current needed to maintain the conduction is known as gate trigger current and has a value of twenty-five milliamperes.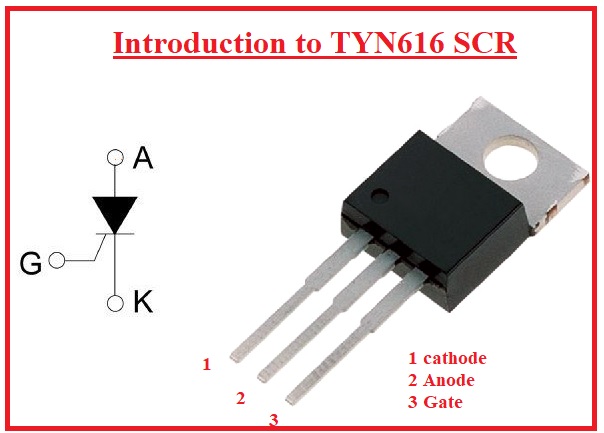 TYN616 SCR Features
The main features of this SCR are discussed here
Its comes in TO-220 packaging and one-watt power dissipate
Vlaeu of dynamic resistance for this SCR is twenty-three megaOhm
Highest volts for this module is six hundred volts and highest current is sixteen amperes
TYN616 SCR Pinout
Pinout of this component are explained here
The first pin denoted as K called cathode used for current emitting
Anode pin gets current inside
Gate used for current flow between anode and cathode it works base of transistor
TYN616 SCR Applications
It is used for control the phase angle
Used in motor driver circuits
Lamps dimmer has it
Advantages of SCR
There is no moving part it has then the mechanical switch give noiseless working with great output
Its switching speed is high
It works on the larger volts value and current with a small gate current
It has small  size dimensions so easy to use
That is all about the TYN616 SCR all details have neem explained. If you have any further queries ask in the comments. Thanks for reading have a good day